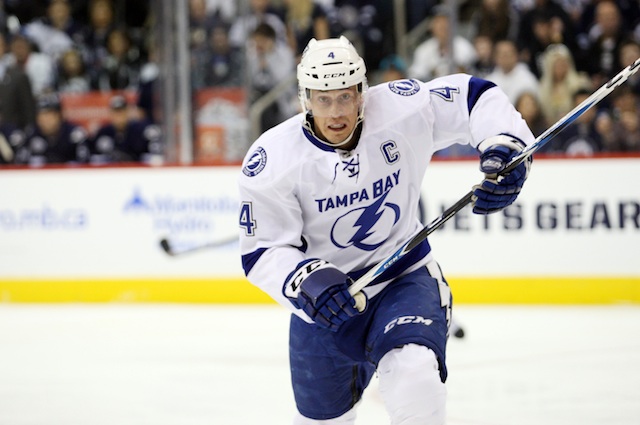 Vincent Lecavalier was one of the most productive players. Now he has one of the worst long-term contracts (U.S. Presswire)
Contract term limits have been a big topic of discussion over the past several weeks as the NHL and NHLPA attempt to hammer out a new collective bargaining agreement. This might be one of the biggest hurdles standing in the way of a new deal.
The owners aren't happy with the number of long-term (not to mention cap circumventing) contracts that have been handed out in recent years, and there's been a ton of them. The NHL currently has nearly 90 contracts that go beyond six years in length, and that includes 16 that are 10 years or longer.  
Some of them have proven to be very poor investments, and are likely to only get worse for the teams that just couldn't contain themselves and handed them out anyway.
Let's take a look at a few.
Total contract: 11 years, $85 million

Years still remaining: Eight years, $61 million
Vincent Lecavalier was one of the best, most productive players in the NHL five years ago and is still a good player today, but this contract is ugly with still eight years and more than $60 million remaining.
Lecavalier's name was involved in countless trade rumors with the Montreal Canadiens not long after it was signed, and it's a shame for the Lightning's sake they never pulled the trigger on a deal and found a way to unload Lecavalier and his contract. Since his career year during the 2006-07 season when he scored a league leading 52 goals and finished with 108 points, his production has steadily dropped every season, and now that he's on the wrong side of 30 that's a trend that's not going to improve.
While his point production has dropped, there's not even any underlying numbers that suggest he's providing any hidden value, such as the ability to control the play and help drive possession.
His cap hit is the seventh largest in the NHL.
Total contract: Six years, $27 million

Years still remaining: Five years, $22.5 million
New Buffalo Sabres owner Terry Pegula just couldn't contain himself last offseason and went crazy in the free agent market, signing defenseman Christian Ehrhoff for 10 years and $40 million (perhaps an honorable mention on this list) and Ville Leino for $27 million over six years.
Why?
Nobody really knows.
Leino entered the NHL with a decent amount of fanfare when the Detroit Red Wings signed him as a free agent out of Europe, and he showed some flashes of potential (and even brilliance) early in his career. Despite that, it never worked out for him in Detroit and the Red Wings eventually traded him to Philadelphia for what amounted to a bag of pucks. He had a solid playoff run with the Flyers that year and then followed that up with a 50-point season in his only full-year with the Flyers. That will very likely be his peak year in the NHL (you shouldn't expect him to duplicate that 16 percent shooting percentage).
Look at it this way: During that one peak season with the Flyers, he finished with 19 goals to go with 34 assists in 81 games.
In his other 139 games, including his debut season with Buffalo, he's scored 19 goals to go with 26 assists.
And the Sabres still owe him more than $22 million over the next five years. He had some solid possession numbers this past season with Buffalo, but not good enough to warrant the type of money he's going to be pulling through the end of the 2016-17 season.

Johan Franzen

, Detroit Red Wings

Total contract: 11 years, $43 million


Years still remaining: Eight years, $31.2 million

I like Johan Franzen. He's been a very good, very productive player throughout his career for the Red Wings. For a big, power forward he has some incredible hands, and can create all sorts of problems for defensemen in the offensive zone.

But about that contract.

This is one of the back-diving deals the NHL is looking to eliminate. It was structured in a way that Franzen would receive $35 million over the first seven years, and then only $8 million over the final four, including two years at the end where his actual salary was just $1 million.

This reduced the cap hit to a very reasonable $3.9 million per year. So it's not that the Red Wings are on the hook for a huge cap hit, but it's the length of the contract that hurts combined with a few other variables including his age (he's 32, and turns 33 at the end of this month) and injury history.

Franzen seems like the type of guy who isn't going to see his career tail off with a slow, methodical decline, but instead fall off of a steep cliff and just simply be done. And if (or when) that happens that $4 million per year cap hit will look a lot worse and become more of a burden.

Total contract: Seven years, $34.4 million

Years still remaining: Five years, $24.4 million
This is disappointing because it's possible that Chris Pronger's career could be over given the concussion problems he had last season, but this deal was looking like a problem for the Flyers even before that happened.
Under the old CBA, this was one of the 35-plus contracts because it was signed after Pronger turned 35, which means it would have counted against the Flyers' salary cap even if he retired before it ended.
And he almost certainly would have given that, you know, he signed a seven-year contract at the age of 35. Like Franzen's contract, it's another one of the front-loaded deals the NHL is looking to eliminate, as Pronger makes more than $28 million over the first four years, but just $5 million over the final three, including two years at $525,000 per year.
Scott Gomez total contract: Seven years, $51 million

Rick DiPietro total contract: 15 years, $65 million

You can't really have a worst contract discussion and not include these two guys (and you can include Wade Redden, who has been exiled to the AHL for a couple of years now, to this section), even though they're the two most obvious choices and the very names you would expect to see.
Gomez has been at the top of this discussion pretty much ever since he signed that seven-year, $51 million contract with the New York Rangers before the 2007-08 season. Fortunately for the Rangers, they were not only able to get out from under that albatross of a deal, they were able to swindle the Montreal Canadiens and get a young, top-pairing defenseman in Ryan McDonagh back in return.
The Canadiens not only gave up an excellent player, they've had Gomez's contract on the books the past four years and will for two more. In three years with the Canadiens he's scored just 19 goals to go with 108 assists. Over the past two years (118 games) he has just nine goals and 40 assists. That includes his now infamous calendar year stretch without a goal.
And then there is Rick DiPietro's contract, which is simply the perfect storm of a bad move combined with a lot of bad luck. The Islanders traded Roberto Luongo (along with Olli Jokinen!) just a couple of years after they selected him with the No. 5 overall pick to make room for DiPietro (who they selected with the No. 1 overall pick -- ahead of guys like Dany Heatley and Marian Gaborik). The first four years of his career were good, but nothing really exceptional. Nothing that seemed to warrant a 15-year investment. Just two years into the deal the injuries started, and since the start of the 2008-09 season he has appeared in just 47 of a possible 328 games.
His contract has nine years and $40 million remaining.
Other contracts worthy of a mention
Ilya Bryzgalov, Philadelphia Flyers: I think Bryzgalov can still rebound from his disastrous first season in Philadelphia, but he's never going to justify the nine-year, $51 million deal the Flyers gave him. It would be hard for any goalie to justify that contract.
Shane Doan, Phoenix Coyotes: Four years and more than $5 million per season for a 36-year-old forward isn't a sound investment for any team, especially one in Phoenix's situation. It shouldn't be terrible for the first year or two because Doan is still a good player, but after that? Could be a problem.
Christian Ehrhoff, Buffalo Sabres: Just because it's a 10-year contract for Christian Ehrhoff.
Alexei Yashin, New York Islanders: No, he doesn't play for them anymore (and hasn't since 2006-07) but as a part of his buyout the Islanders are still paying him $2.2 million per year for the next three years. It was originally a 10-year, $70 million contract after the Islanders gave up Zdeno Chara, the draft pick (No. 2 overall) that turned out to be Jason Spezza, and Bill Muckalt to get him.
Dennis Wideman, Calgary Flames: The Flames made a couple of big signings this offseason (four years and $16 million for Jiri Hudler being the other) with Wideman's drawing the most criticism. He'll score some points on the power play, but he's a bad 5-on-5 player and has had some misadventures in his own end of the rink.
For more hockey news, rumors and analysis, follow @EyeOnHockey and @agretz on Twitter and like us on Facebook.