Five Years Later: Reviewing the 2009 draft
With the 2014 amateur draft only two days away, let's turn back the clock five years to evaluate the 2009 draft class.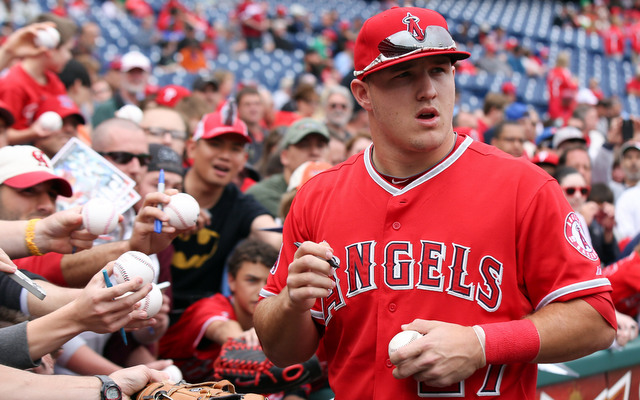 More MLB: Power Rankings | Expert Picks | Latest news & notes | Fantasy news
They say you have to wait five years before you can properly evaluate a draft class in baseball. Players need to be given the opportunity to climb the minor league ladder and cut their teeth at the big league level before we start declaring winners and losers. That hasn't stopped us before, of course, and it won't stop us in the future.
The 2014 draft will begin on Thursday night, making this the perfect time to go back those five years to evaluate the 2009 draft. That class has already given us a Rookie of the Year, three second place finishes in the MVP voting, and more than a few All-Star appearances, so it's off to a pretty great start.
To make life easy, we're going to use WAR for this exercise. It's perfect for a quick and dirty look at a draft class like this. Plus it's easily searchable. With some help from Baseball-Reference.com, let's break down the 2009 draft.
Top 15 Players To Date (round/pick)
OF

Mike Trout

,

Los Angeles Angels

(1/25) -- 23.6 WAR -- Looking back, it's hard to believe 22 teams passed on Trout in 2009, including the D-Backs and

Washington Nationals

twice. Even the Angels passed on him once. Trout is the best all-around player in the game and is off to a historic start to his career. No competition at the top spot.
1B

Paul Goldschmidt

,

Arizona Diamondbacks

(8/246) -- 12.9 WAR -- Goldschmidt has done nothing but hit since turning pro and he is now one of, if not the most productive first baseman in the game. He was the NL MVP runner-up last season.
2B

Jason Kipnis

,

Cleveland Indians

(2/63) -- 11.4 WAR -- Kipnis gets lost in the second base shuffle because of guys like

Robinson Cano

and

Dustin Pedroia

, but he is one of the game's best at the position and was a deserving All-Star in 2013.
RHP

Stephen Strasburg

, Nationals (1/1) -- 9.7 WAR -- At the time, Strasburg was considered the best pitching prospect in draft history. He has been excellent on a rate basis whenever he hasn't been hurt or shut down by his team.
IF

Kyle Seager

,

Seattle Mariners

(3/82) -- 9.2 WAR -- The Mariners were hoping to land an All-Star caliber infielder in this draft, and they did. They just did it in the third round rather than the first.
RHP

Mike Leake

,

Cincinnati Reds

(1/8) -- 9.2 WAR -- Leake was the "safe" college pitcher in the draft, and he shot to MLB within a few months as expected. Durable, reliable, unspectacular.
1B

Brandon Belt

,

San Francisco Giants

(5/147) -- 8.8 WAR -- After a few years of swing changes and call-ups and send downs, Belt broke out last season and looked headed for the All-Star Game this summer until a pitch broke his thumb.
IF

Matt Carpenter

,

St. Louis Cardinals

(13/399) -- 8.0 WAR -- The Cardinals, man. How about turning a 13th round pick into an on-base machine who can play almost any position?
IF

Dustin Ackley

, Mariners (1/2) -- 7.2 WAR -- Ackley hasn't hit as expected (not even close, really) and he's already had to move off second base. Not what Seattle was hoping for.
OF

A.J. Pollock

, Diamondbacks (1/17) -- 6.5 WAR -- Pollock is a defensive whiz who was in the middle of a breakout season before a pitch broke his hand over the weekend.
2B

Brian Dozier

,

Minnesota Twins

(8/252) -- 6.2 WAR -- Like Kipnis, Dozier is lost in the second base shuffle. He hits for power, he steals bases, and he plays strong defense. What more could you want from an eighth rounder?
3B

Nolan Arenado

,

Colorado Rockies

(2/59) -- 5.7 WAR -- Common theme here: Arenado was in the middle of a breakout season until he broke a finger sliding into second base. He won the NL Gold Glove as a rookie in 2013.
LHP

Rex Brothers

, Rockies (1s/34) -- 5.6 WAR -- Brothers is much more than a lefty specialist (though he does dominate lefties). He has 20 career saves and four big league seasons to his credit.
C

Yan Gomes

,

Toronto Blue Jays

(10/310) -- 5.4 WAR -- Gomes was the first Brazilian-born player in MLB history. Unfortunately the Jays gave him away in an ill-advised trade with the Indians.
LHP

Mike Minor

,

Atlanta Braves

(1/7) -- 4.3 WAR -- Minor is one of the few college pitchers who added velocity after turning pro. He's been as good as almost anyone in the draft class on a rate basis.
Only five other players in the entire draft class have already racked up 3+ WAR: RHP Shelby Miller (1/19), RHP Joe Kelly (3/98), LHP Patrick Corbin , (2/80), IF D.J. LeMahieu (2/79) and RHP Drew Storen (1/10). We aren't done talking about the Cardinals either.
Best Picks in the 10th Round or Later
Carpenter & Gomes: These two have been so good that they've already signed contracts worth a combined $75 million. Not bad for a pair of guys taken in the double digit rounds.
IF

Scooter Gennett

,

Milwaukee Brewers

(16/469) -- 2.7 WAR -- Gennett got his opportunity last season when

Rickie Weeks

got hurt, and he has not given the second base job back since.
C

Matt Adams

, Cardinals (23/699) -- 2.4 WAR -- Yep, Cardinals again. Power-hitting first baseman (he was a catcher at the time of the draft) in the 23rd round? Sure, why not.
RHP

Trevor Rosenthal

, Cardinals (21/639) -- 1.6 WAR -- Okay, this is getting silly. Rosenthal was actually a position player at his junior college, and the Cardinals decided to roll the dice in the 21st round after seeing him throw literally one inning.
LHP

Caleb Thielbar

, Brewers (18/556) -- 1.8 WAR -- Thielbar spent a few years in the minors with the Brewers, got released, pitched in an independent league, signed with the Twins, and pitched his way into a setup role.
Two other late-round notables are RHP Drew Hutchison (15/460) and RHP Dan Straily (24/423). If we waited one more year to do this little exercise, Hutchison might be among the 15 best players in the draft. He's been pretty darn good in 2014.
Biggest Busts
• OF Donavan Tate, San Diego Padres (1/3) -- The Padres drew heavy criticism for their college heavy drafts, so they paid Tate $6.7 million to skip out on his commitment to UNC. He has battled injury and substance abuse as a pro and never made it out of Single-A.
• RHP Matt Hobgood, Baltimore Orioles (1/5) -- Hobgood was considered a reach at the time of the draft, in part due to concerns about his conditioning. He's been hurt and has flat out not pitched well since the draft, though  he is still in the team's system as a reliever.
• RHP Chad James, Miami Marlins (1/18) -- The Marlins love their big righties from Oklahoma (like Josh Johnson ). James was simply not very good in the minors (4.74 ERA) and never made it out of Single-A. He's pitching in an independent league now.
• SS Jiovanni Mier, Houston Astros (1/21) -- In 502 minor league games and over 2,100 plate appearances, Mier has a .670 OPS. He just hasn't hit. He is still with the team though and is currently in Double-A.
• RHP Eric Arnett, Brewers (1/26) -- Timing is everything in this game. Arnett had a huge junior year at Indiana, shot up draft boards, then proceeded to pitch to a 5.18 ERA in 290 1/3 pro innings. He was released last year.
Disappointing but Useful
• C Tony Sanchez , Pittsburgh Pirates (1/4) -- Sanchez was considered something of a reach at the time of the draft, and right now he looks like he'll be a useful backup at worst, maybe a starter for a few years.
• RHP Jacob Turner , Detroit Tigers (1/9) -- Detroit used Turner to get Anibal Sanchez from the Marlins. He was arguably the best pitching prospect in baseball at one point, but injuries have struck in recent years.
• IF Grant Green , Oakland Athletics (1/13) -- Green was a polarizing draft prospect because of an up and down junior year after looking like a future star his first two years in college. He seems to be destined for a utility role.
• RHP Kyle Gibson , Twins (1/22) -- Gibson got hurt and debuted later than expected. His slider also hasn't missed as many bats as people thought it would, but hey, he's in an MLB rotation.
• RHP Vic Black , Pirates (1s/49) -- Black was a huge arm strength guy at the time of the draft. Control and injury problems have sent him to the bullpen, however. The Pirates used him to get Marlon Byrd and John Buck from the New York Mets last summer.
Ones Who Got Away
• RHP A.J. Griffin , Philadelphia Phillies (34/1,037) -- Griffin returned to college for his senior year and was selected by the A's in the 13th round of the 2010 draft. He was very good in 2013 before blowing out his elbow and needing Tommy John surgery this spring.
• LHP James Paxton , Blue Jays (1s/37) -- Toronto failed to sign Paxton before the deadline, so he pitched in an independent league the following spring before the Mariners took him in the fourth round in 2010. He opened the season in Seattle's rotation.
• RHP Marcus Stroman, Nationals (18/532) -- Stroman declined to sign with the Nats and instead followed through on his commitment to Duke. He was the 22nd overall pick in 2012 and has emerged as one of the game's top pitching propects. Stroman made his MLB debut with the Blue Jays recently.
• C Mike Zunino , Athletics (29/873) -- Like Stroman, Zunino declined to sign and followed through on his college commitment. He was the third overall pick in 2012 and is now the Mariners' starting catcher.
Two other notable unsigned players are SS Deven Marrero (17/509) and LHP Paco Rodriguez (48/1,451). They turned down the Reds and Astros, respectively, and went to college. Marrero was the 24th overall pick by the Boston Red Sox in in 2012 while Paco was the Los Angeles Dodgers ' second rounder that same year. He zoomed to the big leagues just a few weeks later. Of all the ones who got away, Stroman looks like he'll hurt the most.