Bengals 'Hard Knocks' 2013: Episode five recap
The final episode of Hard Knocks got emotional as the Bengals had to make final cuts.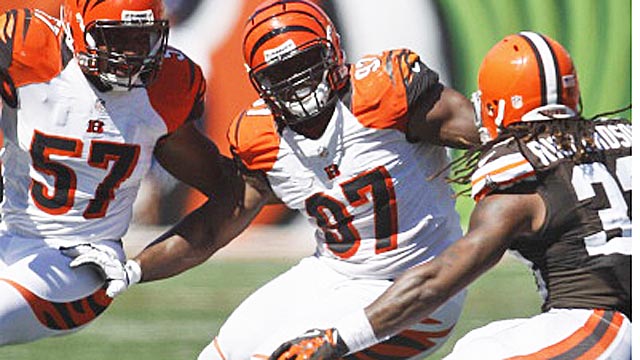 You can cancel your HBO subscription until next August because the 2013 version of Hard Knocks is now over.
The final episode on Tuesday featured almost everything you could possibly want in a final episode of Hard Knocks: someone got suspended, a lot of people got cut, Mike Zimmer shot a crossbow and someone signed a five-year, $55 million contract extension.
Also, we had the first Ultrasound in Hard Knocks history. I'm happy to announce that Domata Peko's wife is having a boy. 
Lets get to the recap. 
Bye, bye, bye
Final cuts aren't easy for anyone, especially for players who thought they were going to make the team, like fullback John Connor. Despite the fact the coaching staff thought Connor was a better fullback, the Bengals decided to keep Orson Charles over Connor, thanks in large part to Charles' special teams play. 
"This is a hard one," coach Marvin Lewis told Connor. "I know you've put your heart and soul into this. You didn't do anything wrong. You have done everything. It's more just maybe the versatility of Orson, not necessarily what you didn't do. Orson's contribution on special teams may be more."
After leaving Lewis' office, Connor admitted to being 'shocked.' 
"I thought camp went very well for me. It was one of my better camps. I'm shocked," Connor said. 
Orson Charles called Connor after he found out about the cut, "You're a great player, don't let this set you back," Charles told him. 
Connor's cut wasn't just surprising to Connor, it was surprising to linebacker Jayson Dimanche, who found out on Twitter Connor had been cut, "John Connor? I thought he was going to make it for sure," DiManche said from his hotel room. "I don't stress out about anything, but I'm stressing out right now. I don't know what's going on."
Like Connor, DiManche was on the roster bubble, but unlike Connor, DiManche ended up making the team. After officially making the team, DiManche did what anyone in his situation would do: He called his mom. 
Finally, it's nice to know that linebacker Bruce Taylor has a backup plan if this football thing doesn't work out.  "If I don't make the team, I'm trying out for the Reds," Taylor said. 
Taylor didn't make the team. No word on how his Reds tryout went. 
From Hard Knocks to knocked up
If you watched Tuesday night's episode of Hard Knocks hoping to see an Ultrasound -- first, that's kind of a weird thing to hope for on a show about football -- but you did get to see one.
Domata Peko and his wife went in for an Ultrasound and this is what Peko had to say before the test was done, "My wife is hoping for a girl, but if it's a boy I'll be excited about that too because I'll have almost a whole defensive line front there," he said. "I'll have a nose guard and two defensive ends so it will be cool."
Peko's going to have a nose guard and two defensive ends because it's a boy. You can send your gift to Paul Brown Stadium. 
Geno Atkins is $55 million richer
If you missed it on Monday, Bengals defensive tackle Geno Atkins signed a five-year, $55 million extension with the team, a signing that happened just in time to make it into Tuesday's episode. 
Before the contract was signed, Atkins was sitting in the Bengals locker room when someone asked him how much money he was going to make. Atkins wouldn't say, so his teammate grabbed his cell phone and looked up the contract details online.
"It's five-years, $55 million and he's going to make $22 million in six months." 
I'm not sure what million dollar number Adam Jones keyed in on, but he was the first player to congratulate Atkins after the contract details were read aloud in the locker room. 
Another person to congratulate Atkins was Bengals executive vice president Katie Blackburn, "We've been working on this a long time and we're really excited to get this done and have you be a part of the team for a long time," Blackburn said. 
Atkins also got a pat on the back from owner Mike Brown. 
Eight games out
Most guys who get suspended in the NFL release a statement and apologize for what happened. Not Bengals defensive end DeQuin Evans, he had to explain his suspension to America. The NFL gave Evans an eight-game suspension on Aug. 30.
"I've been dealing with this for over a year and two months now," Evans said. "I take full responsibility for what went into my body. At the same time, I didn't know that what I was taking had a banned substance in it."
Whatever Evans took, it probably doesn't work as well as deer antler spray. 
James Harrison ends Hard Knocks
James Harrison made it clear over the past five weeks that he's not a big fan of the Hard Knocks crew so it was only fitting that the show's final episode ended with Harrison turning the tables on the Hard Knocks camera crew by filming them. Harrison then probably ripped their arms off in an arm-wrestling match. 
Finally, remember that the most important lesson we learned on Hard Knocks this season is that it's OK to drive your girlfriend's mom's minivan. Especially if this is your girlfriend.
---
Follow John Breech on Google+
It looks like we're going to have a quarterback competition in Jacksonville

Smith is facing up to seven years in prison if convicted

Plus everything else you need to know about Week 2 of the 2017 NFL preseason
This is why being a rookie in the NFL isn't fun

The Raiders running back went Beast Mode on reporters

Elway tried his best to emphasize how complicated the situation is