NFL Draft: Did Teddy Bridgewater really 'fall' to the 32nd pick?
Formerly thought of as a potential No. 1 overall pick, how did Teddy Bridgewater slide until the end of the first round.
• 3 min read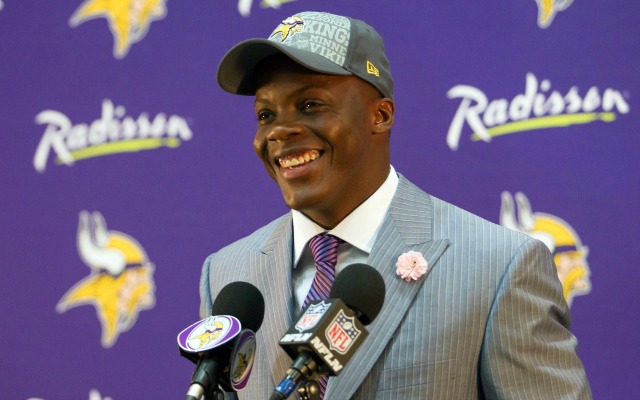 Teddy Bridgewater was happy to be drafted by Minnesota. (USATSI)
Draft coverage: Picks and grades | Prospect Rankings | Sam goes No. 249 | News
NEW YORK -- Teddy Bridgewater's pro day back in March was hardly a success. 
His decision not to wear gloves backfired. Critiques about his frame stood out. And in the lead-up to the 2014 NFL Draft his draft stock took a nosedive in the following weeks. When speculation ramped up that he might fall out of the NFL Draft's first round, Vikings offensive coordinator Norv Turner sought to comfort the former Louisville quarterback.
"Don't worry about your workout," Turner told Bridgewater. "It was not as bad as everybody is going to tell you it was."
Maybe pro days don't help potential No. 1 quarterbacks -- Johnny Manziel, after all, had one of the buzziest pro days of all, yet he tumbled to No. 22 overall -- but, as Bridgewater discovered, they may hurt you.
Still, is that the reason Bridgewater tumbled from the potential top spot to No. 32, where the Vikings -- reportedly under the advice of Turner, who supposedly banged the table in order to convince general manager Rick Spielman that Bridgewater was their man -- traded back into the first round to grab him just before the first round ended?
Did one bad 68-minute workout kill Bridgewater's chances?
"What everybody has to understand is that the No. 1 [ranking] is not made by people who make the decisions in the draft," said former longtime Cowboys personnel man Gil Brandt on Saturday, a few hours before the final day of the NFL Draft began. "Consequently, in an effort to get there first and to get their name out there, people came out and made those statements. Bridgewater is a good player. Bridgewater is not a great player."
Brandt isn't saying Bridgewater won't become a great player. It's just that Bridgewater's not one at the moment, and perhaps that more than his subpar pro day, was the real reason 30 teams passed over him before the Vikings decided to take their chances.
Bridgewater was happy Minnesota did. And when he emerged at his post-draft news conference, with that purple Vikings ballcap sitting on his head, he took a deep breath and exhaled all the pressure that had been building on his so-called slender hips and skinny knees.
"Two weeks," he said, "can feel like two years."
He's joking. But not really. Because he knew the pro day had hurt his draft stock among the decision-makers. Or that's the way the rest of us perceived it. Either way, it wasn't good. But, Brant said, it wasn't all Bridgewater's fault.
"They did a terrible job of working him out," said Brandt.
For one, Brandt said, Bridgewater didn't don the gloves he normally wears during football games. That's because Bridgewater had been preparing for the pre-draft workouts in Florida, and since the weather was warm, he tossed aside the gloves. Before his pro day began, he figured he didn't need them. Brandt also points to the decision to keep Bridgewater almost entirely under center during his pro day instead of allowing him to take shotgun snaps.
A few minutes after he was drafted, Bridgewater was asked when he knew the pro day would present problems for him.
"Right after the pro day," he said. "But everything that I took away from it made the [private] workouts even easier. The pro day happened because of my decisions. I knew if I made the right decisions [afterward], I knew it would be easy."
The decision he regrets was the decision not to wear gloves. He wore them during his private workouts, and he said he fared better. But because the pro day was televised nationally, everybody who has some kind of voice as an NFL Draft analyst could drop him in their mock drafts.
Yet, Bridgewater, looking back on the ordeal, doesn't see that pro day as a negative.
He took it as a chance to learn something. He learned to stay true to himself. He learned not to screw with prior success. He learned that if he became one of the best college players in America when he wore gloves, maybe he should wear the gloves when he's auditioning for the pros.
But maybe none of what would have mattered anyway. Because maybe Bridgewater was never really that highly-regarded in the first place.
"If you asked the coaches or scouts ahead of time just how good he was, nobody would have said he's the first pick of the draft," Brandt said. "It was a media creation."
The inaugural youth world championships kicked off on Dec. 14 with more than 100 teams

The first-year cornerback has not been active in four weeks and drew a suspension earlier this...

McCown will help the coaching staff work with Bryce Petty and Christian Hackenberg
The Browns have a long way to go to be AFC North champs

Five selections against the spread for the upcoming Week 15 slate of NFL games

Here are 10 things to watch in Week 15, including a hot Bortles, a cold Brady and a new Eagles...