Sorting the Sunday Pile: Peyton Manning's prolific pace
Sorting the Sunday Pile looks at Sunday's biggest storylines. This week: Peyton Manning's incredible pace, Tony Romo's narrative, Andrew Luck beating Russell Wilson and much more.
Anyone with two eyes and a heart was rooting for overtime on Sunday afternoon in Dallas, as the Denver Broncos and Dallas Cowboys emptied their respective holsters in an epic 51-48 Denver victory. If you somehow missed it, yes, Peyton Manning was marvelous once again.
Just as he has all season, Manning manipulated defenses, diagnosed coverages and made perfect throws en route to a monster game. He had the Cowboys defense so wrapped around his little finger that everyone from Monte Kiffin to CBS' camera man bit like crazy when he busted out a naked boot and trotted into the end zone to put the Broncos up 28-17.
Somehow the most shocking moment wasn't Manning's touchdown run. Instead it came when Peyton finally looked human and threw his first interception of the season. Manning underthrew Eric Decker in a sunny section of the JerryWorld field and was picked by Morris Claiborne , forcing him to fall short of Jake Plummer's Broncos record for most consecutive passes (229) without a pick.
That's good for Claiborne because he was abused the rest of the day, along with the rest of Kiffin's defense. They, like everyone else the Broncos have seen, simply had no answer for Manning.
What Manning is doing right now is maestro-esque and it's simply magical. At the age of 37, not too long removed from a quartet of neck surgeries, Manning is playing quarterback as well as anyone in the history of the game.
Through five games he has 20 touchdowns -- an NFL record for the first five games of the season -- and just one interception. The Broncos scored 230 points in those first five games, surpassing the 2000 St. Louis Rams (aka "The Greatest Show on Turf") for most points through five games. They've already scored more points in five games than the 2012 Kansas City Chiefs scored all season.
Denver's on pace for 736 points, which wouldn't just beat the NFL record for points scored, it would absolutely shatter it. The 2007 New England Patriots -- remember them? -- scored 589 in a season with Tom Brady . If Denver keeps up this pace it would be the first team to cross the 600-point barrier and the first team to pass the 700-point barrier. It's football's version of ludicrous speed.
Another remarkable stat: there are four different Broncos receivers on pace for 1,000-yard seasons. Demaryius Thomas (on pace for 1,440 yards), Decker (1,366.4 yards), Julius Thomas (1,148.8 yards) and Wes Welker (1,008) are all tracking for the milestone, for those that were worried about not having enough footballs to catch in Denver.
Perhaps most impressive about this pace for Manning? How he's doing it. He has tons of weapons, yes. But again: He's 37 and not at all the same physically capable person he was during his prime. Manning is not coasting by because of his supreme physical talents. He lacks touch on the deep ball most of the time and, as has been his trademark for some time, his passes wobble end-over-end heading toward their intended target.
But he's destroying teams by overpreparing, overanalyzing and outsmarting them. It has him playing quarterback perhaps like nothing we've ever seen before. Soak it in and enjoy it. 
The #Narrative
You could see it coming a mile away. Tony Romo was on cruise control, making every big throw against Denver and setting the Cowboys up for a massive win at home against the Broncos. And then -- *poof* -- just like that, he's gone.
Romo's throw wasn't nearly that bad -- we've seen much, much worse throws from the Cowboys quarterback. It was a mistake and it was thrown to a guy with three Broncos players around him while the checkdown was wide open. But it required a tough defensive play and Romo was getting pressured in the pocket.
Before that Romo was almost entirely flawless the entire day Sunday. Condensing his entire day to a single play and criticizing Romo for "being a choker" is chump analysis. It feeds into a false narrative that exists because of the high-pressure, high-profile job that Romo has.
He went 25 for 36 (69.4 percent) for 506 yards (14.1 -- ! -- yards per attempt) and looked like an, ahem, elite quarterback while matching Peyton punch-for-punch up until the final whistle.
"Tony played as good a football game as I've ever seen him play," Jason Garrett said.
We'll hear the entire week that Romo doesn't belong and that he can't close. Romo's got gaffes late in games throughout his career, but the full statistical breadth -- and the empirical evidence to boot -- from Sunday's game should show it's a narrative not worth pursuing.
Ricky Davis at QB?
One of my all-time favorite basketball plays was Ricky Davis -- then with the Cavaliers -- purposely missing a shot so he could get the rebound and the resulting triple double. Ryan Fitzpatrick  intentions were much different Sunday, but the result is much more fun.
It almost looks photoshopped, but as you can see, Fitz had a pass deflected, knocked back his way and nearly threw himself a passing touchdown.
And it left us with this beauty on the play-by-play recap:
Just How Bad Are The Jacksonville Jaguars ?
Through five games, the Jaguars are the worst team in the NFL. They might be the worst team in NFL history. At the very least, Jacksonville tied the 2009 Rams for worst point differential from an 0-5 team through the first five weeks of the season since 2007.
| | | | | | |
| --- | --- | --- | --- | --- | --- |
| Team | Year | Point Diff | W-L 5 Games | Final Point Diff | Final W-L |
| Jaguars | 2013 | -112 | 0-5 | -???? | ?-?? |
| Rams | 2009 | -112 | 0-5 | -261 | 1-15 |
| | 2013 | -100 | 0-5 | -??? | ?-?? |
| Rams | 2011 | -88 | 0-5 | -214 | 2-14 |
| | 2008 | -83 | 0-5 | -249 | 0-16 |
Two things.
One, those Rams would finish 1-15 (and actually lost to the 2009 Jags in overtime in Week 6 before finally winning in Week 8 against the Lions). They significantly improved on their point-differential "pace," which had them finishing at -358.4 through five weeks. While Jacksonville might not continue to get exponentially better, they definitely don't look like a team that's suddenly going to get better, especially with Luke Joeckel going down for the season.
Jacksonville is intent on running out Blaine Gabbert until there's no further excuse for him or until they secure that No. 1 pick. They're trotting out tons of young players -- as they should, since guys like Dwayne Gratz and Jonathan Cyprien need the reps. Even the veterans aren't A-listers.
With that division looking tougher it wouldn't be surprising to see them scare a -350 point differential.
Oh. And two ...
The Giants Are On that List
You might've missed it because you were focused on the horrid nature of the Jags, but the Giants have the third-worst differential of any 0-5 team since 2007. That's real bad, just like the Giants.
The list of things that were good for the Giants on Sunday starts and ends with David Wilson finding the end zone and busting out a double backflip.
Unfortunately Wilson would almost immediately suffer an injury (at least the Giants weren't nailed for a safety?) and leave the game.
New York's no longer "a quality team deserving of maybe having a chance to turn things around just because they're the Giants." This is a terrible football team. Eli Manning threw three interceptions to the Philadelphia Eagles , who sported a defense with just two interceptions all season. Philly's pass defense was a poor imitation of Swiss cheese prior to this game. They have no business locking down Manning (he ended up going over 330 yards and Hakeem Nicks /Reuben Randle had nice games, but don't get lost in the counting stats).
The Giants also gave up 36 points. And it wasn't 36 points to a high-powered Chip Kelly offense. It was 36 points split just about evenly between Michael Vick and Nick Foles . Vick shredded the Giants on the ground and through the air before departing with a hamstring injury and then a cooler-than-cool Foles stepped into the game and embarrassed New York's secondary further. Foles wasn't lights-out but there's no reason why New York can't capitalize on an injured quarterback and pick up a win.
Somehow they're not quite dead, mathematically speaking, even at 0-5. That division is terrible and they're only two games back of the Cowboys. 7-9 might win the NFC East. But it would take a miracle for the Giants to get there at this point.
Miami Concern
Two worrisome things out of Miami from Sunday. First Miami Dolphins mascot is either blind or just got punched by Jim Carrey:
Second, can he pass protect? Because Ryan Tannehill needs help in a bad way. Tannehill has been sacked 24 times now -- Baltimore brought him down six times, including three from Terrell Suggs -- which has him easily in the "lead" in the NFL for most sacks this season. He's being taken down 4.8 times per game, which puts him on pace for 76.8, a number that would sneak him past David Carr for the most times sacked in a single season.
Tannehill holds the ball too long sometimes, but he's not the problem. He's a legit franchise quarterback -- no play better defines this than the fourth-and-10 throw Tannehill made to get them in position. Watch it here and scope the body position Tannehill has when he actually throws the ball:
Tannehill rolled left, running quickly and then proceeded to throw back across his body and wing the ball 45 yards down the field. On a difficulty scale of 1-10, that's a 14.
But for as good as Tannehill can be -- and he can be very good -- it's going to be irrelevant if Miami can't get some protection for him. Jonathan Martin is not the answer. 
New Orleans Saints Secret Best
I wrote more about this in our 2013 Week 5 NFL Grades piece, but the Saints might be the best team in football. Seeing them match up with the Broncos would be epic. Read that here.
Round 1 to Mr. Luck
Mea culpa time: I was wrong about the Indianapolis Colts . I expected them to regress this year and didn't think they were the best team in their division (although I did pick them to make the playoffs as a wild card). That's not happening and it's because Andrew Luck is one of the best quarterbacks in football. So is Russell Wilson , of course, but Luck outdueled him on Sunday.
You can make the argument that Wilson was more valuable -- he had 102 rushing yards -- and Luck's defense was actually more impressive than Wilson's in Week 1. Luck also got more help from special teams as the Colts made a critical field-goal block that turned into a touchdown in the second quarter.
Generally, though, I give him the edge for a pair of strikes to T.Y. Hilton that resulted in touchdowns against a stout Seattle Seahawks secondary. He didn't make many mistakes against a difficult defense and has the Colts at 4-1 after a pair of convincing wins over Seattle and San Francisco in the last three weeks.
The Colts are very much for real. You should realize this if you haven't.
Worth 1,000 Words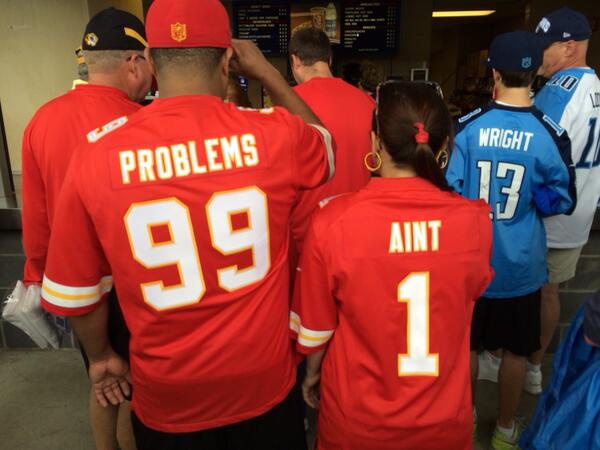 Potent Quotables
#11 Gabbert, Blaine. Pos: Fetal

— Josh Norris (@JoshNorris) October 6, 2013
What do K. Wright, T. Williams, J. Gordon & D. Avery have in common? They led their NFL teams in receiving this week & played in our system

— Coach Art Briles (@CoachArtBriles) October 7, 2013
If the Houston Texans were horses, they'd be shot at halftime.

— John McClain (@McClain_on_NFL) October 7, 2013
Romo was at it again in Week 3, diagnosing defenses and calling out the plays before the s...

Washington's star cornerback is not a fan of the president and his incendiary rhetoric

Joe Lockhart, speaking against Trump, called Sunday 'an important day in the NFL'
Week 3 in the NFL was absolutely bonkers, and Twitter overreacted as usual

The Hall of Famer and former Bills great also thinks Trump needs to quit Twitter

Here's an early look at the lines for all NFL games being played in Week 4