2014 Olympics: Projecting Team USA
Chris Peters gives his best guess at who will suit up for Team USA in Russia if NHL players agree to play.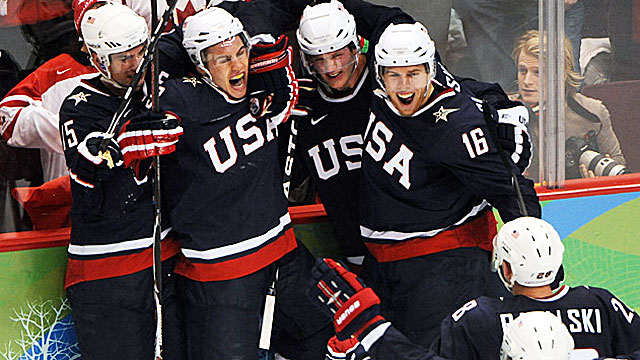 The U.S. Olympic team came devastatingly close to a gold medal at the 2010 Winter Olympics, and many of the players from that silver-medal team will be back for a second try in Sochi. And you better believe they'll have eyes on gold.
USA Hockey has a great pool of players to pull from, which makes for some tough decisions, but having a good core of returnees makes a huge difference.
The NHL still hasn't officially signed on for participation in Sochi, but in the highly likely event that it does, here are my picks for Team USA a year out from the 2014 Winter Olympics.
FORWARDS
On the bubble: Blake Wheeler, Jason Pominville, Derek Stepan, Brandon Dubinsky, Ryan Malone, Alex Galchenyuk
The United States is going to have a good mix of toughness and skill, but above all, it will have speed. On the bigger ice surface in Sochi, speed is at a premium. The U.S. squad is going to have a hard time matching the depth of other teams, but it can be one of the fastest.
The top six is going to stack up well with any team, with Parise, Kane and Kessel really leading the scoring charge. Kesler can play in a top-line role but also has the defensive skills to be a shutdown guy if needed. If Team USA decides to move him down, Joe Pavelski looks like a good choice to center the top scoring line.
The Americans are stacked at right wing with loads of skill and offensive potential. One of those guys could get shifted to the left side to get more top-six time, but all four bring some fantastic tools to the table.
The U.S. squad is a little lighter down the left side, but Max Pacioretty continues pushing his game forward. He was also Team USA's best forward at the World Championships last year, so that international experience helps his cause. James van Riemsdyk is another big-bodied winger who looks like he's starting to find his power-forward game in Toronto. T.J. Oshie is a natural right winger, but with the depth Team USA has at that position, if he makes the team, he's likely slotted on the left side. His tenacity, speed and scoring ability gives the U.S. a good depth guy to contribute.
Ryan Callahan is listed as the 13th forward more because he can fill in on just about any line. He has tremendous defensive abilities and was one of Team USA's best penalty killers at the 2010 Olympics. He's also my favorite to be named Team USA's captain.
Of the bubble players, Jason Pominville might be an interesting guy to watch. He's playing at a high level and has the versatility to line up at center or wing and be effective. He's a veteran who could play a bottom-line role if he's asked. Also, keep a close eye on Montreal rookie Alex Galchenyuk. He'd be a long shot, but it looks like he has the skill level to potentially make contributions at the Olympic level. Wait and see how his development goes this year into next.
DEFENSE
On the bubble: John Carlson, Keith Yandle, Matt Carle, Alex Goligoski, Justin Faulk
The defense is a bit trickier to figure out this year, but the United States has a ton of young guys at its disposal. The big key on the big ice surface is going to be mobility, and that weighed heavily on these selections. Having multiple guys who are good at both ends of the ice will help supplement the offense while not sacrificing very much defensively.
The clear No. 1 is Ryan Suter, who will play a load of minutes for this team. Even though he's struggling this season, the top level of his game is still elite. Jack Johnson, Erik Johnson and Brooks Orpik all have Olympic experience and would be poised for a return. Each brings a different but important element.
To me, Ryan McDonagh has potential to ascend to a top-four role for Team USA. He has tremendous speed, plays a good sound defensive game and moves the puck very well. He does all of the dirty work, too, and his game would flourish on the big ice sheet. Meanwhile, Kevin Shattenkirk offers a lot of similar tools, with a little more offense. There's room for both.
For the last D spot, it came down to Dustin Byfuglien and Keith Yandle. Byfuglien gives the Americans a much-needed offensive element from the back end without sacrificing as much defense. Yandle is more of a high-risk, high-reward type guy. Byfuglien is the safer bet, but Yandle's offensive skills will not go unnoticed.
One to keep a close eye on from the bubble group is Justin Faulk of the Carolina Hurricanes. He's incredibly young, but he's developing at a rapid pace and was a standout at the last World Championship. He's a guy who could ascend into an Olympic spot, surpassing other candidates like John Carlson and Matt Carle for stronger consideration.
GOALIES
3. Ryan Miller
On the bubble: Jimmy Howard, Tim Thomas 
Goaltender has become a position of strength for the United States in recent years. Ryan Miller was a show-stealer in 2010, but it looks like it's time for him to relinquish the crown.
Jonathan Quick showed in the Stanley Cup Playoffs just how good he is. His performance in that high-pressure situation makes him the odds-on favorite to carry the mail in net for Team USA. He was the No. 3 on the 2010 Olympic team, but his time is now.
Cory Schneider, though in a duel for the Vancouver Canucks net right now, seems like a solid choice edging out Jimmy Howard for the last goalie spot. More than likely, he'd be the No. 2 for Team USA with Miller sliding back, but it's a little too early to make a final call on that one.
Tim Thomas has mentioned he'd possibly come back to try to play in the Olympics next year and with his USA Hockey history, don't necessarily rule him out completely. It's a long, long, long shot, but he's an option.
HEAD COACH
Dan Bylsma
Bylsma was a guest of USA Hockey's at last year's World Championship to "observe," which fueled speculation he is the top choice to lead the 2014 team. He is a well-respected coach with his name on the Stanley Cup. Bylsma's style also looks like it would gel well with a younger team like the U.S. is expected to have this time around. The only downside is Bylsma's lack of international coaching experience, which counts. Still he looks like the favorite.
That said, John Tortorella, Peter Laviolette and even Ron Wilson could figure into the discussion. All three have Olympic coaching experience and good relationships with USA Hockey. 
For more hockey news, rumors and analysis, follow @EyeOnHockey and @chrismpeters on Twitter and like us on Facebook.
The NHL chose the Detroit rocker as its All-Star Game entertainment and not everyone is th...

NHL fans from all over seem to agree on one thing: Hating Kid Rock

The team tweeted on Monday that Shaw would be re-evaluated in 7-10 days
The Montreal forward was hospitalized after taking a Zdeno Chara slap shot to the head

Tampa Bay is still No. 1 and Vegas is still up there, but a few others are finally catching...

Army filed an opposition to the use of 'Golden Knights' on the last day that it was permitted...