NHL All-Time Teams: Toronto Maple Leafs
Putting together an all-time first team for the Maple Leafs is no easy task, going deep into their history. But Mats Sundin is on the squad.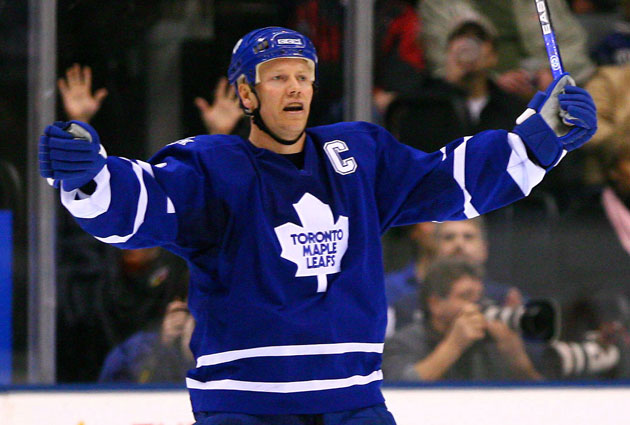 More NHL offseason: Rumors | Top 50 Free Agents | Buyout Tracker | Trades | Transactions
Ah, hockey in the summer, where things come to a grinding halt for about two months in between one long season and another. To fill the void we at Eye on Hockey thought it would be fun to make an all-time team for each of the 30 organizations in the NHL today.
The ground rules: The teams will consist of a center, two wings (regardless of which side), two defensemen and a goaltender. A player must have spent at least 200 games with a franchise to be considered. So Bobby Orr won't be on the Blackhawks' roster or Wayne Gretzky for St. Louis.

As an Original Six franchise, the Toronto Maple Leafs of course have a long history full of Hall of Famers littered throughout. When you are as strong as they were in the 1940s through the '60s, when they won 10 Stanley Cups over 26 years, you're going to have a litany of great players.
While that's certainly the case with the Leafs, what they don't have are a ton of guys that you could consider the greatest of all time, no sure-fire locks the way the Blackhawks had in Stan Mikita and Bobby Hull, for example.
It's an odd dynamic for a storied franchise, but you also must remember that they have had some awfully lean years since that run. The last time they won the Cup was in 1967, which was also the last time they even reached the Stanley Cup Final. So putting together a lineup of the greatest Leafs ever is even more of a daunting task, especially considering most of their greats played a long time ago.
Mats Sundin: Sundin is the outlier on this list. He's a player everybody today has seen play at some point. He was just inducted into the Hockey Hall of Fame last year, his first time on the ballot. He gets in on this ballot over some really good centers such as Darryl Sittler and Dave Keon, among others.
Is it really the case that Sundin is the greatest Leaf ever? It just might be. He is only sixth all time in games played as a Leaf with 981 but he's tops in franchise history in goals (420) and points (987) while sitting second in assists (567). He was nothing but consistent(ly good) his whole Leafs career, scoring fewer than 27 goals only once -- when he scored 23 goals in 47 games of the strike-shortened 1994-95 season.
Plus, any guy who takes criticism for NOT wanting to leave your franchise in down times deserves bonus points. He might not have started in Toronto but he was a true Leaf and no doubt Sundin is one of if the not their best player ever. Really.
George Armstrong: No player in franchise history has played more games than Armstrong and that counts for something. He spent his entire career with the Leafs, playing his first games in the 1949-50 season and his last in 1970-71. That was good enough for 1,187 appearances in the famed Leafs sweater. It was also good enough to win the Stanley Cup four times.
Armstrong is not the greatest Leaf to ever play, with 296 goals and 713 total points in his career, but he's a Hall of Famer and is near the top of about every record the Leafs have thanks to his longevity. He is one of the more iconic Leafs there is. (Below photo courtesy of VintageLeafMemories.com.)
Frank Mahovlich: For the second wing I'm going to stick in the 1950s and '60s and take the Hall of Famer Mahovlich for the other spot. Despite playing just 720 games as a Leaf compared to Armstrong's 1,187, the two are tied for the sixth-most goals in franchise history.
You could argue that Mahovlich's best days came later in his career with Detroit and Montreal before finishing out in the WHA but he was an eight-time All-Star with the Leafs for good reason. He also won the Calder Trophy in 1957-58 as the Rookie of the Year. His best season in Toronto was a 48-goal, 84-point season in 1960-61 and he won the Cup four times as a Leaf. Interestingly enough, they traded him during the 1967-68 season and haven't been back to the Final since. The curse of Mahovlich, perhaps?
Truth be told there are a lot of wings that could make the Leafs roster here -- you'll see many of their names at the bottom. You could make an argument for a number of them and be completely justified. They have a lot of really good candidates but at the same time no obvious candidates.
Tim Horton: No, this is not the coffee shop but the actual man who was famous for being a great defenseman well before he was synonymous with rolling up the rim. However, he does get props for being a Canadian icon, turning his success into the nation's coffee company.
What people forget is that Horton was quite the player over his long career that began with the Leafs in 1949-50 with one appearance. Eventually he established himself as a Leafs mainstay and at one point played 486 straight games. He was never a real scoring threat but he did finish with 518 points during a career that carried him to New York, Pittsburgh and Buffalo in his 40s. Horton was part of the core group that won the Stanley Cup four times and he was a seven-time All-Star and entered the Hall of Fame in 1977.
And yes, he was tough.
Borje Salming: The Swedish defenseman is a bit of a rarity on this Leafs all-time team, joining Sundin as the only player to never experience a Stanley Cup Final game, let alone winning the Cup. But like every other player here, Salming is in the Hall of Fame, joining the hallowed halls in 1996 after a long and great career in Toronto.
Salming was a more offensive-minded defenseman, certainly more so than Horton, and is the franchise leader all time in assists with 620 and is actually fourth in overall points with 768. Not bad for a blue-liner.
Turk Broda: This here was not an easy decision. Picking between Broda and Johnny Bower is like choosing between two apples. I'm going with Broda because he was in Toronto longer and is thus the franchise leader in wins with 302. Plus he came first and spent his entire career with the Leafs, so Bower will bow to one of his predecessors.
Broda was the netminder for the Leafs from his rookie season in 1936-37 all the way until his final season in 1951-52. The only thing that interrupted his time in net was World War II, when Broda joined the Canadian army and missed two-plus seasons from 1943 to 1946. Despite issues with his weight, Broda led five Stanley Cups winners with the Leafs, including one in his first full season back from the war in 1946-47, starting a string of three championships in three years and four in five for Toronto. Broda was a two-time Vezina Trophy winner.
Wendel Clark, Rick Vaive, Dave Keon, Darryl Sittler, Bob Pulford, Johnny Bower, Felix Potvin, Lanny McDonald, Ron Ellis, Doug Gilmour, Ted Kennedy, Red Horner, Charlie Conacher, Babe Dye, Hap Day ... I don't think any current-era Leaf is in the conversation but a guy like Phil Kessel could get there
The NHL says it's only interested in expanding to Seattle, but here's a look at all the moving...

The NHL says it is only looking toward Seattle for the next expansion team

The 33-year-old defenseman hopes to help find a cure for serious head injuries in athletes
Chicago becomes the latest NHL club to earn an evaluation of $1 billion or more

The city council has approved a $600 million redevelopment project for KeyArena

Arvidsson took off his glove to reveal an engagement ring for one lucky fan