Red Wings, Kyle Quincey avoid arbitration with two-year contract
The Red Wings and Kyle Quincey won't be seeing a mediator after reaching a two-year agreement on a contract extension.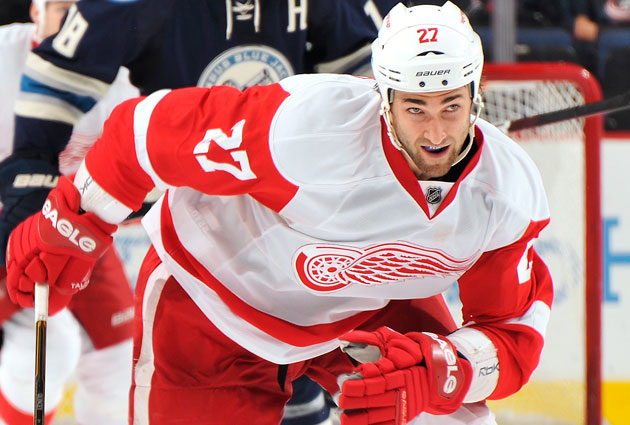 Kyle Quincey was originally drafted by the Wings and is now back in Motown. (Getty Images)
The Detroit Red Wings and Kyle Quincey were scheduled to go to arbitration as the team and restricted free agent couldn't reach an agreement on an extension. That was until Wednesday.
Quincey avoided seeing the Wings in front of a mediator by agreeing to a new two-year contract worth $7.55 million, as reported by Helene St. James of the Detroit Free-Press.
Re-signing Quincey was never really an issue, it was certainly expected given his restricted free-agent status. That doesn't mean it wasn't vital for the Wings to get it done. After seeing Nicklas Lidstrom retire, Brad Stuart heading to San Jose and Ryan Suter passing on the Red Wings' offer in favor of the Minnesota Wild, it was pretty imperative to make sure Quincey was back in the rotation.
Acquired from the Colorado Avalanche by way of the Tampa Bay Lightning, Quincey appeared in 18 games on the Detroit blue line last season. Perhaps it was adjusting to a new team but Quincey had just one goal and two assists in that span, not producing as much offensively as he did in Colorado -- or in Los Angeles before that.
He was making $3.25 million last season so it is an increase in salary for Quincey, if not a massive one. As mentioned, they needed to get Quincey back under contract because with him on the books once again that brings the Wings to six defenseman signed at the NHL level, one of them being the still relatively unproven Brendan Smith.
With Lidstrom gone it will be interesting to see how much the Wings will turn to Quincey. He is one that carries the label of puck-moving defenseman so the power-play hole left by Lidstrom might be Quincey's spot to fill.
For more hockey news, rumors and analysis, follow @EyeOnHockey and @BrianStubitsNHL on Twitter and like us on Facebook.
The team tweeted on Monday that Shaw would be re-evaluated in 7-10 days

The Montreal forward was hospitalized after taking a Zdeno Chara slap shot to the head

Tampa Bay is still No. 1 and Vegas is still up there, but a few others are finally catching...
Army filed an opposition to the use of 'Golden Knights' on the last day that it was permitted...

The NBC rinkside reporter is hoping to return in time for the 2018 Olympics

Here's who wade the cut for the 2018 NHL All-Star Game on Jan. 28 at Amalie Arena in Tampa...