Tyler Seguin with another 'hack' tweet, maturity questions continue
Tyler Seguin, recently traded to Dallas, has been facing questions about his maturity. A tweet he claims was a hack on Saturday won't help.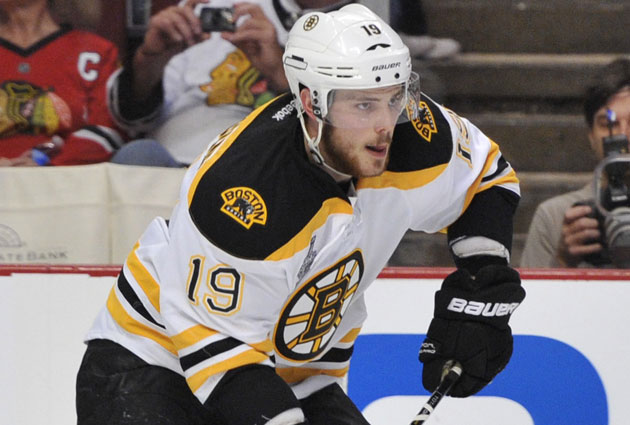 More NHL offseason: Rumors | Top 50 Free Agents | Buyout Tracker | Trades | Transactions
When Tyler Seguin was traded to the Dallas Stars, there were many reasons behind it. Personally, I think nothing was bigger in the decision than some salary cap relief for the Bruins but there were some real concerns about his maturity as a player. That's not coming from me, it came from GM Peter Chiarelli, who said Seguin needs to learn to become a better pro.
A good part of that refers to his off-ice antics and, in some cases, his Twitter account. While he has mostly remained benign -- what many would consider the professional approach -- he has had a couple of regrettable moments.
He had another one of those in many people's minds on Saturday night, just a couple days after officially becoming a Dallas Star.
The since deleted tweet looked like this (of course via Flyers Nation):
It wasn't long after that the tweet was taken down and Seguin issued an apology, alluding to the fact he was hacked. This was the second time in a matter of weeks that Seguin had a tweet referencing homosexuality as a tweet about coming out of the closet was also deleted and followed up with a hack apology.
One more tweet from Seguin came on Sunday morning. It's the last one you'll see for a while:
After repeated attempts by "hackers" to try to damage my reputation I have decided to shut down my twitter account for a while.

— Tyler Seguin (@tylerseguin92) July 7, 2013
Instead of being hacked in the usual sense, it sure seems a lot more like a 21-year-old's friends were having fun with his phone while he wasn't looking. That's the theory from Patrick Burke, founder of the You Can Play Project seeking to end homophobia in sports, and one I'm inclined to agree with.
I'll save you the moral outrage as to the tweet because, frankly, I don't see the terribly big deal. It's a quote from the popular yet pretty vulgar movie Full Metal Jacket, even if not perfectly replicated. Seguin just became a Texan, yadda, yadda. Here's the video to the scene in question (NSFW warning: language).
What it is, though, is a mistake. Unless Seguin truly was hacked by somebody -- believe it if you will -- it is something that looks bad, very bad. Some are offended by the tweet and they have every right to be, to each his or her own sensibilities. The bigger issue is the continued reputation that's building.
Stars GM Jim Nill told Mike Heika of the Dallas Morning News he planned a sitdown with Seguin over the matter. Then on Sunday afternoon, the Stars released a statement:
"In no way, shape or form does the Dallas Stars organization condone or agree with the message that was sent out through Tyler Seguin's Twitter feed last night. We've addressed the issue directly with Tyler and we'll continue to work on educating our players regarding the importance of their conduct on all forms of social media."
Earlier this year Seguin had a tweet with the words "no homo" in it, something that Seguin didn't say was a hack and something he apologized for -- and should have, in my opinion that was way worse than quoting a Stanley Kubrick flick. He owned up to that which makes me further believe the tweet in question here didn't come from him. However it also comes just after reports of some immaturity issues surfaced out of Boston, ones Seguin's mother came out and said were totally false.
False accusations or not, it is an important teaching time for Seguin, all of these incidents together. He's just 21 and while just about all of us do stuff we regret at that age, he is also a professional athlete and has been for a few years now. At some point that's not an acceptable excuse. The Stars made a big investment in him and part of making that successful is eliminating distractions off the ice such as this.
If the most likely case here is true, that it was a friend or friends doing the "hacking," that's still on Seguin. I don't normally advocate such things, but putting his Twitter account on hiatus for some time is probably for the best at this point.
At some point we need to be talking mostly about Seguin's ability on the ice, not the other stuff, because he can play. I'm inclined to think they are a bit overblown, the concerns about his maturity, but the fact that it remains a conversation is not a positive.
Saturday's showdown will serve as a rematch of one of the NHL's first-ever regular season...

Stacia Robitaille says Donald Trump told her in an elevator that she was coming home with...

Vladislav Yeryomenko was the Teddy Bear Toss goal scorer for the Calgary Hitmen
The Golden Knights are finally getting their No. 1 goalie back after a 25-game absence

Washington has won four straight, and the Kings are also on a tear right behind the Lightn...

The NHL says it's only interested in expanding to Seattle, but here's a look at all the moving...