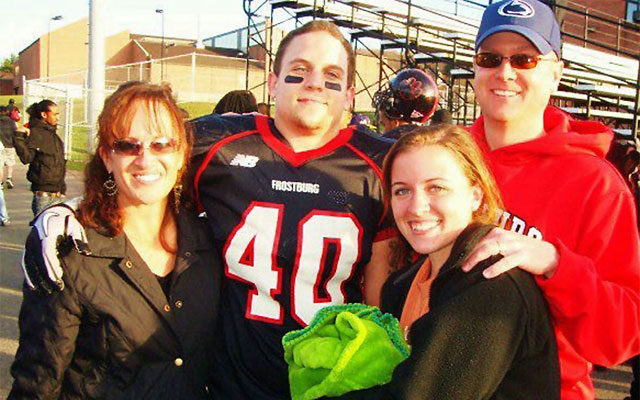 ROCKVILLE, Md. -- A Maryland judge on Wednesday denied summary judgment to the NCAA in a lawsuit over the death of a former Frostburg State football player, setting the stage for a potential trial in June.
In a significant opinion reflecting how concussions are evolving before the courts, Montgomery County Circuit Court Judge David Boynton ruled that the type of head injury that allegedly killed Derek Sheely -- second-impact syndrome from multiple concussions -- is not a known inherent risk of playing football. Second-impact syndrome has been described as a condition that occurs when the brain swells rapidly after a person suffers a second concussion before symptoms from an earlier one have subsided.
The NCAA argued that since it's a sports organization it has no legal duty to protect college athletes. Boynton acknowledged that is true under Maryland law for sports organizations, but determined the NCAA has a "special relationship" since its mission statement is to protect college athletes. Boynton said since the syndrome is not an obvious risk in football, a legal duty to warn exists, and there's enough dispute in the Sheely case for a jury to hear the arguments.
Sheely was a Division III football player at Frostburgh State who collapsed during an August 2011 practice after suffering a head injury and later died. His family filed a wrongful death lawsuit in 2013 against the NCAA, Frostburg State coach Tom Rogish, running backs coach Jamie Schumacher, trainer Michael Sweitzer Jr. and helmet manufacturer Schutt Sports.
"There's certainly a strong argument to make that the risk of death is not an obvious risk to playing football and it's not inherent in playing the game," Boynton said. "Is a head injury or concussion? I would say probably yes. I think the unique thing about second-impact syndrome is it's the risk of death for a player who already has a head injury."
The Sheely family claimed the Frostburg State employees missed multiple opportunities to treat their son's head injury, and the NCAA failed to implement concussion rules or investigate why their son died. Schumacher allegedly berated Sheely to keep practicing after suffering a head injury, and Frostburg State never administered a concussion test. The NCAA has concussion guidelines and requires schools to submit their policies but doesn't penalize schools if they are found to have violated their policies.
Boynton said a unique aspect of the Sheely case is that the injury occurred in practice, not during a game such as other cases he has read that protected sports organizations. The Frostburg State assistant basically required players to engage in physical head-to-head contact that's impermissible in games, Boynton said.
"While a player on Aug. 2 signs a waiver and says I'll play in a game and I'll get hit, I get that," Boynton said. "I'm not sure they sign up to be directed by a coach to run head-first into other players, and have head-first impact, and be standing like a dummy and getting run over and they can't protect themselves."
Earlier this week, Boynton also denied the motion for summary judgment brought by the Frostburg State defendants, meaning their case will also proceed to trial. Boynton dismissed a failure-to-warn claim against Schutt Sports and allowed claims of product defect, negligent misrepresentation and fraud to proceed.
One of the NCAA's main arguments was that it has no legal duty to protect athletes. If sports organizations were liable, the NCAA said all athletic associations would be subject to litigation any time a participant is injured in any sport for failure to prevent the injury.
"It's undoubtedly and indescribably tragic so the Sheely family's sadness and grief and anguish is completely understandable, as is their desire to hold some party accountable for the tragic death of their son," NCAA attorney Kip Johnson told Boynton. "But in our law, tragedy does not equal liability."
The NCAA cited a 1994 ruling by the Maryland Court of Special Appeals as to why sports organizations aren't liable for injuries. In part, the 1994 decision said the theory that a school board was required to warn players of severe injuries that might result from voluntarily playing high school football "is one that, as far we can determine, has never been adopted by any court in this country."
The NCAA said there's an inherent risk by playing sports and the law doesn't put a duty on sports organizers to warn of, mitigate or eliminate those risks.
"Joe Theismann might be able to say, 'I knew I could break my leg, but I had no idea it could be crushed under the vertical force of a lineman,'" Johnson said. "Or RGIII (Robert Griffin III) might come to court and say, 'Look, I knew I could injure my knee. But I didn't really anticipate that while wearing a knee brace and having not been touched by any defender, I could incur a worse injury.' A person injured in a baseball game might be able to come in and say, 'I knew a batted ball could come into the crowd, but no one thought that a person ducking a line drive might fall on me and hit me.'"
Boynton said a key question in the case is whether it's an obvious risk that second-impact syndrome is inherent to football. Lawyers for the Sheely plaintiffs alleged that the NCAA became aware of second-impact syndrome in 1993 and did not provide that knowledge to NCAA schools. According to the plaintiffs, Frostburg State coaches and NCAA president Mark Emmert testified in depositions they were unaware of the syndrome.
"I think it's obvious that people get hurt playing football," Boynton said. "I think it's obvious that many different kinds of injuries occur in football and those are known to people that play the game. In many instances, it's because the injuries are visible -- a broken leg, a broken arm, a slash, a protruding bone, a dislocated shoulder. Those things are obvious and apparent. The thing we're talking about in this case is a little different factually because we're talking about an injury to the brain, which is soft tissue and included in a hard case, your skull."
Boyton said that if a helmet manufacturer elected to put a label on its helmet to describe the syndrome to players, "how could it be an inherent aspect of the sport?"
In making his decision to let the case proceed, Boynton compared the Sheely case to a past Maryland lawsuit involving culpability of a school because its officials had knowledge related to a student's suicide. Boynton said that if the public knew that the NCAA had knowledge of second-impact syndrome and didn't disseminate information despite calls for urgent actions by medical groups, "would there be a sense in the community that this obligation exists? I would say the answer to that is probably yes."
NCAA lawyers showed that Frostburg State had a poster on the wall stating the dangers of multiple concussions. Some Frostburg State teammates acknowledged in depositions they were aware they could die from playing football.
Boynton said the burden would be "relatively minor" for the NCAA to make sure coaches and players are trained so they understand the risk of death beyond hanging posters on a wall.
"Would a player certainly know he has a slight headache? Sure," Boynton said. "But it would take someone with more knowledge than that to say, 'OK, this equals a concussion.' Part of the issue here is the fact did the plaintiff even know he had a concussion, and if he did, did he know he could die by hitting his head again? I think that's a question that needs to be decided in this case."
A key part of the case is based on the theory by prominent neurologist Robert Cantu, a leading concussion expert who the plaintiffs are using as an expert. Cantu believes Sheely's death was preventable because he sustained second-impact syndrome.
Boynton denied the attempt by lawyers for the NCAA and the ex-Frostburg State employees to throw out Cantu's testimony. They said his second-impact syndrome theory is in controversy and shouldn't be allowed under state law, but Boynton said "there's nothing new" about his theory on how Sheely died.
Prominent neurologist Julian Bailes, who has been an NFL and college football team physician, has testified there's no evidence Sheely experienced second-impact syndrome. Bailes said that his head death was caused by an acute subdural hematoma that happens several times a year across the United States due to football collisions.
Because Sheely was cremated, his brain was never studied by researchers. His parents, Ken and Kristen Sheely, have said that if they initially knew the alleged circumstances around their son's death, they would have donated his brain to be analyzed. The parents learned of the allegations months later.
The Sheely lawsuit is currently scheduled for a 24-day jury trial starting June 20.
"The NCAA respectfully disagrees with the Montgomery County Circuit Court's ruling," NCAA chief legal officer Donald Remy said in a statement. "We believe the court's findings are not consistent with laws concerning athletic organizations in Maryland or throughout the country." 
Follow and read more from Jon Solomon on Facebook and Twitter.