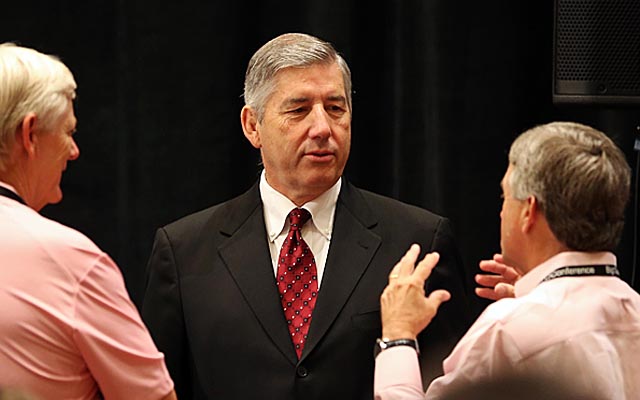 DALLAS -- The gravity of the situation hit home when a conservative administrator -- a wrestler in his younger days and AD at academically elite Stanford for six years -- was the one to finally give voice to the upheaval we'd been hearing about for months.
While it's not a full-on breakaway from the NCAA that's coming to college football, the look and feel of the sport will never be the same. Frustrated at a bogged-down, ineffective NCAA, Big 12 commissioner Bob Bowlsby said Monday he and his BCS conference peers favored "transformative change" in college athletics. 
He later identified that change as the possible establishment of a so-called "Division 4" of the highest level of football-playing schools.
"We've made it too easy to get into Division I," Bowlsby said Monday at his conference's media days, "and too easy to stay there."
So who needs the MAC -- or Mountain West or any of the non-BCS schools that get table scraps as it is? Certainly not the BCS schools about to formalize what has been a de facto for-profit model driving college athletics.
What we'd been hearing for those months now seems to be heading for reality. There is going to be a further subdivision at the highest level of college football. It last happened in 1978 when FCS (Division I-AA) was created. That relegated 250 or so schools to the non-revenue purgatory that is I-AA.
Get ready for an expansion of that purgatory for the have-nots. The message was as clear as the division between the BCS and non-BCS conferences.  ACC commissioner John Swofford said it could come within six months. Bowlsby said an NCAA special convention may be needed.
A special convention in 1985 established the death penalty for chronic NCAA violators. The next special convention may mean football death -- at least at the top level of the game -- for every hyphenated, directional school below the BCS Mendoza Line.
Get ready, then, for Division 4, where those BCS schools (Big Ten, Big 12, Pac-12, ACC, SEC) are going to set their own rules.
• Theoretically they not only will be able to pay players, but pay them as much as they want -- $5,000, $10,000 per year? Why not?  In the new governance structure, there'd be no MAC schools to vote it down.
• Forget a four-team playoff. How soon could Division 4 officials institute an eight-teamer? As soon as they damn well please.
• Might as well forget "Division 4" as a formal label too. Couldn't the schools sell naming rights since the NCAA that now will only nominally oversee big-time football won't have much of a say?
Think of the new subdivision as the NFL -- Nike Football League – if the shoe giant wins the contract.  
• There would be fewer chances for legal liability. Instead of the NCAA fighting the O'Bannon lawsuit, Division 4 could openly negotiate with video game manufacturers, use players likenesses, numbers, names and faces -- and distribute the revenue back to the players.
Once again, what could the NCAA do? Bowlsby's statements suggest the association has lost leverage.
• Division 4 could set its own scholarship limitations, make its own enforcement rules. Bowlsby specifically expressed frustration at NCAA enforcement which has not distinguished itself lately -- or at all. Think of Division 4 setting its own recruiting rules.
Part-time students playing football? Why not? Remember, its Division 4's game, money and future.
"It [college football] is professional in many ways," said Ohio University professor Dave Ridpath, an academic reformer and NCAA critic. "They could go to school on their own time."
Don't worry about the NCAA tournament. In this setting, the BCS schools would participate in it. The rub would come when Michigan plays a Miami (Ohio) that doesn't pay its players some kind of stipend. But what, really, would be the difference from now? Both sides already admit a competitive and recruiting disparity.
NCAA president Mark Emmert released a statement saying the Association's board and executive committee welcomes discusssions on how the governance process can be improved. 
"Many good ideas are being suggested," Emmert said, "including ways to increase the involvement of practitioners."
Elsewhere, Bowlsby's comment reverberated around college athletics. 
"It will surprise me if they [BCS conferences] don't get what they want," said Karl Benson, the Sun Belt commissioner.
And if they do?
"The other five conferences will have to decide at what level we can afford to participate in it," Benson added.
The MAC's Jon Steinbrecher, commissioner of another impacted non-BCS league, said the main issue is "a great level of frustration at NCAA governance. ... We operate in silos. What we've not had is a national dialogue of what the issues are."
If the BCS schools follow through, they are doing it because they can -- because they have. You might have noticed the BCS conferences are taking in about 70 percent (conservative estimate) of the $7.2 billion produced by the College Football Playoff beginning in 2014. That's after taking in 85 percent of the BCS money since 1998.
Bowlsby went so far as to say Monday that those five conferences may play games amongst themselves. No non-BCS schools (Conference USA, MAC, Sun Belt, Mountain West and American -- beginning in 2014).  The Big Ten is already making noise about not playing I-AA (FCS) schools. What would be the big deal with cutting out the non-BCS schools?
"There are going to be winners and losers in there," Bowlsby said bluntly.
Truth to be told, the likes of the Sun Belt were happy to get those table scraps. Benson long ago understood the economics. So did long-bleating Boise State. It owes a lot of whatever brand loyalty it has developed, success it has earned to the BCS. If the BCS commissioners survived the anti-trust concerns that went with establishing that college football playoff, building a new luxury home in Division 4 to house it is going to be easy.
"I think some kind of reconfiguration of how we govern is in order," Bowlsby said.
So the time has finally come, the time we've been hearing about for months, years. We knew that financially the BCS conferences were about to flex their significant muscle. Now they're gaining further control of college athletics. By the way, don't get in their way because complete secession from the NCAA is possible, Bowlsby said, though only as "a last resort."
Somewhere you can hear saber rattling. The commissioners are using gummed-up NCAA legislative process as an excuse, but really this about them making their own rules so they spend their own money the way they see fit.
The player stipend debate has been disaster and perhaps the last straw for the BCS schools. Northern Iowa has almost nothing in common with Texas but has the ability to vote down a stipend because it can't afford it. What the BCS commissioners are saying: Why is Northern Iowa voting on the issue in the first place?
"Northern Iowa and Texas aren't much alike," said the same Bob Bowlsby, who also spent eight years as AD at … Northern Iowa.