COLUMBIA, Mo. -- The pickup sped down Missouri Avenue in the middle of the University of Missouri campus Sunday afternoon. A campus fractured at the moment by protest, racial tension and a possible loss of life could only watch in exasperation.
From the pickup was unfurled a Confederate flag -- a symbol of oppression -- basically in the faces of Concerned Student 1950, a student activist group protesting what they say is the 176-year-old university's lax stance on race relations. The group takes its name from the first year an African-American was allowed to attend Mizzou, and its protesters are calling for system president Tim Wolfe, who is white, to resign.
"They drove [the flag] down the street," said Berkley Hudson, a member of Missouri's Faculty Council Committee on Race Relations. "That's why I said the tectonic plates [are shifting]."
Using Ferguson as an inspiration, youth as an energizer, and a Southeastern Conference football program as perhaps the ultimate wedge, the 50 or so students living in a tent village are becoming a national symbol.
They are led -- at least spiritually -- by Jonathan Butler, a 25-year-old African-American graduate student entering the seventh day of a hunger strike. Several sources told CBS Sports they had spoken to Butler personally. He was willing to die to prove his point: Wolfe must go.
"I would say [he has] complete commitment," said Abigail Hollis, a student spokesman for the group. "None of this group believes he is going to die."
Butler told the Washington Post he considered the Missouri campus "an unlivable space."
But why go to these lengths? Missouri officials are privately expressing concern. They are faced on one side by the deteriorating relationship with the protesters but also with the real possibility that Saturday's game against BYU may not be played.
Mizzou football players said, in a statement released on social media Saturday night, they were halting all football-related activities -- effective immediately -- until Wolfe steps down. Sunday marked the third day since Thursday's game against Mississippi State. A clause in the BYU contract states that Missouri would owe $1 million if it cancels the game.
Coach Gary Pinkel tweeted his full support for the players, essentially giving tacit approval to Wolfe's ouster.
"You could make the argument this is the perfect place for this to be happening," Hudson said. "What's amazing is what the athletes did. The connection I made was Michael Sam, which told me volumes about Gary Pinkel that I didn't know. Like Tim Wolfe, he makes a lot of money, but he made a choice."

The implications are huge. Rival recruiters no doubt will jump on this story to poison the waters against Missouri. In only its fourth year in the powerful SEC, the biggest athletic story to come out of Mizzou is this one.
Think of football players binding together to kick out a president at Alabama or Georgia or Auburn or any other SEC school.
Columbia, Mo., has a history of racial tension. Located in what was a slave state during the Civil War, the city was long known as "Little Dixie." Hudson called Interstate 70, which bisects the state, "The Grits Line" -- Southern sympathies below and northern views above.
Missouri deputy chancellor emeritus Mike Middleton believes there are "remnants of white supremacy culture."
The city of 115,000, sitting in the middle of the state, has appeared several times on lists of best places to live. However, Paul Blackman (Class of '71) clearly remembers black fraternities waving a black flag in protest in the same football stadium where the rebel flag was being waved while the band played "Dixie."
As late as the 1980s, former coach Woody Widenhofer was fielding questions about his ability to lure black recruits to Columbia. It was during that time he signed running back Tony VanZant, a black athlete from St. Louis who was then the highest-rated recruit ever for the Tigers.
VanZant's close friend, Stacy Elliott, played defensive line at Mizzou in the early 1990s and was a member of the school's Legion of Black Collegians.
"We had two different homecomings," said Elliott, who then decided on the spot, "I'm coming to Columbia to stand with them [protesters]."
The protesters are speaking out against what they say is a racially and gender-intolerant atmosphere at Mizzou. In 2010, cotton balls were found outside the campus' black cultural center. In just the last few months, a swastika was found on a resident hall wall scrawled in human feces.
And then on Sunday, as the protesters' tent village flourished and media interviewed inhabitants, a real-time rebel flag appeared.
"I was walking down Greek Town and some guys on the back of a pickup decided to spring the 'N-word' on me over and over and over again," said Payton Head, a senior from inner city Chicago who is president of the Missouri Student Association. "At that moment, I had to decide what I wanted to do."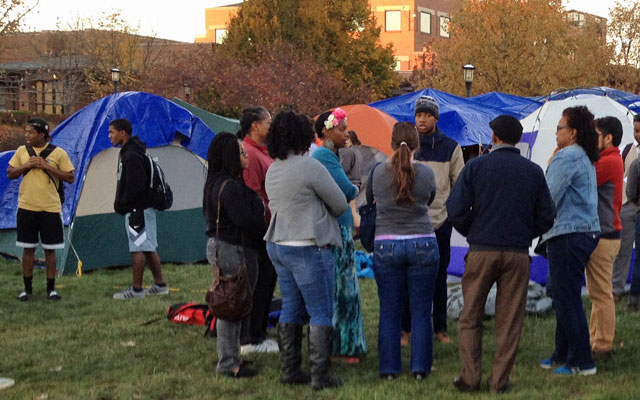 Head stayed at Mizzou, becoming one of the faces of the protest. He is African-American and gay and says he has had drinks poured on him downtown walking hand-in-hand with his boyfriend.
Neither Pinkel nor Tigers players spoke to the media Sunday. Both are expected to address reporters on Monday. Leaving the football facility Sunday, tight end Jason Reese said the team will not practice "until this gets resolved."
The story leapt off campus and into national headlines Saturday night when the Missouri football team joined the protest. On Sunday, Pinkel tweeted: "The Mizzou Family stands as one. We are united. We are behind our players." In an attached picture, he seemed to be surrounded by the entire team.
Whatever you think of the movement, its foundation at the moment is Butler. Those who have seen him lately are concerned about his well being. They also reiterated Butler is absolutely committed to take his hunger strike to a tragic conclusion unless Wolfe steps down.
Wolfe issued a statement Sunday afternoon, which basically said he would not step down. Instead, he explained a plan to institute a series of diversity initiatives that were due to come down in April. Protesters say the 57-year-old Mizzou grad has been not only dismissive but also antagonizing.
According to Hollis, Wolfe's car was backed into a tight spot by protesters during the homecoming parade, and Wolfe's driver reacted by hitting a demonstrator twice.
"That probably was the final straw with him. … We view this as reactionary," Hollis said. "We told him all this before he came out about it."
In a video shot at a Kansas City event, Wolfe is asked a question by activists: What is your definition of "systematic oppression?"
Wolfe replies, "Systematic oppression is because you don't believe you don't have the equal opportunity for success …"
A demonstrator then yells, "Did you just blame us for systematic oppression, Tim Wolfe? Did you just blame black students?"
Wolfe, who ascended to his current position overseeing the state's university system in 2012, walks away.
Oh really @UMPrez this is what you think Systematic oppression is?!? @umcurators @CNN @Oprah pic.twitter.com/eSuOqPfT2b

— QianaJade (@Qiana_Jade) November 7, 2015
A list of demands by Concerned Student 1950 have not yet been met. The ongoing tactics have been questioned. There is no easy answer. If the protesters succeed in ousting Wolfe, does that open a Pandora's Box for another -- less meaningful -- movement?
A.J. Ofodile, a former Missouri and NFL player, posted the following: "Through this whole process I haven't heard one example of any oppressive action or policy that is systemic in nature. I've seen tons of examples of individual bigotry and claims that those incidents weren't handled appropriately but at this point I have to seriously doubt that people fully understand what systemic oppression really is."
Former Mizzou wide receiver T.J. Moe told CBS Sports, "I don't think this is something the school recovers from for a long time. To put a gun to somebody's head … to me is absurd. You have people overreacting on all sides."
Head, though, said the movement -- based on the lawn of Carnahan Quadrangle -- is growing. Supporters are dropping off supplies. SEC students joined a conference call to mobilize their support.
"They are students. That is not the problem," Head said. "It's the Columbia community as a whole that has the problem. It's very tense, but that's what we need."