Who is the best coach in the Power Five conferences? It was a simple question with a rather easy answer for us here at the Eye On College Football, but that easy debate turned into determining the top five, which became the top 10, and finally somebody asked, "How would you rank all the Power Five coaches?"
So that's what we did.
Jerry Hinnen, Chip Patterson, Adam Silverstein and I each ranked 66 college football coaches (the 64 Power Five schools plus Notre Dame and BYU) and compiled our lists to form this composite ranking. There was no set criteria, though the best way to describe our philosophies were to compare what each coach has actually accomplished and order them based on which one we'd want coaching our team right now.
Today, we present the coaches that finished outside the top 25, coaches ranked 66-26. You're sure to disagree with some of these rankings, but I have to say that once you get outside the top 15 or 20, it really becomes a matter of personal preference.
Also, these rankings are extremely volatile. One of the coaches currently ranked in the 50s could have a great season in 2015 and quickly climb into the top 10 next offseason, but at this very moment, this is where each coach sits.
66. David Beaty, Kansas: Beaty's yet to coach a single game, which definitely hurts his stock here, as does the fact we were all surprised he got this job.
65. Derek Mason, Vanderbilt: Vandy is not an easy job, and Mason deserves time to put his plan in place, but an 0-8 start in the SEC didn't help much here.
64. Darrell Hazell, Purdue: Hazell turned one really good season at Kent State into the Purdue gig and has gone 4-20 in his first two years with the Boilermakers.
63. Pat Narduzzi, Pittsburgh: Like Beaty, Narduzzi hasn't been a head coach yet, but his potential and Michigan State defenses were enough to bump him up a few spots.
62. Kevin Wilson, Indiana: The Hoosiers have been an exciting team under Wilson, but it's mostly because the lack of defense leads to some high-scoring games.
61. Mike MacIntyre, Colorado: MacIntyre hasn't accomplished much in his first two seasons at Colorado, going 1-17 in Pac-12 play.
60. Mike London, Virginia - London has recruited well, but the results just haven't been there, as the Cavaliers are 23-38 in his five seasons.
59. Scott Shafer, Syracuse: Shafer took over after Doug Marrone left for the NFL, but after a 7-6 season in 2013, the Orange dropped to 3-9 last year.
58. Mark Stoops, Kentucky: The Wildcats improved by three wins in Stoops' second year in Lexington, and if that trend continues, he'll climb up these rankings quickly.
57. Tim Beckman, Illinois: For all the heat he's taken, Beckman's Illinois teams have improved by two wins each the last couple of seasons. That 4-20 mark in Big Ten play needs to improve, though.
56. Paul Rhoads, Iowa State: Everybody loves  Rhoads, but that 29-46 record in six seasons isn't nearly as lovable.
55. Sonny Dykes, California: After going 1-11 in 2013, Dykes' Cal team won five games last season. That's the right kind of trend.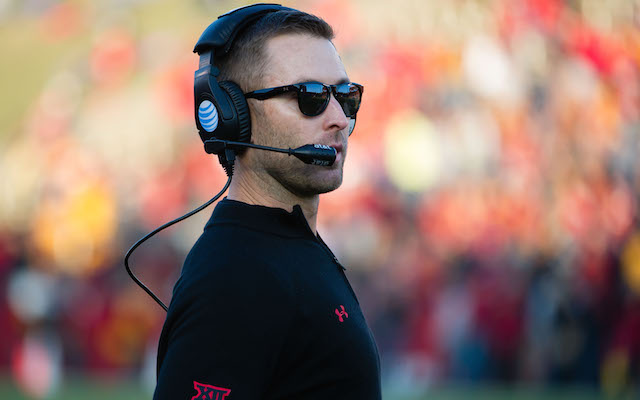 54. Kliff Kingsbury, Texas Tech: Kingsbury's been more sizzle than steak in his first two seasons, as the Red Raiders took a big step backward in 2014.
53. Dave Clawson, Wake Forest: Coaching the Demon Deacons is a very difficult job, but it's not the first time Dave Clawson's been tasked with rebuilding a program. He's succeeded before.
52. Al Golden, Miami: He's had to deal with NCAA sanctions and that bought him some time, but Golden heads into 2015 on one of the hottest seats in the country.
51. Paul Chryst, Wisconsin: We're willing to wager that Chryst's career mark of 19-19 in three seasons at Pitt will improve now that he's back home in Madison.
50. Kyle Flood, Rutgers: Flood's done a respectable job maintaining the Rutgers program following Greg Schiano's departure, and an 8-5 campaign in the Big Ten raised some eyebrows.
49. Jim McElwain, Florida: If McElwain can turn the Gators around like he did Colorado State, he'll be climbing the ladder in no time.
48. Mike Riley, Nebraska: You can't overstate how impressive it was for Riley to get Oregon State playing at that level, but things got a bit stale at the end of his time there, and now he's looking to take Nebraska to the next level.
47. Steve Addazio, Boston College: You have to admire Addazio's "dude" qualities, but Eagles fans would like to see an improvement on his 14-12 start in Chestnut Hill.
46. Pat Fitzgerald, Northwestern: Fitzy would have been top 20 a few years ago -- maybe even top 10 -- but after going 10-14 the last two seasons, his star is fading a bit.
45. Randy Edsall, Maryland: Edsall took UConn to a Fiesta Bowl only seven years after it jumped to the FBS. That's good. His 20-30 record at Maryland is ... not.
44. Larry Fedora, North Carolina: The Tar Heels have taken a step backward each season Fedora's been in charge, but only the NCAA has kept him from going to a bowl game in each of his seven seasons as a head coach.
43. Dana Holgorsen, West Virginia: Holgo led the Mountaineers to an Orange Bowl victory his first season in charge, but he's gone only 18-20 since.
42. Dave Doeren, NC State: Doeren is only 11-14 in two years with the Wolfpack, but he won eight games last season and has two conference titles from his time at Northern Illinois.
41. Jerry Kill, Minnesota: The man Doeren replaced at NIU, Jerry Kill, is just a professional football coach. Can he get Minnesota over the hump and make it a Big Ten contender, though?
40. Steve Sarkisian, USC: Sarkisian has had a lot of talent in his six seasons as a head coach, but he's yet to win 10 games in a season or even a division title.
39. Mike Leach, Washington State: Pullman has not been kind to Leach, as he's gone 12-25 in three years, but we still remember what he did with Texas Tech.
38. Gary Andersen, Oregon State: Leaving Wisconsin for Oregon State may have been the right move for Andersen on a personal level, but will it be the right move as a coach?
37. Butch Jones, Tennessee: Jones has won at his previous coaching stops, and now he's trying to make Tennessee an SEC contender again.
36. Kirk Ferentz, Iowa: Ferentz has accomplished a lot at Iowa in his 16 seasons, it's just none of those accomplishments have come in the last five seasons and the natives are getting restless.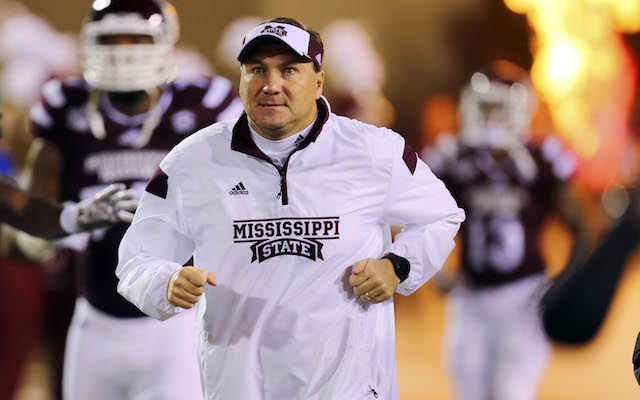 35. Dan Mullen, Mississippi State: Things finally came together for Mullen in Starkville last season, but can the Bulldogs pull off an encore?
34. Jim Mora, UCLA: It's hard to argue with Mora's 29-11 start at UCLA ... but hasn't each season left you feeling like the Bruins could have done more?
33. James Franklin, Penn State: What Franklin accomplished at Vanderbilt was one of the most impressive coaching performances of all time, and should it continue at Penn State, he's going to fly up these rankings in the years to come.
32. David Cutcliffe, Duke: Cutcliffe has won 19 games in the last two seasons at Duke. What more needs to be said?
31. Hugh Freeze, Ole Miss: The Rebels have yet to finish higher than third in the SEC West under Freeze, but they've improved each season.
30. Kyle Whittingham, Utah: Urban meyer may have built it, but Whittingham has done a fantastic job maintaining the Utah program in his 11 seasons, and now it seems the Utes have adjusted to Pac-12 life.
29. Todd Graham, Arizona State: Graham has taken a lot of flak for his job-hopping, but you know what? Schools don't want to hire you if you're not a good coach, and schools want to hire Graham.
28. Bronco Mendenhall, BYU: It's hard to know if Mendenhall would ever leave BYU, but you have to think he'd be even more successful if a "bigger" school ever convinced him, too.
27. Paul Johnson, Georgia Tech: Johnson has been at Georgia Tech seven seasons, and he's won the Coastal Division four times and played in two Orange Bowls.
26. Kevin Sumlin, Texas A&M: Things have gone the wrong direction the last two years at A&M, but you can't help but feel that will turn around with Sumlin in charge.
Check out the coaches that made our Top 25 right here.