Ranking all 40 college football bowl games for 2015-16: From worst to best
With bowl season now over save for the College Football Playoff National Championship
Before bowl season began, I was tasked with ranking the 40 bowl games, and I did so gladly. Now that bowl season is over, I have once again been assigned the duty of ranking the bowl games, but this time with actual results upon which to base the rankings!
It's not the first time I've done this, but it's the most difficult time I've ever had doing so. Not because there are too many games -- in any given season you generally have around 10 games that were really exciting, 10 games that were total duds, and then you just kind of slog your way through the middle. That's not the case this season.
This year the great games were few and far between -- mostly just the few part. There weren't a lot of truly awful games, either. Instead, there were like 30 games that proved to be interchangeable, which made this process quite challenging.
But I did it anyway, for you, dear college football fan. I know that, as a college football fan, you need to see things ranked whether to justify your own opinion or to just give you something to be angry about.
And I couldn't deny you that opportunity.
So let's get to it.
RANK
BOWL
BREAKDOWN
40
Poinsettia Bowl: Boise State 55, Northern Illinois 7 -- Northern Illinois finished this game with 33 total yards. What more do I even need to say?
Pre-game rank: 24
39
Hawaii Bowl: San Diego State 42, Cincinnati 7 -- There were 40 bowl games this year, and this was the only one (that was televised) I saw less than three quarters of. I saw like five minutes, and they were better than the Poinsettia Bowl.
Pre-game rank: 25
38
St. Petersburg Bowl: Marshall 16, UConn 10 -- Yes, it was close. That was somewhat rare this bowl season, but did you watch it? It wasn't entertaining. At all.
Pre-game rank: 37
37
Outback Bowl: Tennessee 45, Northwestern 6 -- One of these teams won 10 games this year. The other won this game by 39 points.
Pre-game rank: 12
36
Cure Bowl: San Jose State 27, Georgia State 16 -- Don't feel bad about it, Cure Bowl, it's your first year. You have plenty of time to improve.
Pre-game rank: 39
35
Citrus Bowl: Michigan 41, Florida 7 -- One of these teams won 10 games this year. The other won this game by 34 points. The point is that 10 wins just isn't what it used to be, apparently.
Pre-game rank: 9
34
Belk Bowl: Mississippi State 51, NC State 28 -- I'm going to miss you, Dak Prescott. I will not miss the time I spent watching this game.
Pre-game rank: 19
33
Birmingham Bowl: Auburn 31, Memphis 10 -- I know Justin Fuente left for Virginia Tech, but I expected so much more from Memphis. Also, nice time for Auburn to finally play well, wasn't it?
Pre-game rank: 31
32
CFP Semifinal -- Cotton Bowl: Alabama 38, Michigan State 0 -- If there was anybody happy to have the semifinals on New Year's Eve, it was Michigan State, because not as many people saw it get absolutely destroyed by Alabama.
Pre-game rank: 2
31
Rose Bowl: Stanford 45, Iowa 16 -- Any time a bowl game basically ends on the first play from scrimmage, that's not a good thing. And this one was over on the first play from scrimmage.
Pre-game rank: 3
30
New Orleans Bowl: Louisiana Tech 47, Arkansas State 28 -- I had higher hopes for this game, which definitely affects its ranking. Was nice seeing Kenneth Dixon set the scrimmage TD record, even if he only held it for a week.
Pre-game rank: 16
29
Heart of Dallas Bowl: Washington 44, Southern Miss 31 -- The score makes this game look a little closer than it actually was. Southern Miss didn't get blown out, but it was never really in it, either.
Pre-game rank: 18
28
Armed Forces Bowl: California 55, Air Force 36 -- It wasn't a close game, but Jared Goff's swan song at Cal was pretty memorable. He had a fantastic game.
Pre-game rank: 23
27
Sugar Bowl: Ole Miss 48, Oklahoma State 20 -- This game is propped up by the fact Ole Miss threw a touchdown pass to its starting left tackle. Anytime you get the offensive line involved in screen passes while in the red zone, it's going to boost your stock.
Pre-game rank: 7
26
Arizona Bowl: Nevada 28, Colorado State 23 -- This game might deserve to be ranked a lot higher. I don't know. I didn't get to watch it because it wasn't on a national network.
Pre-game rank: 40
25
GoDaddy Bowl: Georgia Southern 58, Boling Green 27 -- Had such high hopes for this one, and only one of the teams involved managed to live up to them.
Pre-game rank: 15
24
Quick Lane Bowl: Minnesota 21, Central Michigan 14 -- It was a one-score game, which is a major plus, but I watched this entire game and I don't remember anything that happened in it.
Pre-game rank: 33
23
Foster Farms Bowl: Nebraska 37, UCLA 29 -- An interesting game, but one that was never really as close as it looked, either.
Pre-game rank: 29
22
Boca Raton Bowl: Toledo 32, Temple 17 -- Aren't all of these games starting to look alike at this point? Are you getting a sense of how difficult it was to rank them?
Pre-game rank: 10
21
Idaho Potato Bowl: Akron 23, Utah State 21 -- If you look at the score you think "hey! This was a close, interesting game!" If you watched the game, you understand why it's ranked here.
Pre-game rank: 28
20
Texas Bowl: LSU 56, Texas Tech 27 -- This game is ranked this highly based on nothing more than the performances of Leonard Fournette and Pat Mahomes.
Pre-game rank: 32
19
Liberty Bowl: Arkansas 45, Kansas State 23 -- There was a moment during the third quarter when Kansas State cut the lead to four points, and you thought things would get interesting. And then it faded as Arkansas outscored the Wildcats 21-3 down the stretch.
Pre-game rank: 36
18
Holiday Bowl: Wisconsin 23, USC 21 -- This ranking may not be all that accurate. I'll admit that I was really sick during this game, and it all may have just been a cold medicine-induced hallucination.
Pre-game rank: 13
17
Military Bowl: Navy 44, Pitt 28 -- Got to watch Keenan Reynolds play one final game, and set a couple of NCAA records in the process. Not the greatest game, overall, but Reynolds made it worth it.
Pre-game rank: 21
16
Fiesta Bowl: Ohio State 44, Notre Dame 28 -- I know we're all obligated to say all the New Year's Six games stunk, but this game really wasn't that bad. Plus, neither team played poorly, Ohio State just played better.
Pre-game rank: 4
15
CFP Semifinal -- Orange Bowl: Clemson 37, Oklahoma 17 -- Yes, Clemson pulled away in the second half to take out any drama, but you know what? I was still entertained while watching this game.
Pre-game rank: 1
14
Music City Bowl: Louisville 27, Texas A&M 21 -- It wasn't really as close as the final score, but it was still a good game. It was also a coming out party for Louisville QB Lamar Jackson.
Pre-game rank: 17
13
TaxSlayer Bowl: Georgia 24, Penn State 17 -- This game wasn't really good, but the outcome was in doubt until the very final play. That's worth a lot this year.
Pre-game rank: 20
12
Bahamas Bowl: Western Michigan 45, Middle Tennessee 31 -- There's just something very charming about two average teams playing in a soccer stadium in the Bahamas on Christmas Eve. We also had plenty of chances to see P.J. Fleck be crazy.
Pre-game rank: 26
11
Camellia Bowl: Appalachian State 31, Ohio 29 -- I'm guessing a lot of people skipped past this one, and that's too bad for them. A game-winning field goal on the final play was a rarity this bowl season, but the Camellia Bowl had one.
Pre-game rank: 27
10
Peach Bowl: Houston 38, Florida State 24 -- Another New Year's Six game that wasn't really that bad. Plus it had the benefit of MAJOR UPSET even if the upset wasn't actually all that major because, you know, Houston is actually pretty good.
Pre-game rank: 6
9
Sun Bowl: Washington State 20, Miami 14 -- It wasn't a great game, but it was close and it was played in a blizzard. And this year that's enough to earn this ranking.
Pre-game rank: 22
8
New Mexico Bowl: Arizona 45, New Mexico 37 -- New Mexico came back from an 18-point deficit to make this one interesting late, but the Lobos couldn't quite pull off the comeback. Still entertaining to watch them try.
Pre-game rank: 35
7
Las Vegas Bowl: Utah 35, BYU 28 -- Utah had a 35-0 lead in this game before you batted an eye, and then spent the rest of the game holding on for dear life as BYU tried to pull off an epic comeback. It was like watching an action movie where you know the "bad guy" is going to lose, but you aren't totally sure until the end.
Pre-game rank: 11
6
Russell Athletic Bowl: Baylor 49, North Carolina 38 -- Baylor ran the ball 84 times for 645 yards and seven touchdowns. It was a-maz-ing.
Pre-game rank: 5
5
Independence Bowl: Virginia Tech 55, Tulsa 52 -- It seemed only fitting that not only would Virginia Tech would score 55 points in Frank Beamer's final game, but that it would also allow 52 to make him sweat it out the entire time. A thoroughly enjoyable game as long as you aren't a defensive coordinator somewhere.
Pre-game rank: 38
4
Miami Beach Bowl: Western Kentucky 45, South Florida 35 -- Not the closest game, but for sure zaniness and lack of darns given by either team, this one was pretty great. Through two years the Miami Beach Bowl is a very welcome addition to the rotation.
Pre-game rank: 14
3
Cactus Bowl: West Virginia 43, Arizona State 42 -- A fun, exciting game that featured a whole lot of points and not much defense. An excellent way to finish the bowl season.
Pre-game rank: 30
2
Pinstripe Bowl: Duke 44, Indiana 41 (OT) -- It was just video game football, with both teams exchanging touchdown after touchdown. Then it ended on a missed field goal that might not have been missed after all! But it wasn't good enough to be No. 1.
Pre-game rank: 34
1
Alamo Bowl: TCU 47, Oregon 41 (3OT) -- What. A. Game. Oregon had a 31-0 lead at halftime, and then TCU matched the biggest comeback in bowl history to win the game 47-41 in triple-overtime. Just an absolutely amazing game.
Pre-game rank: 8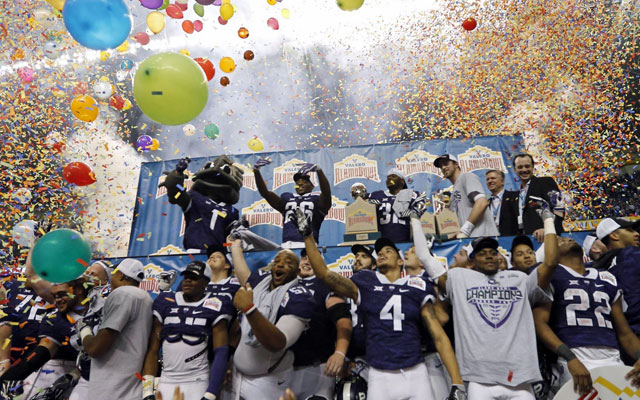 Cristobal's first game at Oregon ended the same way Chip Kelly's did

Conner Manning and the Panthers dominated the Hilltoppers in the Cure Bowl

You can only go to the well so often before it dries up
The Trojans beat LSU earlier in the year and now have their first 11-win season as a FBS t...

Saban has never been a fan of the early signing period and made it clear that hasn't chang...

Paul Tyson is a three-star quarterback prospect for the 2019 recruiting class