When the upset was over, once Louisiana-Monroe had embarrassed Alabama 21-14 in 2007 and Bryant-Denny Stadium became eerily quiet, a Warhawks cornerback named Quintez Secka searched for Nick Saban to shake his hand.
Secka had intercepted Alabama quarterback John Parker Wilson twice that day, nearly scoring on the second interception. Secka was a two-star junior college transfer who chose ULM in part because it played SEC schools. He would have loved to have played for Saban, but Secka was the type of lightly-recruited player Alabama would almost never sign. 
"It was my opportunity to say hello, and I kind of wanted to see how he'd react," Secka said of his attempted handshake. "I stuck my hand out, and he walked right by me. He didn't want any part. You could just tell he was like, 'I don't know how I'll explain this loss' -- just a pale face and a blank stare. I wouldn't have wanted to talk to me, either. It was one of the coolest feelings that I tell everybody. He was probably so wrapped up into, 'We just lost to a Sun Belt team' that he probably didn't even notice I was there."
As Alabama and ULM meet again for the first time since 2007, enough years have elapsed to put the upset into context. ULM became a blip on Saban's radar in his first year as he rebuilt Alabama into a power, though after recent high-profile losses to Ohio State and Ole Miss, the Crimson Tide faces its most uncertainty since 2007.
Maybe the ULM defeat, one year after Alabama routed the Warhawks 41-7, was the final straw Saban needed to significantly reshape Alabama. He controversially referenced 9/11 and Pearl Harbor in relation to a football loss. Softer players Saban inherited from Mike Shula got pushed aside for the dominant 2008 recruiting class. Still, the ULM game became a historical footnote for Alabama, nothing more.
For many ULM players and coaches, the win over Alabama still means everything. "Buy games" tend to be nothing more than a breather for the haves and budget money for the have-nots. But when they become something else, they resonate in college football lore like opening-round NCAA Tournament upsets and the only chance for the little guys to take down the top dogs.
A photo of ULM players celebrating the Alabama win resides in the Warhawks' stadium and at a local restaurant. When current co-workers of former ULM players learn they once played football, the conversation immediately leads to questions about the Alabama game. The ULM players remember vivid details of plays and moments; they remember the rowdy bus ride home with a police escort welcoming them back into Monroe, La.; and, of course, they remember the car dealer who weeks later strategically put up a billboard on I-20 -- "Tide Rolled! ULM 21 -- Alabama 14" -- that Crimson Tide fans had to see that year traveling to the Independence Bowl in Shreveport, La.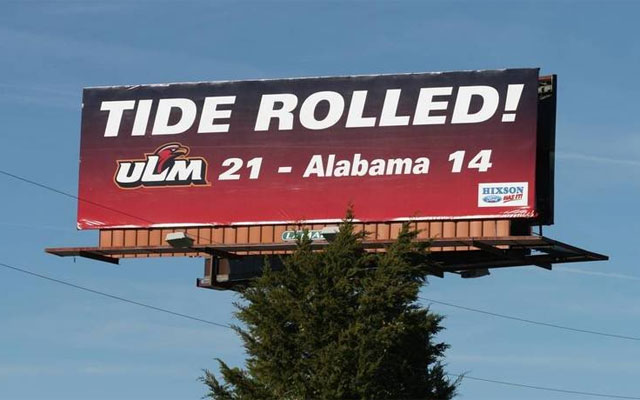 The victory means so much to Larry Shappley, ULM's starting right tackle in 2007, that he wishes ULM and Alabama weren't playing again this week.
"To me personally, I wish they never would have played them again because that game had such a special meaning to me and my teammates," Shappley said. "I wish ULM the best of luck and hope they beat them again. For us, you can't take that day away from us no matter what. But if they lose that game, you kind of lose some of the mystique of what happened. I wouldn't want it to be an asterisk that we came back the next time and we couldn't beat them."
Saban's 9/11 and Pearl Harbor moment
In reality, Alabama was an average team in 2007 as it fought through discipline problems and an NCAA textbook investigation. The Crimson Tide started 6-2 and ended the regular season with four consecutive losses, including a defeat one week earlier to lowly Mississippi State. Still, this was a talented enough team that Alabama took eventual national champion LSU down to the wire in a 41-34 loss just two weeks before the ULM game.
ULM entered Tuscaloosa on Nov. 17, 2007, with a 4-6 record. The Warhawks were one of only two teams to lose to North Texas that season, and ULM had previously lost by 23 points to Clemson and 40 points to Texas A&M.
But 2007 was the year of the upset. Michigan opened with a home loss to Appalachian State -- a game ULM coach Charlie Weatherbie referenced to his team before the Alabama game. USC, a 40.5-point favorite, saw its 35-game home winning streak snapped by Stanford. LSU defied Bowl Championship Series odds by winning the national title with two losses.
So the highest-paid coach in FBS football (Saban at $4 million) losing to the lowest-paid one (Weatherbie at $130,000) as ULM got paid $1 million felt about right in 2007. The defeat was so embarrassing for Saban that a couple days later he invoked two of America's greatest tragedies.
"Changes in history usually occur after some kind of catastrophic event," Saban said. "It may be 9/11, which sort of changed the spirit of America relative to a catastrophic event. Pearl Harbor got us ready for World War II, or whatever, and that was a catastrophic event. And I don't think anyone in this room would have bet that we could lose back-to-back games to Mississippi State or ULM, no disrespect to either one of those teams."
Needless to say, Saban was vilified around the country. "What historical tirade will he reference when Alabama loses a sixth straight game to Auburn? The Holocaust?" Birmingham News columnist Kevin Scarbinsky wrote.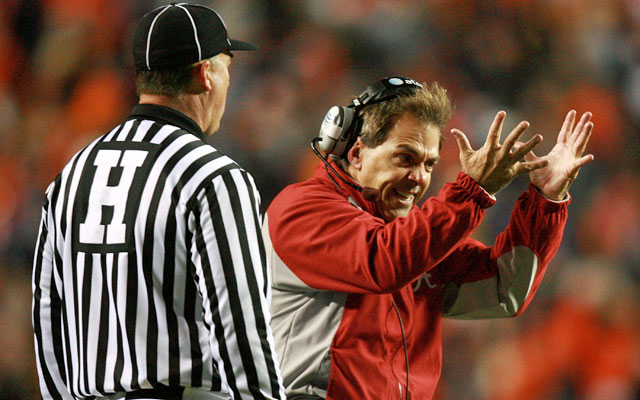 Alabama tried to spin Saban's remarks. Saban spokesman Jeff Purinton said at the time Saban did not correlate losing a football game with tragedy, but rather, the message was "true spirit and unity become evident in the most difficult times."
A former Alabama coach told author Monte Burke that Saban was calculated in his 9/11 and Pearl Harbor remarks and prepared to take the abuse. "He had to let the fan base know that those losses were unacceptable," the anonymous coach said in Burke's recent book "Saban: The Making of a Coach."
Said Weatherbie: "I just kind of laughed when (Saban) said something about it. When the administration made him come back and rescind it, it kind of made sense to me. There really wasn't any lives lost like in those events. It may have been like a death in a family to lose a game, but I look at losing a game like that all the time, no matter who you play against."
Memories of that game remain vivid for the former ULM players and coaches.
Shappley, the right tackle, remembers ULM's game plan against Saban's defense was to run motion on every play. "Saban was such a defensive guru and the coaches had a feeling the motion would screw up some of their alignments," Shappley said. "If you watch film, every single play there was motion involved. When we started driving the ball, those linebackers started yelling at each other and cussing each other. It was really cool."
Weatherbie remembers leaving the field tied at halftime and the Alabama students were cheering for ULM. "As we were coming in, they're saying, 'You can do it, we know you can beat them,'" he said, laughing. "That kind of surprised me. I don't know if they were trying to do it as a psyche kind of deal."
Secka, the standout cornerback, remembers feeling thrilled to see suspended Alabama wide receiver D.J. Hall enter the game in the second half. Alabama had announced a suspension for Hall before the game. Secka said ULM players were under the impression from their coaches that Hall wouldn't play all game. But with the scored tied, Hall entered the game to start the third quarter.
"When we came out after halftime and he actually had his helmet on and he's on the sideline revving up the crowd, our whole team was like, 'They're worried or they wouldn't have put him in,'" Secka said. "It was kind of a boost for us because we knew at that moment we had them on the ropes."
Marty Humphrey remembers his go-ahead, 11-yard touchdown catch in the third quarter for the game's final points. It turned out to be the only touchdown scored in four years by Humphrey, a former walk-on wide receiver who earned a scholarship at ULM.
"They brought the house and lit up our quarterback, and they had man-to-man coverage so it was a little underneath, 2- or 3-yard route for me on third and long," Humphrey said. "Our wide receiver coach did a good job preaching to keep running after the catch. Immediately, for some reason, I just slammed on the brakes, and the defender flew by. The field was just wide open. I remember thinking, 'Oh, there's no one there.'"
The visiting locker room was right below the Alabama student section. Shappley remembers getting cussed out by students after the 34-point loss in 2006. This time, "some of the fans were clapping for us after we won," Shappley said. "I'll give them credit: They're definitely some of the classiest fans. I remember screaming and hollering so much that I was hyperventilating and I couldn't catch my breath."
What started as the loudest experience for most ULM players -- Secka initially had to run up to teammates' face to call defensive plays because it was so loud -- turned eerily quiet at the end. 
"To have the whole crowd completely silent and you just have our little bitty section making noise, it was insane," Secka said. "Basically, nobody went to school on Monday. The only reason you went to class was to get a standing ovation and then you left. I wish everybody could experience what we felt."
'It gives you confidence in life'
A week or so after the upset, several ULM offensive linemen were eating at a restaurant in Monroe when an Alabama fan approached them. He was upset about the billboard that celebrated the win over Alabama.
"He lectured us that Bear Bryant said a long time ago you win like you've been there before, and he thought (the billboard) was kind of low class," Shappley recalled. "I said, 'Sir, with all respect, I completely understand what you're saying because that was always ingrained in me in high school. But you know what? At ULM, we haven't had this. It's apples and oranges.'"
Life moves on. Since the loss to ULM, Alabama has won 19 straight games over non-BCS/Power Five opponents, winning by an average of 36 points. Saban has publicly pushed for Power Five teams to only play each other for strength-of-schedule purposes for the College Football Playoff. Before these games against lower-profile teams, Saban often has a calculated rant to the media so his players don't overlook an underdog. 
For ULM, there have been more upsets since Alabama. The Warhawks beat No. 10 Arkansas in 2012 in Little Rock, Ark., in a contest that was counted as a home game for ULM to boost its attendance average and help meet NCAA requirements for FBS status.
Weatherbie, who once coached at Utah State and Navy, was fired by ULM in 2009. Now the director of coaches for the Fellowship of Christian Athletes in central Florida, Weatherbie said he rarely thinks of the Alabama win unless he's introduced as that coach who won that game during his speaking engagements.
"Of course it was a big win, but we've had some pretty good wins in my career," Weatherbie said. 
None was bigger than Alabama to so many ex-ULM players. Some of them have talked about returning to Tuscaloosa to watch this week's game and they'd love to see an upset again, as unlikely as that seems.
Back when ULM was known as Northeastern Louisiana University, the football team won the Division I-AA national championship in 1987. The players, led by ex-NFL quarterback Stan Humphries, are often recognized in Monroe for a title that marks ULM's greatest sports moment.
"It was kind of neat to get to know a lot of those old guys and I can kind of share something like that," Shappley said. "To me, that Alabama game was like winning a national championship. We'll always have that day."
Impressively, ULM bounced back the next week to beat Louisiana-Lafayette in a rivalry game and become bowl-eligible for the first time. Running back Calvin Dawson, who ran for 91 yards on 33 carries against Alabama, remembers the celebration in Tuscaloosa as if ULM won the Super Bowl.
"It made an impression on my life and career to beat a team like that," Dawson said. "It gives you confidence in life. It's one of those things you look back and go, 'Wow, I really did that. It really wasn't a dream.' It catches me gasping for air sometimes, it was so amazing."
Follow and read more from Jon Solomon on Facebook and Twitter.