What's the right size for a college football stadium?
Texas A&M expanded its stadium to 106,000 seats. In the same state, Baylor went smaller with its McLane Stadium, reducing seats to 5,000 from its former facility. What's the right size? Jon Solomon discovers schools differ on that question.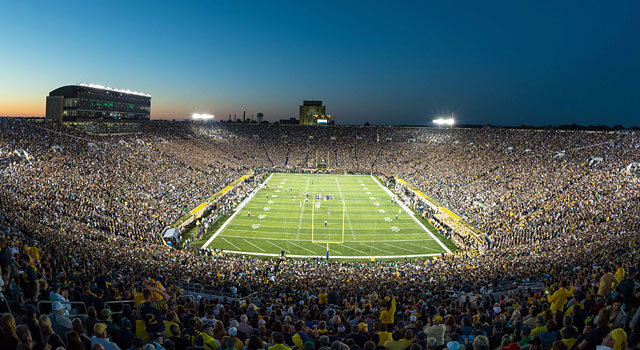 Solomon: The fight to keep fans | Dynamic price gains traction | Attendance down in '14
How big should a college football stadium be? Given the climate with fan attendance, many universities are asking that question as they look to maximize revenue by building more premium seats and suites.
Football Bowl Subdivision schools are currently undergoing or planning football stadium renovations that total more than $3.6 billion, according to a CBSSports.com analysis. Some of those dollars are tied into other projects connected to stadium renovations, but the vast majority is for items inside stadiums.
College Football Stadium Renovations
These FBS schools are currently undergoing or planning major renovations of their stadium. Some of the planned costs call for renovations of multiple athletic facilities and have not publicly tied specific dollar amounts to football stadium improvements.
School
Cost
New Capacity
Texas A&M
$450M
+20,000
Notre Dame
$400M
Possibly +3,200 or more
Oklahoma
$370M
Estimated minimal change
Baylor
$260M
-5,000 (new stadium)
Arizona State
$256M
-11,000
Florida State
$250M
-3,000
*Colorado State
$220M
+8,406 (new stadium)
Texas Tech
$185M
Not announced
Houston
$120M
+7,000 (new stadium)
Kentucky
$110M
-6,000
West Virginia
$106M
No change
Duke
$100M
+3,000
Cincinnati
$86M
+5,000
LSU
$80M
+8,000
Tulane
$80M
-46,468 (new stadium)
Colorado
$78M
-3,113
Mississippi State
$75M
+6,255
USC
$70M
No change
Kansas State
$65M
+1,000
Iowa State
$60M
+4,200
Ole Miss
$50M
+3,420
Missouri
$45.5M
No change
Buffalo
$36.5M
Not announced
UCF
$36.4M
Not announced
UMass
$35M
No change
Clemson
$25M
+750
Michigan State
$24.5M
No change
UL Lafayette
$21M
+5,900
Louisiana Tech
$20M
-2,600
Utah State
$20M
Not announced
Ohio State
$13.7M
+2,600
Georgia Southern
$10M
+7,000
Arkansas State
$5M
No change
* -- According to The Denver Post, Colorado State's president said it's unlikely the school will reach its goal to raise $110 million by October for the proposed on-campus stadium.
From Texas A&M's $450 million project to Arkansas State's $5 million upgrade, the size of a stadium is all in the eye of the beholder. For teams with large fan bases, expanding the capacity could make sense to capitalize on widespread support. It's also a gamble that seats can be consistently filled. Meanwhile, some lower-profile schools are downsizing capacity while adding more lucrative seats.
In the SEC, Texas A&M has gone much larger, LSU, Mississippi State and Ole Miss are going somewhat bigger, Missouri essentially stayed the same size, and Kentucky is going smaller.
"It's interesting because we've got both ends of the spectrum in our league, and people are analyzing what's good for them and I admire that," SEC commissioner Mike Slive said. "That reflects well that our people are being very thoughtful about what they need, what they want and what they see for the future."
Fresh off the recent success from Johnny Manziel and moving into the SEC, Texas A&M went all-in on Kyle Field. John Sharp, chancellor of the Texas A&M University System, has said Kyle Field will be "the number one sports venue in the United States." Notably, he didn't qualify the statement as the number one college sports venue in the United States.
This season, Texas A&M added 20,000 seats to enclose the stadium and bring its capacity to more than 106,000 -- topping the size of the rival Longhorns in a tit-for-tat battle of egos suited for football-crazed Texas. The Aggies have a new 163-foot wide video board, the largest in college football. They have new amenities in the concourse areas.
And this was just the first phase of the renovation. Texas A&M said the project is being funded 51 percent by annual seat licenses, 27 percent from a fundraising campaign, 17 percent from students, and 5 percent from local government agencies.
Texas A&M has been a hit in its three SEC seasons and draws from a huge alumni base. But the Aggies went 87-73 from 1999 to 2011 with zero 10-win seasons. What if the program returns to its pre-Kevin Sumlin days and needs to fill 106,000 seats?
"We're trying to make sure we're on the cutting edge," Texas A&M athletic director Eric Hyman said. "We haven't experienced declining attendance. Students love coming. It's not like maybe some other schools. That doesn't mean it won't touch us in the future. We're all vulnerable."
Texas A&M issued an NCAA-record 38,800 student tickets for the Aggies' game this season against Lamar, breaking the old record of 31,000 for Nebraska-Texas A&M in 2010.
"One of the things you've got to look at is our students get 50-yard line seats," Hyman said. "In other stadiums, students don't get priority seats. Because of that, maybe financially we don't have as much revenue as other schools because they have top-level donors sitting on the 50. But our students are important."
On the flip side, Kentucky is downsizing from 67,000 to 61,000 seats while adding 24 suites and 2,500 club seats. Each suite will cost $60,000, meaning Kentucky could generate $1.4 million in new revenue.
"We're in what I would consider a small-population market," Kentucky athletic director Mitch Barnhart said. "We feel like having a few better seats and making the market a little tougher to get a seat was a real important thing for us."
Arizona State plans to downsize Sun Devil Stadium from 71,000 to 60,000. The $256 million project will include more premium seats -- a potential moneymaker for Arizona State, which has the Pac-12's fourth-lowest revenue despite enjoying the largest enrollment.
"Even though we're hitting record (attendance) numbers, we know based on market studies that the right number for us is around 60,000 to sell out every game regardless of opponent," said Rocky Harris, chief of staff for Arizona State's athletic department. "Our parking, our facility can't handle 71,000. It's that way for two or three games a year. But it's not worth the impact of three to four games of 10,000 empty seats."
Arizona State is in a unique market. Phoenix is the sixth-largest city in the United States and continues to see its population grow at one of the highest rates in the country. Many people in the Phoenix area are transplants or fans of the Arizona pro sports teams.
"In some ways, it hurts us with competition in the market place," Harris said. "But I think it's actually a benefit for us. It forces us to think differently than in a college town without pro sports teams. People here go to Suns or Cardinals or Diamondbacks games. We're focused on making sure the level of customer service and atmosphere in the building is equivalent."
The proposed Sun Devil Stadium upgrades include a double-sided video board, a terrace pavilion, a new student section, and escalators connecting the concourse levels. Also, a new building for athletes has been added to the project.
"People are going to support Arizona State and the NFL. You can have both," Arizona State coach Todd Graham said. "I just don't buy into that crap that you can't. It's like when I was at Rice, they'd say it's tough, it's a pro town. No. It's because you have the University of Texas, Texas A&M and you're struggling to be on the seventh page of sports all the time. Here it's Arizona State University -- it's the university in the Valley, and really, in the state. We have the University of Arizona that we compete with, but we've got a great situation."
Arizona State plans to pay for the renovation through a $50 million fundraising campaign, stadium naming rights, revenue from a 330-acre athletic-facilities district being developed near the stadium, Pac-12 TV money, and stadium-operations revenue. The university wants the stadium to embrace technology and reflect Arizona State's sustainability efforts for climate neutrality.
"We're trying to use the stadium to tell the story of the university, too," Harris said. "Are there ways to hold classes in the stadium? What types of conferences can we bring here?"
At Baylor, the school built $260 million McLane Stadium with 5,000 fewer seats than its old stadium. Approximately 22 percent of McLane Stadium's tickets are premium seats, up from 9 percent in the past. Baylor athletic director Ian McCaw estimated the Bears will generate about 35 percent more revenue in the new stadium, largely driven by premium seats.
Fresh off its Big 12 championship season, Baylor opted not to raise season ticket prices and sold them all out for the first time. This is a year when Baylor could have used a bigger stadium and/or higher ticket prices.
"We'll have to evaluate (prices) as we move into next year," McCaw said.
The evaluation never ends, even after renovating a stadium.
CBS Sports HQ Daily Newsletter
Get the best highlights and stories - yeah, just the good stuff handpicked by our team to start your day.
Please check the opt-in box to acknowledge that you would like to subscribe.
Thanks for signing up!
Keep an eye on your inbox for the latest sports news.
Sorry!
There was an error processing your subscription.
The Bulldogs are expected to take control of the SEC East this week

Moore helped the Boilermakers knock off No. 2 Ohio State

Ohio State fell to No. 11 following a 49-20 loss at Purdue
Clemson is the new No. 2 to Alabama after Purdue beat Ohio State on Saturday night

Old Dominion got its first C-USA win in bizarre fashion

Purdue knocked Ohio State out of the College Football Playoff, and rival Michigan is happy...