Week 22 schedule analysis
The Olympic break is in the past and we're back to action. Brian Rutherford helps you shake off the rust with his Week 22 schedule analysis.
Yes, the Olympic break is finally behind us and for good or ill, it's time to welcome back the NHL and many of its wounded. With Monday off and nearly half (13) of the league easing their way back into action with a two-game schedule, you will have your work cut out for you. There are exactly 700 league games left for you to blaze your way to (or retain) the top of the standings.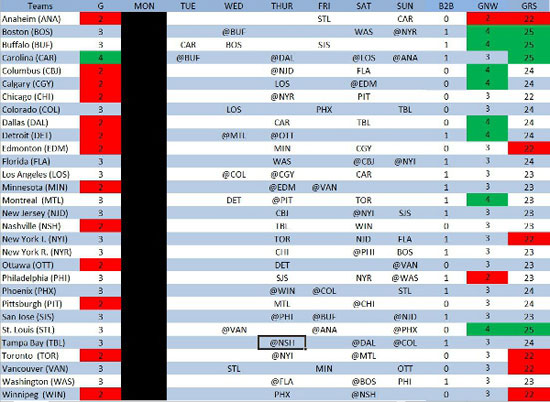 B2B = Back-to-Back
GNW = Games Next Week
GRS = Games Remaining this Season
Four Aces
The Hurricanes draw the only four-game docket of the week. And by the looks of it, they're not exactly counting the days. Or are they?
Carolina (at BUF, at DAL, at LOS, at ANA) has four games on the road that will get progressively harder, but the Hurricanes have a surprising (small sample) combined record of 2-0-1 against this week's opponents, including a 3-2 win over Anaheim. We see no reason for Cam Ward to displace Anton Khudobin. The real question is, with the trade deadline looming, can Carolina find a buyer on Justin Peters or Cam Ward?
Back-to-Back Jacks
With 13 of the NHL's 30 teams playing just two this week, you might think there's little room for focus on back-up goalies, but you may want to think again. Sixteen teams will have a b2b occurrence this week, including the Red Wings and Wild.
Detroit (at MTL, at OTT) gets back to work on Wednesday against the Canadiens before traveling to Ottawa for the second half of b2b games on consecutive nights. It's worth noting that the Red Wings are 1-2 and have been outscored by Ottawa 12-7. Stephen Weiss (sports hernia) and Pavel Datsyuk (knee) should resume regularly schedule NHL action this week, but the Wings will be without Henrik Zetterberg (back). Datsyuk registered five points in as many international games at Sochi.
Minnesota (at EDM, at VAN) follows suit, only beginning on Thursday in Edmonton and then Vancouver on Friday. What's hurting Zach Parise more, Team USA's lackluster medal round efforts or his thumb? Niklas Backstrom has had a disappointing season to say the least. Perhaps his recent doctor's visit can shake things up.
Two Pair
No one has a lighter schedule than Anaheim (four games over the next 14 days) over the next two weeks.
Pittsburgh (MTL, at CHI) and Chicago (at NYR, PIT) roster some of the best fantasy players available, you know this. However, their involvement in the conclusion of the Stadium Series on March 1 has left them with a rather listless schedule, so you may want to look elsewhere for scoring this week.
Three of a Kind
As usual, nearly half of the league will engage in a three-game schedule. With all teams returning from a lengthy break, let's toss out statistical likelihood and not only take a glance at some of the teams with a trendy week ahead but also teams that will endure three games in four nights.
Buffalo (CAR, BOS, SJS) is the busiest team (11 games in 20 nights) out of the gate, playing three in four nights, but from home. Cody McCormick (finger), Tyler Myers (knee) and Matt Moulson (upper body) are all expected to return to action on Tuesday against Carolina. It should be interesting to see how Ryan Miller's lack of playing time at Sochi affects his play and very much directly, his trade value.
Boston (at BUF, WAS, NYR) plays in Buffalo on Wednesday, hosting the Caps on Saturday then travels to Madison Square Garden for a showdown with the Rangers on Sunday. Adam McQuaid (leg) should be considered day-to-day after the much needed Olympic break. Tuukka Rask (illness) posted a shutout of USA, safe to say he's good to go. Across the globe, his teammate Reilly Smith (illness) returned on Saturday from a similar issue.
Colorado's (LOS, PHX, TBL) schedule is not frenzied in format, but their strength of schedule is another story altogether. Erik Johnson will begin his two-game suspension for his slash of Frans Nielsen.
Florida (WAS, at CBJ, at NYI) hosts the Caps before heading out on the road for two games. Dylan Olsen has been returned to his parent club while Tomas Kopecky (concussion) and Aleksander Barkov (knee) are both expected to miss an extended period of action.
Los Angeles (at COL, at CGY, CAR) plays two on the road before heading home to host the Hurricanes. It's hard to imagine what Jonathan Quick is thinking right now. He was on fire prior to the Olympics, then takes Ryan Miller's job, but gives up five goals in the Bronze medal game. The same goes double for Anze Kopitar who is hoping to get the Kings moving in the right direction offensively.
Montreal (DET, at PIT, TOR) plays two of three from home, but all three come in a four day span starting Wednesday. Michael Bournival (concussion) has not yet been cleared to return to practice. The Canadiens have been long rumored to be active on the trade market.
New Jersey (CBJ, at NYI, SJS) has a plausible schedule with two at home against formidable opponents and the Isles on the road. All the talk is about Martin Brodeur, but where will he go? Ryane Clowe (soreness) practiced on Friday. Anton Volchenkov (lower body) stated he's fully recovered.
The Islanders (TOR, NJD, FLA) play three in four days, but won't leave Long Island. All season the Islanders were teetering on the brink of buy/sell. With John Tavares (MCL) out for the remainder of the season and Frans Nielsen (thumb) out for at least another one-to-three weeks, how does that impact GM Garth Snow's asking price on players like Andy MacDonald and Thomas Vanek? In case of emergency, break glass. Ryan Strome (48 points in 35 games with Bridgeport) Anders Lee (21 goals and 19 assists in 53 games) and Matt Donovan (20 points in 23 games) could all become FA pickups.
The Rangers (CHI, at PHI, BOS) have probably the toughest three-tilt schedule with the Blackhawks and Bruins and an always spirited contest with the rival Flyers. Derek Dorsett (leg) has been practicing in a non-contact jersey, but could be ready to return this week. This could spell bad news for Daniel Carcillo. Mats Zuccarello (hand) will be out three-to-four weeks.
Philadelphia (SJS, NYR, at WAS) plays three in four nights as well, with the first two coming in the City of Brotherly Love. Marc-Andre Bourdon (concussion) suffered a setback.
Phoenix (at WIN, at COL, STL) is the ying to the Flyers yang playing three in four nights and the first two coming in road jerseys. Derek Morris (upper body) skated on Saturday and David Runbland was sent to AHL Portland for a conditioning assignment.
San Jose (at PHI, at BUF, at NJD) not only plays all three on the road, but three in four days. After five months of rehab, can you wait one more week for Raffi Torres (knee)?
St. Louis (at VAN, at ANA, at PHX) plays every other day, but all three will be on the road. The saddest part of the Blues' goaltending is the ability Jaroslav Halak and Brian Elliott can't seem to sustain. Could it be time to bring in a Martin Brodeur or Ryan Miller?
Tampa Bay (at NSH, at DAL, at COL) doesn't return to action until Wednesday, when they hit the road for three games in four days. Martin St. Louis may be a little rusty coming out of the break or simply explode due to lack of ice time. Valtteri Filppula (ankle) has yet to resume skating but is reportedly expected back in Nashville. Anders Lindback (ankle) should be back in time to ride the bench in Nashville as well. Tyler Johnson (foot) is reportedly still "moving around a little gingerly" but doesn't expect to miss any time. And last but certainly not least, Steven Stamkos will find out on Monday how soon he can return.
Vancouver (STL, MIN, OTT) has their week spread out and at exclusively at home. Alexandre Burrows is still dealing with a sprained hand. Kevin Bieska (foot) is practicing, but still wearing a boot? Henrik Sedin (ribs) "believes he is close to 100 percent."
Like most in this group, Washington (at FLA, at BOS, PHI) is off until Wednesday, when they play in South Florida then face the Bruins and Flyers on b2b nights. While the Caps are not holding their breath about Evgeny Kuznetsov, Mikhail Grabovski (ankle) is nearing a return.
Defensemen aren't Fantasy Hockey afterthoughts anymore. Here is how we rank them for 2017-...

You need to hit on some late-round picks to succeed in Fantasy, so here are a few to target...

Learn how to take advantage of the power play with our rundown of the best units in the le...
There aren't enough top-tier goaltenders to go around in Fantasy, so it makes sense to have...

Forwards are the backbone of any Fantasy roster, and we've got the best of the bunch ranked...

Where should Fantasy owners look for value? Often times they come from the victors in these...