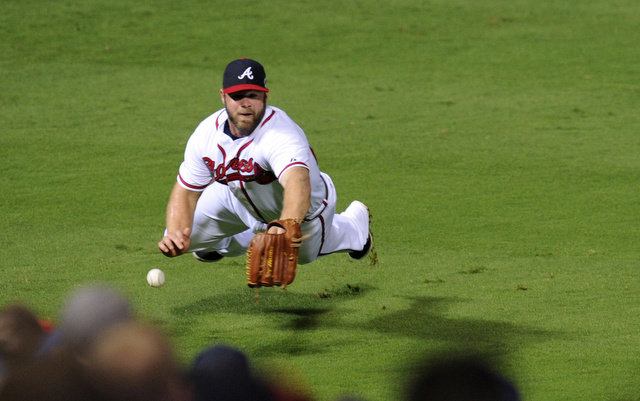 Under the direction of new president of baseball operations John Hart, the Braves have been one of baseball's most active teams this offseason. They traded away both Jason Heyward and Justin Upton while signing Nick Markakis and Jason Grilli. On Wednesday, they added another veteran via free agency:
Pierzynski braves deal, expected to be about $2M for 2015, won't be finalized until january

— Jon Heyman (@JonHeymanCBS) December 24, 2014
Pierzynski earned $8.25 million on a one-year deal in 2014 while putting up a career worst 75 OPS+, so it's safe to assume the contract is smaller than that. Maybe $4 million or so. We'll see.
The 37-year-old Pierzynski gives the Braves a veteran caddy -- and a left-handed complement -- to young Christian Bethancourt, who is the team's future behind the plate. The 23-year-old Bethancourt is widely regarded as standout defender and okay hitter, which is really valuable. He started 15 of Atlanta's final 18 games behind the plate this past season after being called up in September.
The jump from Triple-A to MLB is as tough as it's ever been right now due to all the information teams have -- just look at how elite prospects like Xander Bogaerts, Gregory Polanco and the late Oscar Taveras struggled in 2014 -- and that goes double for catchers. In addition to their own work at the plate, they have to learn the pitching staff and hitters around the league. It's tough, so getting Bethancourt a veteran mentor makes perfect sense as long he continues getting the majority of the team's starts.
But, aside from that, the Pierzynski signing shows the Braves are serious about making Evan Gattis their full-time left fielder in 2015. He'll presumably join Markakis and B.J. Upton in the everyday outfield. Gattis' bat is more than adequate for left -- he's hit .253/.304/.487 (117 OPS+) with 43 homers in 213 career MLB games, and that's with all the wear and tear of catching -- but his defense definitely isn't.
Both the scouting reports and statistics agree Gattis is a disaster in the field, and that means at catcher, first base and left field. The man was put on this Earth to hit, not field. He's a DH stuck on an NL team, and since the Braves have Freddie Freeman entrenched at first and Bethancourt on the way behind the plate, left field is the only way they can get Gattis' bat in the lineup.
Of course, there have also been plenty of reports saying the Braves are open to trading Gattis, and that makes sense. They've already traded Heyward and Upton in a rebuilding effort, so why stop there? If an AL team is willing to give you some young pieces for Gattis, why wouldn't Hart pull the trigger? Gattis is cheap and has power. That's useful. The Orioles, Rays, Twins, Indians and Mariners are among the AL clubs who could find a roster spot for him, off the top of my head.
If the Braves do go into the season with Gattis in left, they figure to have one of the worst all-around outfields in baseball. Unless he turns into an offensive force like Jose Bautista or Giancarlo Stanton, Gattis' defense will more or less negate his offense. The elder Upton has been arguably the worst player in baseball the last two years, and while Markakis is a fine player, he's not enough to prop this group up.
Signing Pierznyski to help ease Bethancourt into everyday duty behind the plate makes perfect sense on its own. The move pushes Gattis into left field though, and that will be a big defensive problem for Atlanta. At this point trading him makes the most sense given their current roster and situation.
>> Want more Hot Stove? Free agent tracker | Trade tracker