SAN DIEGO -- The question we posed to various All-Stars during Monday's media-day forced march: Which player from your childhood or even the distant past would you like to see in the Home Run Derby or even take on in same? The working assumption is that the player in question would be in his prime and not competing at his current skill level (although that would perhaps be more entertaining). A sampling of responses ...
His answer: Ken Griffey Jr.
"My mom was always a Griffey fan. He symbolized baseball back then, the hat backward and all that."
Griffey's indeed a winning choice and is probably the greatest Derby participant ever. Junior took part in eight derbies and won the entire affair in 1994, 1998, and 1999. Now let's recall when Junior damaged some property in Baltimore ...
Bradley also name-checked Mark McGwire and Sammy Sosa.
His answer: Ken Griffey Jr.
"My idol growing up was Griffey. I loved watching him on TV, and I was blessed to be able to play with him for the last two years of his career [with the 2009-10 Mariners]. It was just great to be around him as a friend and a teammate."
Hey, let's watch him win it in Fenway in '99 ...
His answer: Sammy Sosa
"Growing up, one of my favorite swings was Sammy Sosa. So I'd probably like to see him and [Barry] Bonds."
Sosa took part in six Home Run Derbies, and he won it in 2000. Needless to say, he was known for his power ...
His answer: Gary Sheffield, Shawn Green
"I think Sheffield with that swing would be fun to watch. He was special at the plate. I was also a big Shawn Green fan. I was a Dodgers fan growing up, so I'd love to see him give it a shot."
Sheffield took part in three Derbies but never won. Shawn Green took part in one, in 1999. As for Sheff's swing, it would indeed be fun to watch in this kind setting ...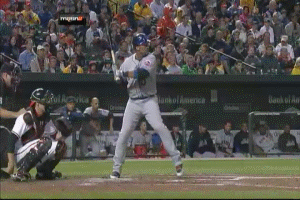 Now let's talk to a couple of actual 2016 Home Run Derby combatants and ask them which player from the past ...
His answer: Ken Griffey Jr.
Could he beat him? "I think so. You got to think positively, you got to have confidence, so yeah."
Respect to Duvall for saying he could take his Cincy elder in a Derby.
His answer: Ken Griffey Jr.
"Griffey was my favorite. I could give him a fight. I don't know who would win, though."
For the pitcher's perspective, we asked Madison Bumgarner -- whom the people badly want to be a part of this event some day -- whether he modeled himself after any hitters growing up ...
"Growing up, not really. I try to watch Gerald [Buster Posey] a lot. He's pretty good. I can't do it like he does, but I try to learn from him."
And is there a hitter from his youth he'd like to take on in the Home Run Derby?
"Greg Maddux. I think I could take him."
Well, Maddux hit five home runs in 1,591 at-bats, while Mad Bum boasts 13 spanks in 417 at-bats. His confidence is perhaps not misplaced.
Hey, let's tie it all together with this color-television footage from way back yonder in 1992 ...
Viva la homers, people.