Cardinals improve defense at two positions with Freese-Bourjos trade
By trading away David Freese on Friday, the Cardinals improved their team defense at two and maybe even three positions.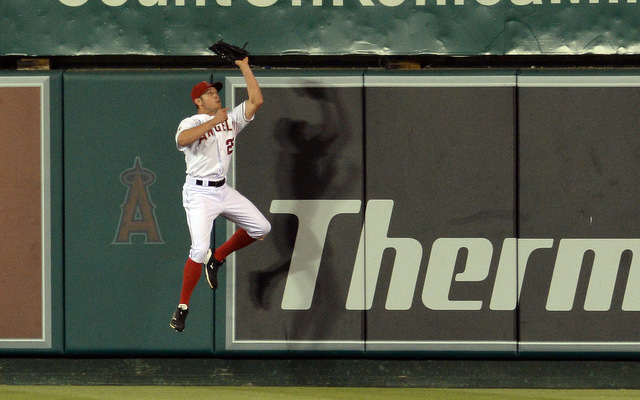 The Cardinals finished with the best record in the National League this past season despite a team defense that can generously be described as below-average. They ranked as one of the eight worst fielding teams in the game with -39 DRS and -49.4 UZR, two stats available at FanGraphs. You don't even need to reference stats if you watched the postseason at all.
On Friday, St. Louis sent third baseman David Freese (and a reliever) to the Angels for center fielder Peter Bourjos (and a prospect), a trade that improves their defense at both positions and possibly a third as well. Bourjos will replace Jon Jay in center while Matt Carpenter shifts from second to third (his natural position) with Kolten Wong taking over at second. A little complicated but nothing crazy. How exactly does this help the team in the field? Let's look.
CENTER FIELD
The postseason did not do much to help Jay's defensive reputation thanks to a number of misplays in center. Since breaking into the league in 2010, has been a below-average defender overall (-7 DRS and -1.4 UZR) but was especially bad in 2013 (-10 DRS and -7.3 UZR). Jay was healthy this summer, at least as far as we know, so there's no injury to explain the poor year. Defense is like everything else, players can have good years and bad years.
Bourjos, on the other hand, is an elite gloveman and one of the best center fielders in baseball. He broke into the league in 2010 like Jay, and during that time he's registered +33 DRS and +40.1 UZR, the 14th and sixth best marks among all outfielders, respectively. His average 2013 campaign (-1 DRS and -0.3 DRS) is more of an injury and sample size issue -- he only played 55 games due to a hamstring strain and a broken wrist -- than a sign his defense is slipping. Even if it has slipped some, Bourjos is still a huge step up from Jay in center field.
THIRD BASE
Over the last three years, the defensively limited Freese has put up a -13 DRS and -11.4 UZR, which is disaster territory. He had his worst year in 2013 (-14 DRS and -16.5 UZR) and it's very possible the lower back problem he dealt with early in the season hindered him in the field. Even if he rebounds to his 2011-12 defensive levels, he's still an average fielder at best at the hot corner.
Carpenter, on the other hand, has been a +2 DRS and +1.7 UZR defender at third base in parts of three big league seasons. By no means is he Brooks Robinson over at third, but he's average or a tick above. That's an upgrade over 2011-13 Freese and a massive upgrade over 2013 Freese. Relative to this past season, the Cardinals should be much better at the hot corner next year.
SECOND BASE
This is where it gets tricky. Carpenter only played one full year at second base and, considering his inexperience at the position, he did fairly well in the field (0 DRS and -1.6 UZR). Wong has only played 111 innings at second base in his big league career, so defensive stats are useless. Instead, here's a snippet of a recent scouting report from Baseball America (subscription required):
His instincts also help his fringy range and arm get the job done defensively at second base.
That's it, one sentence about his defense and it isn't exactly glowing. Does that mean Wong is bad at second base? A bit below-average? Adequate? We're in the dark a bit. Considering Carpenter was basically league average in the field this summer, I'm not comfortable saying Wong will be an upgrade at second base defensively next year. It's possible but I don't think we can say that definitively.
Regardless of what happens with Wong at second, the Cardinals improved their team defense at third base and center fielder, substantially so in the case of the latter. They are, however, likely sacrificing some offense with the trade -- Bourjos isn't much with the bat and Wong is still an unknown not matter how impressive his minor league numbers are -- so they'll need the defensive improvement for the trade to be a net positive. St. Louis had a surplus on the infield and they used it wisely to upgrade not one, but two and maybe even three positions in the field. Pretty impressive move.
Scott missed almost all of last season after a concussion

The superstar is one year away from free agency

The Angels knew about it and still wanted to sign the potential ace, of course
The Tigers asking price is supposedly very high, though

Your one-stop shop for all things MLB Winter Meetings-related

Bryan Mitchell also heads to San Diego in the reported deal