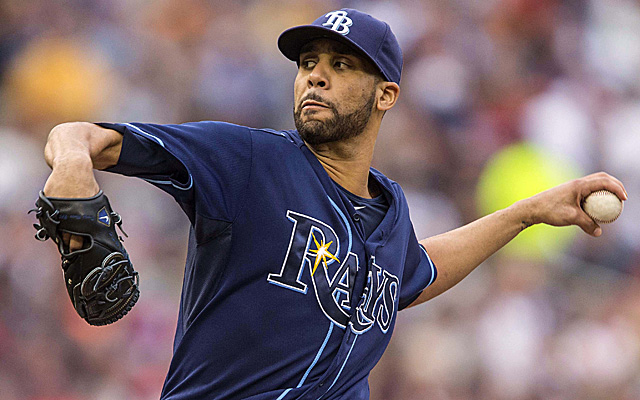 See that beard? That's why Price won't be a Yankee, he says. (USATSI)
We've seen players like Jason Giambi, Johnny Damon and now Kevin Youkilis join the Yankees and adhere to the club policy of no facial hair. With Rays ace David Price to hit the free agency market after the 2015 season -- and, thus, very likely depart Tampa Bay -- might he be inked to a megadeal in the Bronx?
Not likely.
Check out this portion of an article on FoxSports.com from Jon Paul Morosi, where Price is discussing how much he loves playing for manager Joe Maddon:
"Joe wants us to be comfortable in our own skin. He doesn't care what we do in the locker room. He doesn't care what type of music we play, how loud we play it. He doesn't care what we wear to the field, because that's not going to help us be better baseball players. That (would give) us more reasons to mess up, more reasons to get a fine, more reasons to be mad about coming to the ballpark because you have to wear slacks and a collared shirt in 100-degree weather.

"It's a joke to me, that I had less rules in college than I would on some major league teams. That's not my style, man. I couldn't do it on some of these teams I hear about. I couldn't do it. I'm a grown man."

Price spoke for several minutes about "how good we have it here," even making special mention of the team's athletic training staff. He added: "If I ever did hit that free-agent market, there would be teams I wouldn't sign with simply because of the stuff that I've heard -- every rule they have. Being here since 2007, being treated like a grownup, given that respect and freedom and space -- it grows on you."

Taking note of his beard, I told Price he'd have to shave if the Yankees traded for him.

"I wouldn't stay there very long then," he responded. "I wouldn't sign a long-term deal there. Those rules, that's old-school baseball. I was born in '85. That's not for me. That's not something I want to be a part of."
I don't understand the affinity some have for sporting facial hair, but I 100 percent understand wanting to have the freedom to choose -- and that's ultimately what Price is coming down in favor of. It's not the facial hair per se, it's the principle.
Price, 27, won the AL Cy Young last season when he went 20-5 with a 2.56 ERA, 1.10 WHIP and 205 strikeouts in 211 innings. The Vanderbilt product is now a three-time All-Star and was the Cy Young runner-up in 2010.
For more baseball news, rumors and analysis, follow @EyeOnBaseball on Twitter, subscribe to the RSS feed and "like" us on Facebook. Also, individually interact with us on Twitter: @MattSnyder27, @daynperry and @mikeaxisa.