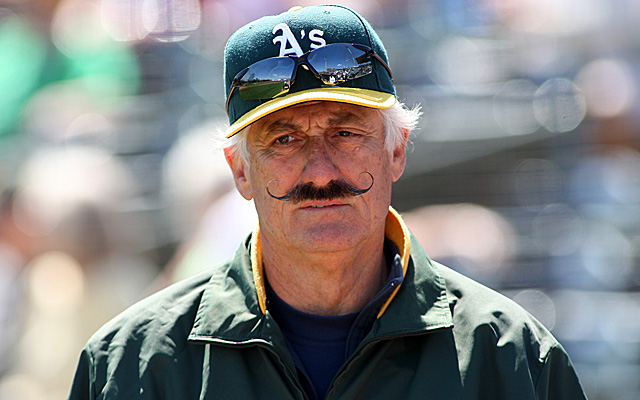 Ever heard the one about when a Hall of Famer chose retirement over shaving off his mustache?
It was on this date in 1986 when All-Star closer Rollie Fingers was unable to come to an agreement with the Reds regarding his trademark handlebar 'stache and instead chose to ride off into the sunset as MLB's all-time leader in saves.
Fingers was set to join the Reds for the '86 season after being released from the Brewers following the 1985 season. What happened next?
From the New York Times archives:
But Fingers and General Manager Bill Bergesch were unable to reach agreement in a telephone conversation yesterday on the issue of shaving off the mustache, and Bergesch broke off the Reds' interest in Fingers. After their conversation, Bergesch told reporters: ''Fingers started off by asking me if what he had heard and read was true, that is, would we require as a condition for trying out with the Reds, his removal of his handlebar mustache? I told him it was Cincinnati policy and would have to be uniformly applied.'' Bergesch said that Fingers' reply was final. He quoted Fingers as saying: ''The mustache is my trademark, and it has been for 15 years. I am not about to shave it off just to play baseball.''
Just to play baseball?!?!
Heresy!
And that was it. Fingers retired rather than ridding himself of those handlebars.
Fingers would have been joining the Reds in a season in which he'd turn 40 years old and, again, he was the career saves leader at that point. So, overall, it's not like he was quitting mid-career.
Still, this definitely makes for a quirky story.
In all, Fingers pitched in parts of 17 big-league seasons for the A's, Padres and Brewers. He was a seven-time All-Star and in 1981 he won both the AL Cy Young and MVP. He retired with three World Series rings, all courtesy of those '70s Athletics. The Hall of Famer saved 341 games in 450 chances with a 2.90 ERA (120 ERA+), 1.16 WHIP in 1,299 strikeouts in 1,701 1/3 career regular-season innings.
Fingers is now 10th on the all-time saves list, having been passed by Mariano Rivera, Trevor Hoffman, Lee Smith, John Franco, Billy Wagner, Dennis Eckersley, Jeff Reardon, Troy Percival and Randy Myers. Joe Nathan enters the 2014 season tied with Fingers at 341.