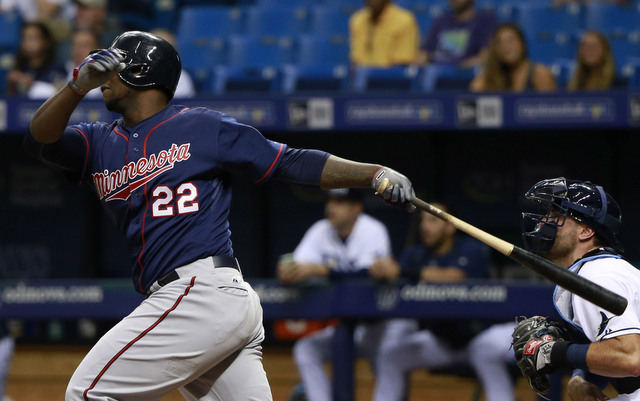 The Rays and Twins continued their series at Tropicana Field Thursday night (GameTracker). Minnesota took the first two games of the three-game set between the two AL wild-card hopefuls.
The Rays had an early lead Thursday night when Twins slugger Miguel Sano stepped to the plate with a runner at first base against Drew Smyly. Despite being only 22 with 46 MLB games under his belt, Sano is an absolutely terrifying hitter because of his mammoth power. He's hit 12 homers in those 46 games, including some majestic blasts.
Sano crushed a monster two-run home run off Smyly ... except one of the Tropicana Field catwalks got in the way. Look at this play:
Man, he destroyed that pitch. It had the sound and the look of a home run. Gone off the bat. Zero doubt about it. Smyly threw it right into Sano's wheelhouse. Instead, the ball was ruled a ground-rule double. Here is the Statcast data, in case you have any doubt about that being on its way to leaving the yard: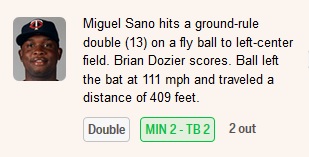 A projected distance of 409 feet and 111 mph off the bat? Yeah, that's a homer. Easily out of the yard. Here are the catwalk ground rules at Tropicana Field:
CATWALKS, LIGHTS AND SUSPENDED OBJECTS

Batted ball strikes catwalk, light or suspended object over fair territory:

Batted ball that strikes either of the lower two catwalks, lights or suspended objects in fair territory: HOME RUN.
Batted ball that is not judged a home run and remains on a catwalk, light or suspended object: TWO BASES.
Batted ball that is not judged a home run and strikes a catwalk, light or suspended object in fair territory shall be judged fair or foul in relation to where it strikes the ground or is touched by a fielder. If caught by fielder, batter is out and runners advance at own risk.

Batted ball strikes catwalk, light or suspended object over foul territory: DEAD BALL
Sano hit one of the higher catwalks and the ball landed in fair territory. A Rays player could have caught the ball and Sano would have been ruled out. Crazy.
On the bright side, the blast introduced me to the magic of @SanoAlerts:
** Sano Warning canceled. Possible property damage to the catwalk in left center field at the Trop. Loss of Homer. Only given double **

— Sano Alerts (@SanoAlerts) August 28, 2015
So remember, at the end of the season when you're marveling at Sano's stats, make sure you subtract one double and add one homer. Tropicana Field robbed Sano of a monster dinger.