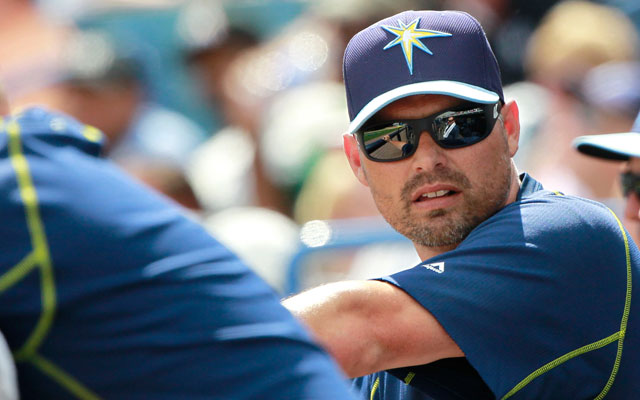 New Rays manager Kevin Cash, the man who replaced the iconic Joe Maddon, has something in common with Maddon: Cash, along with Maddon, has the most job security of any big-league manager, if you go by years remaining on one's contract.
Both have five years to go after signing new contracts.
While the Rays still have not said how long Cash's rookie deal is for, sources tell CBSSports.com Cash received an almost unprecedented five-year deal, fairly stunning when you consider first-year managers invariably receive two- or three-year deals. Maddon, who had a wonderful nine-year run in Tampa, also received a five-year deal from the Cubs. Maddon's is for $25 million total while Cash's salary remains unknown beyond the fact it isn't anywhere near that ballpark.
Angels manager Mike Scioscia is operating under a long contract, 10 years, but he has only four years remaining (Scioscia also has an out after this year, according to Cots Baseball Contracts) on the record $50-million deal. Terry Francona, Cash's former boss in Cleveland, is under contract through at least 2018 also, with the Indians holding team options after that.
However, Francona has won two World Series, Scioscia one, and Maddon got to the World Series with the Rays in 2008. Cash has yet to manage a game, at any level.
Rays general manager Matt Silverman declined comment on Cash's deal. But he expressed great faith in the former big-league catcher, who is the youngest manager in baseball at 37 with a thin resume after his playing career, understandable since it didn't end until this decade. Cash was the Indians bullpen coach and before that an advance scout with the Blue Jays.
However, he is extremely well-respected by the teams that know him. He is said to have had an excellent interview in Texas, too, though he finished second to native Texan Jeff Banister, the Pirates bench coach, for that job.
Cash's agent Ryan Gleichowski also declined comment on the contract. Though it is obviously quite a coup for Gleichowski to have won such a long deal for such an unproven commodity.
Cash played for the Rays (when they were known as the Devil Rays), Yankees, Blue Jays and Red Sox, four AL East teams, plus the Astros.
While Silverman declined comment on the deal the Rays' GM provided a glimpse of why they love Cash, who happens to be a Tampa native who helped a local team there reach the Little League World Series.
"Kevin is a great communicator," Silverman said. "He has a keen baseball mind. He's the kind of guy who can be on the forefront of the changes in the game for years to come."