Once more into the breach. The Houston Chronicle reported Thursday that a third violation of the Houston Astros database by St. Louis Cardinals employees has been found during an ongoing FBI investigation. This news, along with the assertion by Astros general manager Jeff Luhnow that he didn't use stale passwords for the database, expands the scandal beyond what was initially thought.
Cardinals ownership, meeting concurrently with reporters, said the stain of the breaches touches the entire organization, no matter who perpetrated them.
Evan Drellich of the Chronicle writes:
The Chronicle on Thursday learned that the Cardinals had unauthorized access to Astros information as early as 2012, a year earlier than was previously known. Cards owner Bill DeWitt Jr., meanwhile, for the first time acknowledged that his organization had played a role in accessing proprietary information belonging to the Astros, blaming "roguish behavior."

Meeting with reporters in St. Louis on Thursday along with general manager John Mozeliak, DeWitt said his own organization's investigation was still ongoing and did not specify which employee or employees were responsible, but told club workers on Thursday "we've all been tainted."

"Those responsible will be held accountable," DeWitt said, "and we will continue what we feel is a great franchise."

The extent of the Cardinals' reach inside the Astros' organization isn't yet fully known but was not limited to one or two occasions, a person familiar with the details of the investigation said. The source asked for anonymity because of the sensitive nature of the case. The Chronicle has previously confirmed two breaches into the Astros system – one in 2013 and one in March of 2014. The FBI began its investigation after the 2014 breach.
Drellich's post also addressed the possibility of the Astros filing a civil suit against the Cardinals. They could, but it would be a challenge of MLB's rules that prohibit one franchise from suing another. More likely, the Astros would defer to MLB commissioner Rob Manfred. He could hand out punishments along these lines: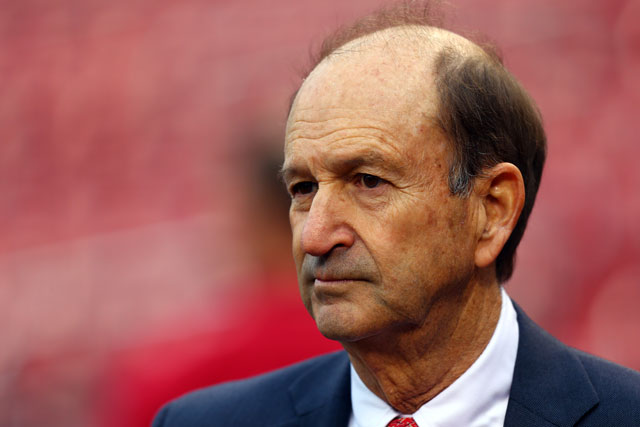 The commissioner's power to punish ranges from issuing a reprimand; barring a club from major league meetings; suspending or removing any team owner, officer or employee; levying a fine that can't exceed $2,000,000 in the case of a club, and no more than $500,000 in the case of an owner, officer or employee. The commissioner too can take away the benefit of any or all major league rules — which include, notably, the Rule 4 and 5 drafts. The Rule 4 draft is better known as the amateur draft. The rules too allow for other unspecified, punishments as the commissioner sees fit.
It depends on how much illegal activity these "roguish elements" are found to have done. If Manfred finds it reasonable that Mozeliak and/or DeWitt should have known about it, the commissioner could punish the Cardinals like the NFL did to the New England Patriots -- or much worse, possibly.