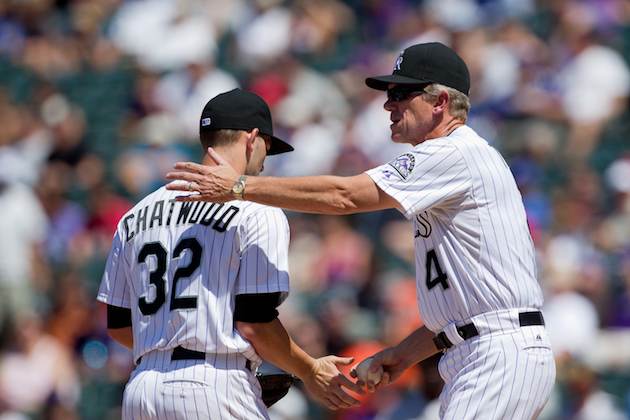 Jim Tracy was worn out a trail to the mound. (Getty Images)
The past 30 years or so have seen plenty of innovation in baseball, including the evolution of bullpen usage, but starting pitching has been pretty much the same. There's a five-man rotation of starters, those starters go as long as they can and then the bullpen is used.
While pitch counts have played a larger role in how long starters go, it's still mostly a feel thing for managers when to head out to the mound.
That could be changing. Colorado has tinkered with a four-man rotation since June, limiting starters to 75 pitches and using the bullpen more liberally.
The team is looking going to a four-man "piggyback" rotation from the start in 2013, Colorado general manager Dan O'Dowd told Troy E. Renck of the Denver Post.
In the new plan, the Rockies would use four starters and pair them with four "piggyback" relievers. The starters would be on a 75-pitch count, while their piggyback counterparts would have a 50-pitch limit. The team would also use a pair of set-up men and a closer, as well as two middle relievers, who could bridge the gap between the starter and piggyback man or from the piggyback man to the set-up men. A total of 13 pitchers would limit the bench, but that's something the Rockies would be willing to accept in order to limit injuries to their pitchers.
Renck pointed toward Tuesday's game against the Dodgers as an example of how the new bullpen could be used -- as lefty Matt Reynolds came in for an inning to get Dodgers lefties Adrian Gonzalez and Andre Ethier, as well as Hanley Ramirez, who was between the two in the lineup.
It's an interesting experiment and the results so far have given modest gains, but gains nonetheless. In the first 65 games the Rockies starters had a 6.28 ERA and a 5.61 ERA in the last 64. The relievers ERA, however, has increased from 4.00 to 4.52. However, the team is 16-12 in August, which coincided with assistant general manager Bill Geivett taking a more hands-on role in the experiment.
It seems crazy at first, but the Rockies have to try something. Pitching has always been an issue in the team's high-altitude home. And while Renck notes the new rotation could make it difficult to draw free agents to Colorado, it's not like free-agent pitchers have been flocking to Denver anyway. Instead of thinking of reasons it can't work, it's refreshing to see a team take a chance and try something radical, which this would be. Although piggybacking has been done at the minor-league level for development before (the Reds did it under GM Dan O'Brien), doing it at the big-league level is going to be interesting to watch.
And, as starter Jeff Francis told the newspaper, it needs more than just a couple of months to draw any conclusions.
"You have to remember why this was starter, to help keep guys healthy. And three months is not long enough to determine if that's working," Francis told the Post. "It might take time to really see if that's the case. But guys are getting more comfortable in their roles and how this works."
For more baseball news, rumors and analysis, follow @EyeOnBaseball on Twitter, subscribe to the RSS feed and "like" us on Facebook.