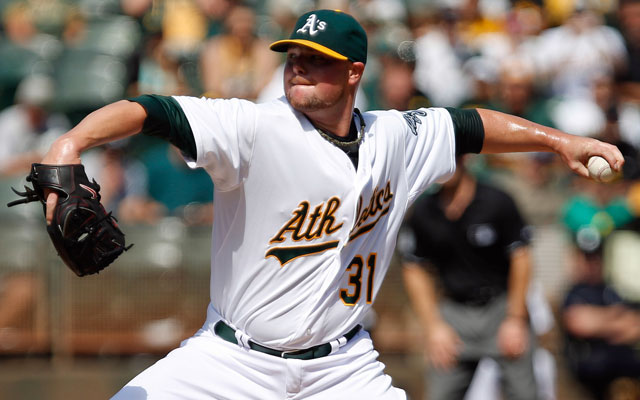 The Giants are meeting with star free-agent pitcher Jon Lester on Monday. However, after losing star third baseman Pablo Sandoval to Lester's longtime Red Sox team, Giants people have been amazingly tight-lipped about this high-profile pursuit.
Not much is known about the confab, but one source said Giants veteran pitcher Tim Hudson is one key to the Giants' recruitment of Lester, as the pair of Atlanta residents are said to be close. Ahmed Fareed of Comcast Bay Area reported that Giants manager Bruce Bochy is in Atlanta on Monday to do his part as well.
San Francisco was not happy to lose Sandoval to Boston, which made its interest known early and grabbed him for the same $95 million that the Giants offered.
The Giants were suggested in this space to also be a possibility for the other top free-agent pitcher, Max Scherzer. But of course that would be more money and may depend on the bidding for Lester.
Sources suggest the Cubs have bid $138 million over six years for Lester, and the Red Sox suggested at least a willingness to go to $130 million for six years, while word is the Braves, Lester's current hometown team, bid somewhat lower than that. It's possible also that Chicago and Boston will go up from there, if they haven't already.
The Braves are thinking more long-term at the moment, and new Atlanta honcho John Hart suggested on MLB Network Radio that their timing in this case may not be perfect -- but of course it doesn't hurt to give it a try and hope Lester considers this hometown type discount.
David Kaplan of CSN Chicago first reported the Cubs bid at least $135 million for Lester. The Red Sox started this winter at somewhere between $110 million and $120 million, Nick Cafardo of the Boston Globe reported, but word is they will go to $130 million, at the least.
The Blue Jays, Cardinals and Royals are among other teams to have been linked to Lester -- though it would seem to be a long shot to see him go somewhere other than Boston (where he started and played all but the last two months of the 2014 season), Chicago (where he knows honchos Theo Epstein and Jed Hoyer), Atlanta (where he currently lives) or San Francisco (which has three rings in five years, plus his good buddy Hudson).
Lester is also said to have two more teams in the mix that he expects to be in contact with later this week, and execs involved in these talks seem to think it's too early to know where he's headed as he'll need to re-engage with the interested teams after all the initial meetings are over. With all the interest, though, it seems like Lester will have the chance to become a $25-million-a-year player with a contract for $150 million or more.