All-time Single-Season Teams: CHC | STL | MIL
On the occasion of our unveiling of the Brewers' all-time single-season team, let us remember the possibly idle threats of franchise luminary Robin Yount. Specifically, we're talking about the time that Yount in 1978 walked out of spring training and threatened to join the PGA Tour (!). He was just 22-years-old at the time. 
Here's this Chicago Tribune dispatch, dated Apr. 10, 1978 ...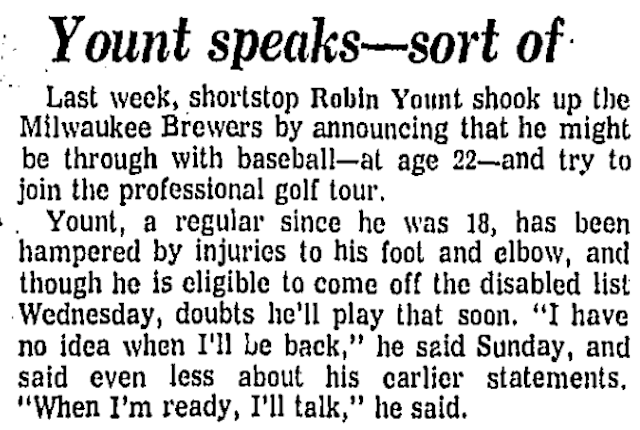 In '77, Yount had made $80,000, but he was a bit unsatisfied with his contract. As well, and as Daniel Okrent writes in the wonderful and essential book, Nine Innings, Yount was also unhappy about a potential position switch from shortstop to the outfield in order to accommodate a rising Brewers infield prospect named Paul Molitor -- like Yount, a no. 3 overall pick in the draft. 
So Yount, a scratch golfer who would later notch a two-over-par round at Pebble Beach, exited camp and hinted that the PGA Tour might better appreciate his sporting abilities. Yount was self-evidently an extraordinary athlete. After all, he made his major-league debut at age 18, and in 1976 Yount at age 20 became the youngest player ever to play in at least 161 games in a season. While this was brinkmanship, it was at least plausible brinkmanship. 
Eventually, though, Yount's father Phil intervened and urged his son to go back to baseball. And so he did, making his 1978 debut on May 6, the 24th game of the Brewers' regular season. That still didn't stop the rumblings, though, as a Rick Talley column in the Tribune dated May 15 reported that, even though Brewers GM Harry Dalton was mulling a four-year, $2.5-million offer to Yount, the young shortstop was still thinking of a golf career and also pondering a life as a racecar driver (!). That placed Dalton and the Brewers in uncertain straits. 
From that same Talley piece, here's passage that, if realized, would've greatly altered contemporary baseball history:

Ponder that, Brewers rooters. 
Thankfully for Milwaukee, Yount didn't give up this, our baseball in favor of golf or motor sports, and the Brewers didn't wind up trading him. He of course went to be a Brewers lifer, win a pair of MVP awards and make the Hall of Fame on the first ballot. 
As for Yount and Molitor, they'd play together for 15 seasons and get along famously in doing so. In their downtime, they even did a little of this ...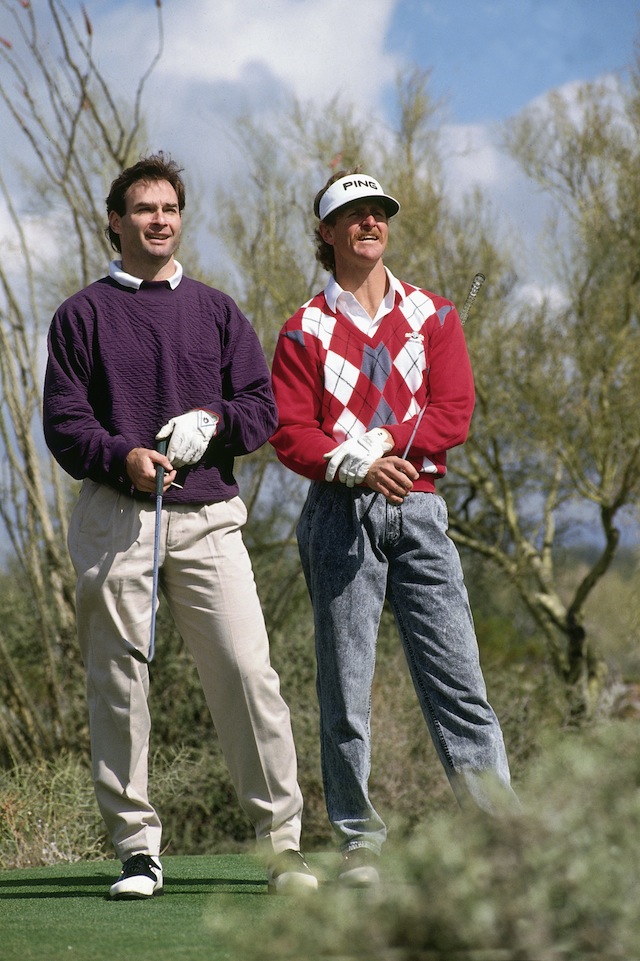 (Getty Images)
There's golfing, and then there's golfing the Robin Yount Way -- i.e., seamlessly integrating that which is argyle with that which is acid-washed.