The Hall of Fame case of best power hitting catcher ever, Mike Piazza
It's the second year on the Hall of Fame ballot for the best slugging catcher in baseball history, Mike Piazza.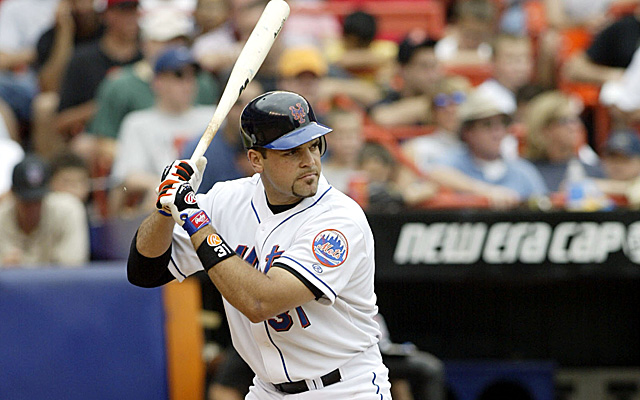 Hall of Fame cases: Luis Gonzalez | Moises Alou | Lee Smith | Fred McGriff | Don Mattingly | Jack Morris | Rafael Palmeiro | Sammy Sosa | Edgar Martinez | Jeff Kent | Alan Trammell | Larry Walker | Mark McGwire | Tom Glavine | Frank Thomas
We're now just a week away from Jan. 8, when the BBWAA Hall of Fame voting results are revealed to see who will join managers Joe Torre, Bobby Cox and Tony La Russa in the 2014 Baseball Hall of Fame class.
As we've been doing (see the handy, above links!) we each individual player worthy of consideration, we'll now rundown the cases for and against Mike Piazza. As a gentle reminder, we are discussing the cases that might be made for or against the particular player -- not necessarily trumpeting our own personal opinions.
Onto Mr. Piazza ...
THE BARE ESSENTIALS
Over the course of 16 years, Piazza hit .308/.377/.545 (143 OPS+) with 344 doubles, 427 homers, 1335 RBI and 1048 runs.
He won the 1993 NL Rookie of the Year, made 12 All-Star Games, won 10 Silver Sluggers and finished in the top 10 of MVP voting seven times. Though he never won the MVP, he finished as the runner-up twice and was a third-place finisher one time.
Piazza played in eight different playoff series in five different seasons, hitting .242/.301/.458 with eight doubles and six homers in 32 postseason games.
THE CASE FOR INDUCTION
The easiest case for Piazza is the best case. There's no reason to split hairs here, we can simply say the best hitting catcher in baseball history should be in the Hall of Fame, right?
Among catchers in career numbers, Piazza ranks eighth in average, 13th in OBP, first in slugging, first in OPS+, eighth in hits, 13th in doubles, first in homers, fourth in RBI, 11th in runs and first in offensive WAR.
Yes, Piazza played in an offensive era, but note the OPS+, which adjusts for league average. Piazza was the best hitting catcher of all-time if you look at the combination of getting on base and hitting for power.
Even if you don't use the "as a catcher," part, Piazza ranks 30th in career slugging percentage, 47th in OPS, 61st in OPS+, 47th in homers and 90th in RBI.
The counting stats might fall short for some people in hits, for example, but we have to consider the wear and tear on catchers. Piazza caught 1,630 regular season games. Had he been a career 1B/DH, it's rather easy to see Piazza north of 2,500 hits and maybe even approaching 3,000 hits -- not to mention 500 home runs. That's why it's helpful to compare him among other catchers. And he compares very favorably.
Speaking of which, baseball-reference.com's top six career similars, statistically, to Piazza are all Hall of Famers: Johnny Bench, Yogi Berra, Gary Carter, Carlton Fisk, Gabby Hartnett and Bill Dickey.
THE CASE AGAINST INDUCTION
If we're going to talk strictly about on-field performance, the concentration from the detractors would be on Piazza's defense. Many believed just based on the eye test that Piazza was a sub-par backstop and advanced metrics show him very unfavorably. He only threw out 23 percent of would-be basestealers throughout his career, too, which was well below the 31 percent league average during his time.
However, being the best offensive catcher ever should mitigate the concerns with his defense. So the overwhelming majority of those opposing Piazza's induction are doing so on the basis of PED use.
Piazza has never tested positive for a banned PED, has denied using steroids in his book and no one has 100 percent proven he ever used or purchased anything on this front. 
There are whispers, though. The fact that many writers won't vote for Piazza yet won't say why leads me to believe they have some off-the-record information that can't be proven.
And then there's this, from Jeff Pearlman's book, "The Rocket That Fell to Earth:"
As the hundreds of major league ballplayers who turned to performance-enhancing drugs throughout the 1990s did their absolute best to keep the media at arm's length, Piazza took the opposite approach. According to several sources, when the subject of performance enhancing was broached with reporters he especially trusted, Piazza fessed up. "Sure, I use," he told one. "But in limited doses, and not all that often." (Piazza has denied using performance-enhancing drugs, but there has always been speculation.) Whether or not it was Piazza's intent, the tactic was brilliant: By letting the media know, off the record, Piazza made the information that much harder to report. Writers saw his bulging muscles, his acne-covered back. They certainly heard the under-the-breath comments from other major league players, some who considered Piazza's success to be 100 percent chemically delivered. "He's a guy who did it, and everybody knows it," says Reggie Jefferson, the longtime major league first baseman. "It's amazing how all these names, like Roger Clemens, are brought up, yet Mike Piazza goes untouched."

"There was nothing more obvious than Mike on steroids," says another major league veteran who played against Piazza for years. "Everyone talked about it, everyone knew it. Guys on my team, guys on the Mets. A lot of us came up playing against Mike, so we knew what he looked like back in the day. Frankly, he sucked on the field. Just sucked. After his body changed, he was entirely different. 'Power from nowhere,' we called it."

When asked, on a scale of 1 to 10, to grade the odds that Piazza had used performance enhancers, the player doesn't pause.

"A 12," he says. "Maybe a 13."
Though none of that is actual, hard evidence, that's enough for some people to keep Piazza out of the Hall.
---
Piazza garnered 57.8 percent of the vote last year, his first time on the ballot. Over on Baseball Think Factory, they are keeping track of Hall of Fame ballots that voters have revealed thus far, and Piazza has 71.4 percent of the vote through 96 of the probably 550-600 ballots. Obviously things could skew pretty far in either direction as this is a decided small sample, but it could mean Piazza is gaining steam toward the 75 percent of the vote needed for induction.
Next up: The cases for and against Mike Mussina
J.D. Martinez is reportedly headed to Boston on a free-agent contract

Keep tabs on the top 50 free agents on the market right here

Arizona didn't waste much time turning to its fallback option following Martinez's deal with...
The former AL MVP has been one of baseball's best players in recent years

The free-agent slugger will join the Red Sox after all

Harper would prefer if reporters respect his wishes