Top 2016 MLB draft prospect ruled ineligible due to transfer violation
Lefty Jason Groome, the top prospect in the 2016 draft, has been ruled ineligible for violating New Jersey's transfer rule. His season stats will be erased.
Left-hander Jason Groome, the No. 1 prospect for the 2016 MLB draft, has been ruled ineligible for violating New Jersey's transfer rule, according to Joe Zedalis and Matthew Stanmyre of NJ.com. Groome's stats will be erased -- including his recent 19-strikeout no-hitter -- and Barnegat High School must forfeit any victories in which Groome played.
Here is more on the transfer rule violation from the NJ.com scribes:
Groome spent last season at IMG Academy in Bradenton, Fla., before transferring back to Barnegat this year to finish his high school career playing with childhood friends. According to New Jersey State Interscholastic Athletic Association bylaws, Groome's move from the boarding school back to Barnegat did not constitute a bona fide change of address and Groome had to sit out 30 days or half of the season's games before becoming eligible.

"The association's rules clearly state that a student-athlete transferring from one secondary school to another must provide evidence of a bona fide change of residence as defined by NJSIAA rules," NJSIAA spokesman Michael Cherenson said in a statement released to NJ Advance Media. "Otherwise, that student will be deemed ineligible to participate in interscholastic athletic competition for 30 calendar days or half of the maximum number of games allowed in that sport by NJSIAA rules. Further, if it is determined that an ineligible player participated in regular season games, those games must be forfeited. Neither ruling is open to appeal."
Per the NJSIAA bylaws, a bona fide change in residence occurs when "the parent/guardian moves with the student from one public high school district to another public high school district." The bylaws were written decades ago and were mostly intended for football players.
It's worth noting Groome being declared ineligible has some far-reaching consequences. For starters, the Shore Conference is holding their Strike Out Autism Baseball Challenge this weekend, and Groome was going to be the main attraction. The event will help raise money for local Autism programs. Now he can't play.
Also, countless other New Jersey high school players were going to get increased exposure this spring thanks to Groome. Scouts were going to flock to see the young left-hander, and inevitably they would watch all the other players as well. That loss of exposure is huge to those other kids.
The draft begins eight weeks from Thursday, so Groome will be able to return to action at some point since he must only sit out "30 calendar days or half of the maximum number of games allowed in that sport by NJSIAA rules." Michael McGarry of the Press of Atlantic City says Groome can return for Barnegat's 12th game or May 1, whichever comes first.
Groome, 17, is the consensus No. 1 prospect in the 2016 draft. MLB.com said he has "everything to be a top-of-the-rotation left-handed starting pitcher, from his 6-foot-6 frame to the potential to have three above-average to plus offerings." Here's some video:
It's unclear who first broached the topic of Groome's transfer with the NJSIAA -- a rival coach, I assume -- but the bylaws are pretty outdated. It's going to cost Groome some exposure and Barnegat some wins. That's a shame.
The Phillies hold the first overall selection in the 2016 draft, so Groome is right in their backyard.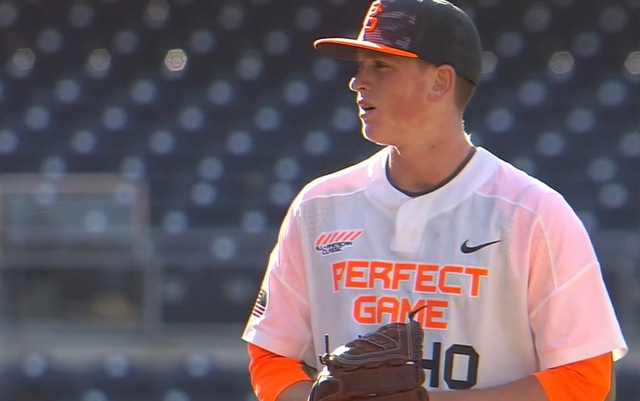 CBS Sports HQ Daily Newsletter
Get the best highlights and stories - yeah, just the good stuff handpicked by our team to start your day.
Please check the opt-in box to acknowledge that you would like to subscribe.
Thanks for signing up!
Keep an eye on your inbox for the latest sports news.
Sorry!
There was an error processing your subscription.
Here's what's buzzing around MLB for Friday

The deal means the two sides will avoid salary arbitration

Keuchel, now with the White Sox, shared more details on what happened during Houston's 2017...
Ausmus joins the initial slate of candidates for the job in Houston

The top free agents are off the board, and now it's time to think about how they'll fare in...

Wil Myers would help the Red Sox get under the luxury tax
The results of the BBWAA vote for the 2020 Hall of Fame class were announced on Tuesday

The Nationals' improbable October run ended with a championship