Watered down? An all-star team of worst current Hall of Famers
To prove that the Hall isn't "becoming" watered down, I've put together an "all-star" team of the worst Hall of Famers.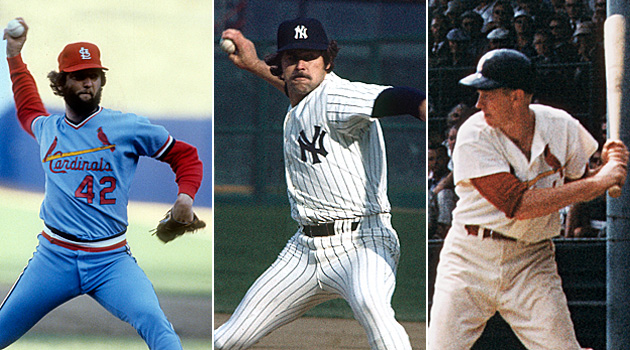 Sutter, Hunter and Schoendienst have made our "all-star" team of worst Hall of Famers. (Getty Images)
We are now one week from the revealing of the 2013 BBWAA Hall of Fame vote. One thing that I seem to see a lot of nowadays in our comments sections is how the Hall of Fame is becoming watered down, the standards are being lowered or some derivative of that argument. And I can't help but chuckle. It's not even close to being true. The Hall of Fame is basically what it always has been in terms of standards.
The Hall of Fame contains the best of the best, but it also contains some very good players who many would not regard as true Hall of Famers. It even contains some slightly above-average players, believe it or not. Some were elected long ago, some recently. Some by the BBWAA, some by different forms of veterans committees.
So to prove that the Hall isn't "becoming" watered down -- that it's always been that way -- I've put together an "all-star" team of the worst Hall of Famers.
Please note that this is not meant as an insult to any of the below Hall of Famers. Being one of the worst Hall of Famers still means the guys are, you know, Hall of Famers. Being a baseball player worth consideration for the Hall is still exponentially more difficult than finding success in most jobs.
RELATED: Do you want a 'Big Hall' or 'Small Hall?'
Anyway, here's my squad. I believe on this season's ballot there are at least 15 players statistically better than these guys. Maybe even 20.
(Year of induction -- and by whom -- in parentheses)
Catcher - Ray Schalk (1955, Veterans Committee)
He was known as a very good defensive catcher who worked well with his pitchers. He caught four no-hitters. He also has a career line of .253/.340/.316 with only 1,345 hits and less than 600 runs and RBI. Basically, he was a poor hitter. When Bill James updated his historical abstract in 2001 and ranked players by position, Schalk checked in at 35th among catchers, behind the likes of Jim Sundberg and Tony Pena.
First base - George "High Pockets" Kelly (1973, Veterans Committee)
Our first "cool nickname" entrant (he won't be the last), Kelly is often cited by historians as the single worst player in the Hall of Fame. He was a slightly above average hitter (109 OPS-plus) at first base, which is supposed to be a primary offensive position. He didn't even really compile counting stats, either, as he had 1,778 hits, 1,020 RBI and 819 runs. For comparison's sake, Mark Teixeira already has more runs and RBI and trails only in hits by 198. He has a 131 OPS-plus and plays much better defense than Kelly was said to play. Simply: Mark Teixeira is a far superior player to what Kelly was. And Kelly is in the Hall of Fame. Think Teixeira is headed that way?
Second base - Red Schoendienst (1989, Veterans Committee)
Tough call here between Schoendienst and Bill Mazeroski, as both were brilliant defenders and subpar hitters. We'll give Maz the edge based upon better defense and the historic World Series-winning home run (to clarify, I don't normally do this, but used it only as a portion of a tiebreaker). To be fair, neither man is an egregious Hall-of-Fame entry, but I needed to fill the position and these were the two worst at second base. I will say that Lou Whitaker and Bobby Grich, just to name two, were superior players by nearly any measure and remain on the outside looking in.
Third base - Freddie Lindstrom (1976, Veterans Committee)
He had a 13-year career in the 1920s and '30s, hitting .311/.351/.449 with 1,747 hits, 779 RBI and 895 runs. We have to keep in mind batting averages were high in that time. In judging rate stats historically, OPS-plus works very well because it weighs the hitter's ability to get on base (OBP) and hit for power (SLG) against his peers. Lindstrom's was 110, or 10 percent better than the league average. Also, I mentioned Bill James' historical rankings earlier -- Lindstrom was ranked 43rd at third base, behind recent players like Carney Lansford, Terry Pendleton, Tim Wallach and Gary Gaetti. Quality players? Yes. Hall of Famers? Not even close.
Shortstop - Travis Jackson (1982, Veterans Committee)
Yet another marginal-at-best choice by the Veterans Committee, Jackson hit .291/.337/.433, good for a 102 OPS-plus, with 1,768 hits, 929 RBI and 833 runs. He was by all accounts a quality defensive player, but Alan Trammell, for example, absolutely crushes him on career resume.
Outfield - Tommy McCarthy (1946, Old Timers Committee)
In 13 seasons (only nine as a full-timer) in the late 19th century, McCarthy hit .292/.364/.375 (102 OPS-plus) with 1,493 hits, 1,066 runs, 732 RBI, 191 doubles, 53 triples, 44 homers and 468 steals. Here is Kenny Lofton's career line: .299/.372/.423 (107 OPS-plus), 2,428 hits, 1,528 runs, 781 RBI, 383 doubles, 116 triples, 130 homers and 622 steals. Compare. Discuss.
Outfield - Lloyd Waner (1967, Veterans Committee)
If having a Hall-of-Fame caliber brother qualifies a player, where is Dom DiMaggio? It's a double-whammy with Waner, too, because he also has the cool nickname factor. He was dubbed "Little Poison," alongside "Big Poison" -- Hall-of-Fame brother Paul Waner, who deserved enshrinement. Lloyd hit .316 in his career, but averages were higher at the time, so we'll again turn to OPS-plus and Lloyd Waner's was 99. Yes, 1 percent worse than average. Yes, 2,459 hits are a good amount, but Johnny Damon has 310 more -- and a 104 OPS-plus. 
Outfield - Ross Youngs (1972, Veterans Committee)
Youngs was actually a great hitter, sporting a career line of .322/.399/.441, good for a 130 OPS-plus. But he was only a full-time player for eight seasons. So he only has 1,491 hits, 592 RBI and 812 runs. Dwight Evans, for example, put together a career OPS-plus of 127 over the course of 20 years and compiled tons more counting stats. If one of these two men should be in the Hall, it should be Evans, not Youngs.
Starting pitcher - Rube Marquard (1971, Veterans Committee)
Ah, the good ol' Veterans Committee. For every correct induction like Ron Santo, there are handfuls of Rube Marquards. Marquard went 201-177 with a 3.08 ERA (103 ERA-plus), 1.24 WHIP and 1,593 career strikeouts. Mike Mussina went 270-153 with a 123 ERA-plus and 2,813 strikeouts. So, basically, he was not just better, he was a lot better. Think he gets in?
Starting pitcher - Jesse Haines (1970, Veterans Committee)
The Veterans Committee in the early '70s seems to have been drunk with power. Or maybe just drunk (I kid, I kid). Haines was a good pitcher. He went 210-158 with a 3.64 ERA and 1.35 WHIP in over 3,200 innings. But his 109 ERA-plus shows us he was only a little better than average during his 19-year career. His top 10 statistical similars via Baseball-Reference.com is a muderer's row of average-type pitchers: Freddie Fitzsimmons, Charlie Root, George Uhle, Milt Pappas, Lew Burdette, Larry French, Silver King, Jim Perry, Dolf Luque and Hooks Dauss. You guessed it, none of those 10 are in the Hall.
Starting pitcher - Catfish Hunter (1987, BBWAA)
In addition to the obvious cool nickname factor here, we have the overvaluation of pitcher wins. Catfish won at least 20 games in five consecutive seasons. Of course, four of those five teams made the playoffs and three of those teams were World Series champions. They were great teams. Great teams win games and when a workhorse pitcher (Hunter was an animal, averaging 294 innings pitched in those five seasons) pitches, he's bound to rack up wins. And Hunter still amassed only 224 wins in his 15-year career while basically being a league-average pitcher in terms of run prevention (104 ERA-plus). You can argue Hunter was a Hall-of-Fame caliber pitcher for five seasons -- and I'd agree -- but other than that, he was either average or below average. Is five years enough peak? Or rather, if Tim Lincecum had one more great season followed by eight league-average seasons, he'd have a similar resume to Hunter.
Relief pitcher - Bruce Sutter (2006, BBWAA)
Sutter was a great closer for about six seasons. If we wanna get generous, we could stretch that to eight or nine, I guess. Is that Hall worthy? Jonathan Papelbon's got six or seven right now and I'm pretty sure our commenters would collectively (and rightfully) freak out if we even suggested he was on track to be a Hall-of-Famer. Also, think about how overrated the save stat is. How difficult is it to get three outs before allowing three runs? Sometimes that's all it takes. Some point to Sutter's development of the split-finger fastball as cause for induction. To that, I'd like to know why Tommy John didn't get in? John's resume as a whole is superior to Sutter's, too.
Pitcher/infielder - Monte Ward (1964, Veterans Committee)
What's funny here is that Ward got only 3.8 percent of the vote from the Veterans Committee in 1936. I guess he vastly improved -- from the grave, mind you -- in the next 28 years. He was actually a useful, though not dominant for that era, pitcher for seven seasons, going 164-103 with a 2.10 ERA (119 ERA-plus). As a position player, he lasted 17 seasons, hitting .275/.314/.341 (92 OPS-plus) and gathering 2,107 hits, 869 RBI and 1,410 runs. In combining the two, does that make it enough? For me, no. I think he has to be a Hall of Famer as either a pitcher or position player before giving bonus points for being good at both. The guys who saw him play seemed to agree. Well, 96.2 percent of them, at least.
For more baseball news, rumors and analysis, follow @EyeOnBaseball on Twitter, subscribe to the RSS feed and "like" us on Facebook.
Pawol is expected to umpire in the minors again come the regular season

No. 3 Texas Christian is looking to ruin Long Beach State's return home

Martinez's physical isn't taking much longer than usual
The Rangers have a lot riding on Mike Minor and Matt Bush

Though the process is far from complete, taxpayers got good news Thursday

Dickerson had been designated for assignment by the Rays last week