Where do the Predators, Ryan Suter go from here after disappointing exit?
The Nashville Predators were seen as a real Cup contender this season, but after being bounced by the Coyotes in five games, the questions begin about what happens with Ryan Suter and the rest of the roster.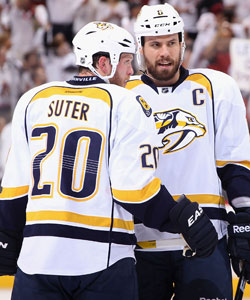 Have Suter and Weber played their last game together in Smashville?. (Getty Images)
The question inevitably comes up the morning after: So, what's next?
No, not the morning after a Friday night in college but the morning after a team is eliminated from the playoffs. Where do they go from here? And in some cases that question seems just a little more poignant. The Nashville Predators are one of those cases.
The Preds were "going for it" this season, they were all in to win it. They had to be as the future of the franchise depended on it.
Since the season began in Nashville there has been an uncertainty hanging over the franchise like a rain cloud in an ACME cartoon. At least it wasn't as sinister as the one that used to hang over their heads when relocation seemed like it was coming. That concern is gone, Nashville is becoming a better and better hockey city by the day.
Instead it loomed regarding the future of their big three players. One of them, Pekka Rinne, signed a seven-year extension early this season to get rid of the distraction early. Shea Weber's contract is up but he has one more season as a restricted free agent, meaning Nashville has another summer to try and get a long-term deal worked and even if they don't, he'll likely still be back for another year because of that RFA status.
Then there's Ryan Suter, the "other" defenseman in Nashville. He's now an unrestricted free agent, a player who put off the contract talks because he didn't want them to be a distraction. That, and he wanted to see that Nashville was committed to winning. Whether that meant what he said and concerned Nashville's ability to compete of their willingness to show him they will pay what it takes, I don't know.
"Right now I'm disappointed how tonight went," Suter said after Monday night's loss. "I haven't really thought about it."
What I do know is this. The Predators showed more this season than ever that they are committed to winning. They did all they could to build a roster capable of going further than they have before. Many people saw them as the Western Conference favorite entering the second round.
I also know that the Predators didn't capitalize. In fact, they didn't even get as far as they did a season ago when they lost in six games to the Vancouver Canucks in the second round. If Suter was looking for an excuse to leave, there it is.
There will be a lot of teams knocking at his door -- OK, to modernize the saying, blowing up his phone -- to try and convince him they have the right commitment. One of those teams will likely be Philadelphia. Another, already sharpening its pitch? The division-rival Red Wings. What they wouldn't do to get Suter for their defensive corps, especially if Nicklas Lidstrom doesn't return.
Helene St. James of the Detroit Free Press is already exploring what it will take from the Wings' perspective.
The Wings have $43.5 million committed to 17 players headed into next season. The big question is whether captain Nicklas Lidstrom will return or retire. But even if he does return, the Wings need to replace Brad Stuart. Allotting Lidstrom the same $6.2 million he made last season, the Wings still have room to add Suter, especially if they can work a deal that gets the cap hit down to around $5 million.

(And yes, there'd also be room to add forward Zach Parise, should that scenario unfold).
But the questions don't end with Suter. There's also Alexander Radulov, who doesn't seem like he'll be back in Nashville next season, or anywhere in the NHL for that matter. He still has another season left over in the KHL and if he goes back to finish that contract, there's no telling if he'll be back to North America again.
Here's a wild guess from U.S.-based Sport-Express writer Slava Malamud. He has his finger pretty squarely on the pulse of Russian hockey players.
Will go out on a limb and predict that Alex Radulov has just played his last NHL game. Here is to a long and storied career. #Preds

— Slava Malamud (@SlavaMalamud) May 8, 2012
Radulov came under a lot of scrutiny in the playoffs, rightfully so for doing something so stupid that it earned himself a suspension for Game 3 and a benching in Game 4. But he still did have six points in eight playoff games, seven points in nine regular-season appearances. He's an offensive weapon on the ice. When the Preds were buzzing for most of the second half of their Game 5 loss on Monday night, Radulov was all over the puck in the o zone, making plays happen.
Continuing with the roster, there are only four players that are currently under contract beyond next season. Heck, out of the 27 guys on the active roster right now, 15 aren't signed for next season. Andrei Kostitsyn, Paul Gaustad, Jordin Tootoo, Brandon Yip, Brian McGrattan, Suter, Hal Gill and Francis Bouillon are all UFAs.
As you can see there are a lot of questions for Nashville and GM David Poile to answer. But none is bigger than the future of Suter. He wanted to see a team that could compete for the Cup before he'd re-sign. Just because they didn't get there doesn't mean that the Predators aren't capable of competing for a Cup as they were built this season. However that might still not be enough to get Suter to stick around.
And if he leaves, we could be going through this whole thing again at the end of next season with Weber if he doesn't get locked down long term.
For more hockey news, rumors and analysis, follow @EyeOnHockey and @BrianStubitsNHL on Twitter and like us on Facebook.
The city has already received approval from the NHL to file for an expansion team

Bovada says the two nicknames are favored to be used, with Rainiers coming in third place

Here's everything you need to know to watch the NHL's marquee midseason event
The expansion Golden Knights officially moved into first place in the NHL on Sunday

The former Boston Bruin was the first black player to play in the NHL

Inclement weather led to the Charlotte Checkers and Bridgeport Sound Tigers playing in front...