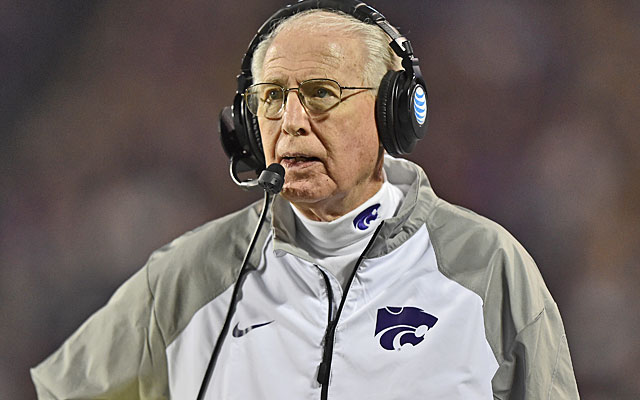 Kansas State coach Bill Snyder will be inducted in the 2015 College Football Hall of Fame class, sources confirmed for CBSSports.com on Thursday. 
Snyder, 75, will become the fourth active coach ever to join the hall. The others are Joe Paterno, Bobby Bowden and John Gagliardi of Division III St. John's. As an active coach Snyder immediately became eligible when he turned 75 on Oct. 7.
The architect of the so-called "Miracle in Manhattan" is 187-94-1 in 22 seasons at K-State. ESPN.com was first to report the news.
Snyder is part of the 2015 Hall of Fame class that will be announced Friday in Dallas. 
The former Iowa offensive coordinator was hired in 1989 at a time when the school was considering downsizing or dropping the program. At the time K-State football was one of the worst Division I-A (now FBS) programs in the country. 
Snyder made it a Big Eight, Big 12 and national power with shrewd recruiting and player development. For example, the 2014 roster contained 58 current or former walk-ons. 
His teams have won two Big 12 titles and have gone to 16 bowls. The 1998 team would have played in the first BCS title game but was upset by Texas A&M in the Big 12 Championship Game. In the postgame, he referenced the deaths of his mother, grandfather and the paralysis of his daughter Meredith in an auto accident.
"I'm almost embarrassed to say it," Snyder said following the game, "but I had the same kind of feelings."
John Ralston (Utah State, Stanford, San Jose State) and Chris Ault (Nevada) were not coaching when named to the hall, but returned to coaching after the honor. Snyder, Paterno, Bowden and Gagliardi were still coaching when named.