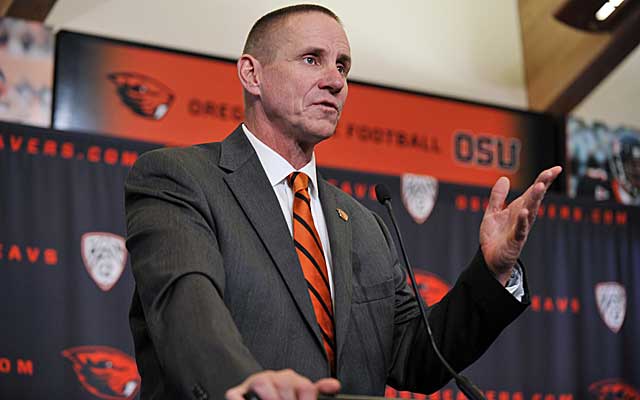 CORVALLIS, Ore. -- Before Gary Andersen goes on, he wants to make one thing clear.
A part of his surprising departure from Wisconsin had to do with admission standards.
"It's been well [documented] there were some kids I couldn't get in school," the Badgers' former coach said. "That was highly frustrating to me. I lost some guys, and I told them I wasn't going to lose them.
"I think they did what they were supposed to do [academically] and they still couldn't get in. That was really hard to deal with."
Until this recent moment in Andersen's new Oregon State office, even that much wasn't certain. It had been referred to, but not out loud by Anderson, as the reason he left a Top 25 Big Ten gig for a Pac-12 bottom feeder.
Now we know. Admissions was probably the reason the 50-year-old Andersen arguably caused the biggest stir of the coaching silly season.
"That's not Wisconsin's fault," Andersen added. "That's Wisconsin's deal ... I want to surround myself with those kids I can get in school."
The Salt Lake City native has spent most of his career in the West. He came up as a JUCO lineman first at Ricks College (in Idaho), then moved to Utah. Andersen was on Urban Meyer's staff during the Utes' undefeated season in 2004. In his fourth season as Utah State's head coach, the Aggies won 11 games in 2012.
Barry Alvarez then identified Andersen as an out-of-the-region candidate to take over tradition-bound Wisconsin.
Last month, a coach at the top of his career took what is universally thought to be a step down. Oregon State has won at least a share of five conference championships in its history -- none in the last 14 years. Wisconsin has been to six Rose Bowls alone since 1993.
"I don't expect anybody to understand it," Andersen said. "I don't expect one person to look at me and say, 'I get it.' But I get it."
In two seasons at Wisconsin, Andersen won 19 games and produced a Heisman Trophy finalist (Melvin Gordon).
Ultimately, it wasn't enough. He shockingly left the Badgers the week after Wisconsin was beaten 59-0 by Ohio State in the Big Ten title game.
It all happened at a dizzying pace. Once Mike Riley left for Nebraska, Andersen showed interest. Oregon State officials, including athletic director Bob DeCarolis, flew to Madison to meet him.
Alvarez found out by phone his coach was thinking about leaving. An assistant called the AD, who was trapped in New York due to flight delays.
"Gary needs to talk to you face-to-face," the assistant said.
"Put him on [the phone]," Alvarez said. "I thought we had a kid in trouble."
It was a bit more than that. Alvarez's coach was leaving a top Big Ten program for the second time in two years. Bret Bielema left for Arkansas in 2012. Andersen took the Oregon State job without visiting Corvallis.
"I had a vision in my mind what I thought it was," he said. "I didn't feel I needed to come here and see what the weight room looked like, what my office looked like. It was more of a vision of the direction. Do they really have a vision that they want to compete for a championship? Are they going to give me an opportunity to hire a big-time staff?"
It's been documented that Andersen's staff was 40th in compensation nationally ($2.6 million total). That was in the bottom half of the Big Ten.
Andersen was eighth in salary in the Big Ten, according to the USA Today database.
It didn't seem to be a money play with Andersen making about the same salary at Oregon State. For those who theorize the coach was distracted during the Ohio State loss, not true.
Andersen didn't become interested in Oregon State until days later.
He was not specific on the faults of the admission policy.
When read his former coach's comments, Alvarez said: "We haven't changed. ... You're not going to change our admission policy here. We have a high graduation rate. You get a meaningful degree. It's not a piece of paper that means you stayed eligible for four years."
Andersen did not articulate individuals but there are possible examples of his frustration. JUCO safety Serge Trezy's admission was delayed a year because Wisconsin did not accept an online course, his coach told CBSSports.com.
Alvarez told the Wisconsin State Journal that Andersen was "really bothered" that Sun Prairie, Wisconsin, prospect Craig Evans wasn't admitted.
Receiver Chris Jones achieved NCAA admission but reportedly didn't meet Wisconsin's standards. He is now at Toledo.
A Fox Sports report stated Wisconsin requires 17 high-school units for admission. That's higher than Ohio State and Nebraska (16), Oregon State (15) and Michigan State (14), according to the report.
"Should I have known that going in?" Andersen asked. "Maybe I should have asked more questions. Was anything hidden from me? I'm not saying that at all. It was a learned scenario."
However ...
"I need to be able to have my coaches walk into homes very well connected and committed and understanding of exactly what's going to take place when they're talking to those families."
At Wisconsin, Andersen said that "junior college kids basically became a non-[factor]."
Two former JUCO players were listed on Wisconsin's 2014 roster -- quarterback Tanner McEvoy and cornerback cornerback T.J. Reynard. There are seven junior college players listed on the 2014 Oregon State roster.
"I think it got to the point where the [Wisconsin] academic criteria definitely had shifted gears," Andersen said.
Alvarez countered that wasn't true. For example, in the 25 years prior to Andersen's arrival, Wisconsin "took a total" of 10 junior-college players.
"I thought we talked about that during the interview process," Alvarez said. "You're not going to bring truckloads of junior college kids or make a living with junior college kids here."
"We haven't changed," Alvarez added. "You're not going to change our admissions policy here. You're not going to change our academics here. ... All you have to do is check our track record."
Alvarez was referring to Wisconsin having the league's second-best record (.701) since 1993. Its total of 27 players on NFL rosters (going into Week 1) was second in the Big Ten to Ohio State and 12th-best nationally.
Wisconsin is 11th in the Big Ten in the latest NCAA graduation success rate in football. It is second to Northwestern in the conference in football Academic Progress rate. A recent CNN report found that between 2007-2012 only 2 percent of the school's football enrollees did not achieve the accepted threshold for college literacy.
Alvarez, the veteran Wisconsin coach/AD/power broker, added the academic standards are the same that basketball coach Bo Ryan (at Wisconsin 15 years) and Bielema (nine years) operated under.
"We've had a lot of success myself and Bret and Gary," Alvarez said. "Gary [did it] with Bret's kids."
"Our [admissions] people will work with you, but you're not going to wholesale them. ... It's like going to Stanford and trying to do that, or Northwestern. It's not going to work. Not here."
Andersen stressed that his departure had nothing to do with Alvarez. The two had a good working relationship.
"He never one time stepped on anybody's toes in the football office," the coach said. "Please don't make Wisconsin sound bad in any way, shape or form. I love those kids. I truly love them."