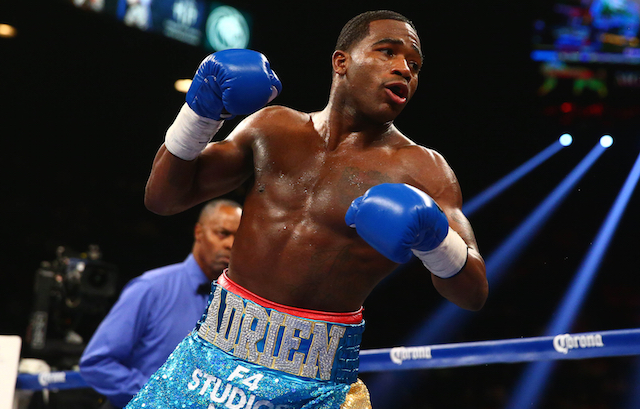 Adrien Broner forced a questionable stoppage of Ashley Theophane in the ninth round of their super lightweight bout on Friday night. The referee stepped in to stop the fight after Theophane stumbled backwards with his hand out, but after seeing replays it appeared as though Broner had landed a clear low blow that Theophane was reacting to. 
The way the fight finished will be questioned, but the result was never in doubt as Broner controlled the fight throughout and was up significantly on the cards. After his win, Broner grabbed the microphone to call out Floyd Mayweather, who promotes Theophane and had some choice words for Broner during the buildup to the fight. 
"Y'all probably know this. Somebody I look up to, somebody I admire took the chance to do an interview and talk all bad about me," Broner said. "I'm a man who learns s--- from doing physical activity, so Floyd, you've got to come see me. You gotta see me, point blank, period. I'm a man at the end of the day and I come from the streets, the trenches. I came from nothing, water and corn flakes. I will never let another man disrespect me. I don't care if we fight or spar."
Mayweather, standing on the ring apron, laughed off the challenge and the retired boxer seems wholly uninterested in making a fight with Broner happen. After the fight, he spoke with FightHype.com and called Broner calling him out "the biggest joke of the night" and that Broner should be focused on active fighters and his future after boxing. 
"Today is April Fool's, so, you know, that was the biggest joke of the night," said Mayweather. "I want [Broner] to continue to go out there and fight, win and what's important for Adrien is not just winning, but life after boxing. That's what's very, very important. I can remember when I was young and I didn't have a Floyd Mayweather to steer me the right way. Don't be like me Adrien, be better than me. There's so many huge fights out there, there's Terrence Crawford, Shawn Porter. So it's fights out there...I wish him the best."
The general consensus is that Mayweather will, at some point, come out of retirement, but there is such little upside to taking on Broner -- other than to shut him up -- that it makes no sense for Mayweather to accept that challenge. For one, most -- including myself -- believe that if the two did meet, it would be a lopsided fight with Mayweather dominating and there's not much intrigue to the in-ring action that would come from a bout between the two.
Also, Broner does not hold a title belt. He held a secondary WBA belt prior to losing it on the scales by weighing in at 140.4 and refusing to try and work off the extra 0.4 pounds in the two hour window allowed. There's little incentive for Mayweather to come back against a non-champion and a guy not even considered to be at the very top of his class.
Broner also has legal issues awaiting him once he arrives back in Cincinnati, as there are arrest warrants out for him stemming from an incident that took place outside a bowling alley. We all know Broner wants to make big money fights happen, but he needs to give up the push for a Mayweather fight.