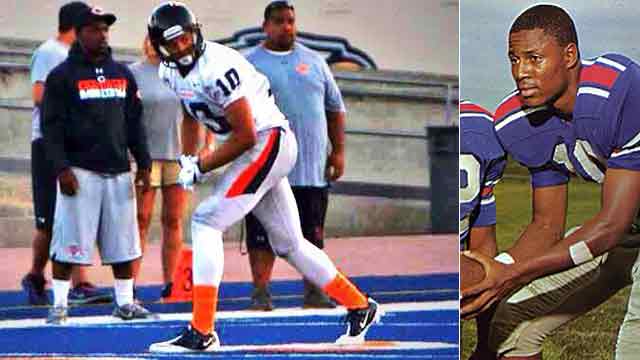 Brayden Lenius thought he knew about his grandfather. Maybe not everything of course, but the stuff about football. Lenius is himself an elite football prospect, considered one of the best recruits out of Canada in years and now living near Los Angeles for his high school senior season. Football matters to him. His grandfather matters. He thought he knew.
His grandfather had played football, too. He played it in high school and college, and spent several years with the Oakland Raiders as a receiver. That's what Brayden Lenius knew. What more was there?
Some of you know the answer to that. His grandfather was Eldridge Dickey. Those of you who recognize the name, you understand just how little Brayden Lenius knew.
Those of you who don't recognize the name? Don't feel bad. Lots of football fans don't know who Eldridge Dickey was, which is the heartbreaking point here. His own grandson didn't know who Eldridge Dickey was -- not really -- until he reached the ninth grade. By then it was apparent that Brayden Lenius was going to be a heck of a football player himself, and his grandmother wanted him to know the rest of the story. By then Brayden was close to 6 feet tall, just like his grandfather. He played receiver. Just like his grandfather.
Brayden Lenius thought he knew the story.
He didn't know anything.
•
•
•
The binder is blue and white, made of vinyl. Each page inside the binder is protected in a clear plastic wrap, as if they hold something priceless. Which they do. The binder is the most complete collection of newspaper clippings, handwritten notes and pictures of the life and times of Eldridge Dickey.
That's what Brayden Lenius was looking at three years ago when his grandmother Lynn asked him to join her at the table. He started turning pages and saw things he knew. His grandfather had played quarterback in high school, then college. Brayden knew that. He played receiver for the Raiders. Brayden knew that, too.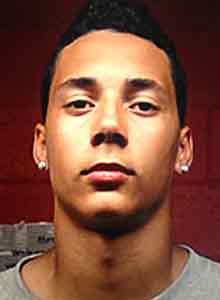 Brayden Lenius (Rivals.com)
"But I didn't know the rest of the story," Brayden says by phone from California.
The rest of the story is uplifting, then heartbreaking. His grandfather wasn't just a football player, but a supremely gifted one -- a quarterback who could run, who could throw the ball with both hands, who had an IQ in the 130s and who led Tennessee State in 1966 to a perfect season and the National Black College Football Championship.
Former Tennessee State coach Joe Gilliam Sr. once said: "Our stadium would hold about 18,000, and at game time there would be about 30,000 people in here. Breaking every fire code that you want to think about, but that's the way they came. They came from all over the country to see that young man, Eldridge Dickey, play."
In 1968 the AFL Raiders made Dickey the first black quarterback chosen in the first round -- then made him change positions. Well, not at first. The Raiders gave Dickey a chance at quarterback, though in hindsight not much of a chance for a player who threw for 6,628 yards and 74 touchdowns in college.
"Many scouts believed he might become the first black quarterback to play as a regular in professional football," wrote Sports Illustrated on Sept. 16, 1968. "Dickey also believed it, and he still does."
That preseason, Dickey was a revelation at quarterback. The Oakland Tribune noted in a headline that "Dickey stats [are] better than [Roger] Staubach and [Ken] Stabler" and described him in one exhibition as "[making] it look ridiculously easy to score a touchdown against the huge and handy Kansas City Chiefs. ... Dickey, perhaps predictably, was the most exciting player on the field. He also sent 50-yard passes bowling down the field with the flick of the wrist."
"This is for me," Dickey told the Tribune about playing quarterback. "I'll leave the pass-catching to those 9.5 sprinters. I'm quite satisfied with what happened."
Decades later, Brayden Lenius was reading all of that. Then he was reading that his grandfather had been switched to receiver.
"Then came the dark years," Lenius says.
Dickey caught one pass in 1968 and didn't catch another until 1971, when he had four catches for 78 yards and a touchdown in six games but was released after the seventh, when he dropped a potential touchdown in a 20-20 tie with the Chiefs. He turned to drugs and alcohol, but his story veered again -- from uplifting to heartbreaking, and back to uplifting again -- when Eldridge Dickey cleaned himself up. He had been a minister for years when he died of a stroke on May 22, 2000.
At his funeral a reading was done of The Lord's Prayer.
In college, that was Eldridge Dickey's nickname.
•
•
•
The pictures don't lie. Brayden Lenius is built just like his grandfather, albeit a bigger version. Lenius is 6-foot-5 and possibly still growing -- he's only 16 -- and weighs about 210 pounds. They have the same lanky frame, and even some of the same minute traits. Lenius has a picture of Dickey at Tennessee State, posing for an individual photo, kneeling and smiling for the camera. His left arm hangs over his left knee.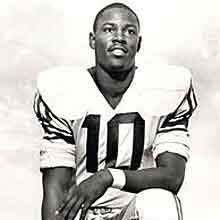 Dickey at Tennessee Tech
Lenius noticed the pinky right away.
"That's what mine does," he says.
Dickey's pinky bends down and outward. It looks like it was broken, but Lenius' pinky looks the same way. And his was never broken.
"Down to some of those features," says Lenius' mother, Shauna, "it almost becomes eerie how similar they are."
Shauna Lenius is not Eldridge Dickey's daughter. She was married to his son, former University of Arizona football player Troy Dickey, who is Brayden's father. They divorced and Shauna moved to Vancouver, where Brayden became a star in football and basketball and where Shauna's mother, Lynn, had that blue and white binder.
Ron Dias, national scouting director for All Star Football Canada, says Lenius could be the country's best Division I prospect since Boseko Lokombo, an Oregon linebacker projected as a mid-round 2013 NFL draft pick. JC Shurburtt, U.S. recruiting director for 247 Sports, says Lenius has a modest profile because of his Canadian background -- and because as a transfer he can't play for Los Angeles' Chaminade Prep until Oct. 11 -- but that scouts already are describing him as a potential college star.
"[Lenius] either will emerge this season ... or he's one of those guys we are all sitting around talking about in a couple of years, wondering how we missed him," Shurburtt says. "He's 6-foot-5 1/2, 210 pounds, blocks well and catches everything."
He catches like his grandfather. Dickey was the subject of a documentary called "The Lord's Prayer," some of which can be seen here, and in that grainy footage Lenius was able to see the way his grandfather didn't merely catch the ball -- but seemed to pluck it like an item off a shelf.
"I've seen highlights when I throw the ball, and it looks like him," Lenius says. "But watching him catch, I'm thinking, 'Oh -- that's where I get it from.'"
•
•
•
The world has changed in ways big and small since the late 1960s, including this big-and-small way: If Brayden Lenius wanted to play quarterback now, he could. All the way to the NFL, even. Black players aren't simply quarterbacks, but some of the best young QBs in the league: Colin Kaepernick, Russell Wilson, Robert Griffin III, Cam Newton.
Before them, Michael Vick was a star. Before him, Donovan McNabb and Daunte Culpepper. Before them? Steve McNair, Warren Moon and Randall Cunningham. The names go on, too many to list for fear of leaving out someone deserving -- like Doug Williams or Joe Gilliam Jr. -- but suffice it to say, before there were Kaepernick and Wilson and RG3, there were pioneers.
And before the pioneers, there was Eldridge Dickey.
Heartbreakingly, he thought he would be a pioneer. He thought wrong. This is what he told the Oakland Tribune early in his career with the Raiders, after he had been temporarily switched to receiver -- before he figured out there was nothing temporary about it:
"Many people seem to think I got a raw deal, but I think it was a great advantage to me to play flanker," he said. "Now my timing as a quarterback should be better because I know what the receiver is going through to get clear. I am somewhat of a pioneer and a lot of young quarterbacks will be watching and it will help them to know I feel this way."
He didn't feel that way for long. By 1971 he was out of football, never given a snap at quarterback in a regular-season game, a turn of events that rival coach Hank Stram of the Chiefs -- in the "Lord's Prayer" documentary -- called "one of the greatest sports crimes ever committed."
What happened next happened before Brayden Lenius was born, but his mother was told all about it. And it was heartbreaking.
"When Eldridge went on the path of drugs and alcohol, he did go into a very dark place," Shauna Lenius says. "Nobody could touch him or heal him."
But again, the heartbreak gives way to uplifting.
"Eldridge comes from a very good background -- great parents, smart, good people," Shauna says. "For Eldridge to go to the dark place he did, it was shocking that he went off that path. But when he turned it around and became a minister, nobody was shocked that he came back because he was good people."
His grandson has read the blue and white binder many times. For years Brayden Lenius has understood just who his grandfather was, and who his grandfather was deprived the chance to be. There will be a day, Lenius knows, he will play in college -- perhaps wearing his grandfather's No. 10. There will be a day, he hopes, when he will play for an NFL franchise. Long term, he would like to have the NFL career that was denied of Eldridge Dickey, whose most uplifting/heartbreaking quote may have been this one, told to the Oakland Tribune in the late 1960s:
"If someday I become a star," Dickey said, "I'd like to know I had to do it just the way I did -- so when they write the book they'll say, 'He came in an All-American quarterback and they switched him and he had to earn it.'"
Nobody ever wrote that book. But someone did create a binder. It's blue and white. Brayden Lenius has it. Someday, maybe, he'll have something more.
"I want to play for my grandfather," Lenius says. "I want to finish his story and close the book for him."