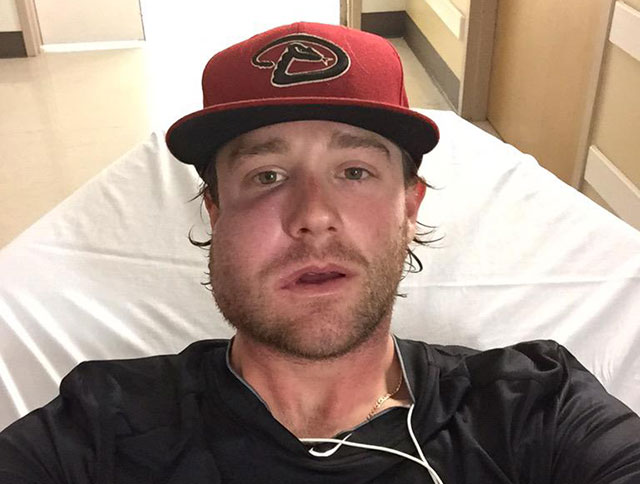 Anybody watching the Arizona Diamondbacks on Tuesday night probably feared the worst. And yet, 22-year-old rookie pitcher Archie Bradley walked away, apparently OK, after being struck on the right side of his face with a Carlos Gonzalez line drive in the top of the second inning. Bradley even joked about it afterward, which jibes with his reputation for having a happy go lucky personality. Regardless, it looked and sounded horrible when Bradley threw an 82 mph curveball to Gonzalez, who sent the pitch screaming back at 115 mph, not giving the pitcher enough time to get his glove up. The crowd at Chase Field fell silent. Bradley didn't seem to move at first, and then, moments later, just a little. According to data tracked at Baseballsavant.com, only six other hits have traveled faster this season than Gonzalez's line drive.
Update: Bradley was placed on the disabled list Wednesday afternoon with a fracture of his right sinus cavity.
The sound might have been the worst. The sound, and the worry about Bradley, who lay on the ground for several minutes before getting to his feet and walking off the field. The results of early medical tests sounded even more miraculous: No concussion symptoms and no signs (yet) of any broken bones — other than the right side of Bradley's face being grotesquely swollen. Remarkable, considering what has happened to others who have been struck in the head.
From the Arizona Republic: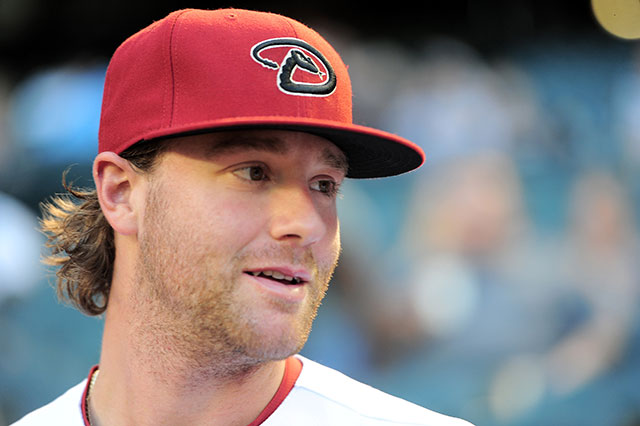 Such occurrences aren't uncommon in baseball, nor are the serious injuries that result from them. Last year, Cincinnati Reds closer Aroldis Chapman was struck in the face by a line drive and required surgery to fix a skull fracture above his eye. He was out for two months.

In the 2012 season, then Oakland Athletics starter Brandon McCarthy suffered an epidural hemorrhage, a brain contusion and skull fracture after taking a line drive to the head, and required a two-hour emergency surgery to relieve cranial pressure. He missed the rest of the year.

And earlier this month, Cleveland Indians starter Carlos Carrasco was knocked out for 10 seconds by a line drive to the jaw, although he was able to return to the mound within the week.

Bradley happened to send a tweet to McCarthy, asking for a "welcome" to the club. Another tweet was sent to friend Brian Bosworth who, like Bradley, is an Oklahoma legend:
@GotBoz44 is this boz worthy? Baseball off the face at 115mph pic.twitter.com/Jrjf0XkQET

— Archie Bradley (@ArchieBradley7) April 29, 2015
Yes, it does kind of look like Bo Jackson bounced off Bradley's face. At least his teammates were able to break a four-game losing streak in a 12-5 victory against the Colorado Rockies.
So is there anything Major League Baseball can do to protect pitchers? The best protection available is the modified cap that Alex Torres of the Mets wears, but it's not going to be widely popular because it looks so strange. And even if Bradley had been wearing the Torres cap, he still would have been struck in an uncovered part of his head. Only a full face mask would do the trick, and we're a long way away from giving pitchers one they can pitch with, without losing any effectiveness.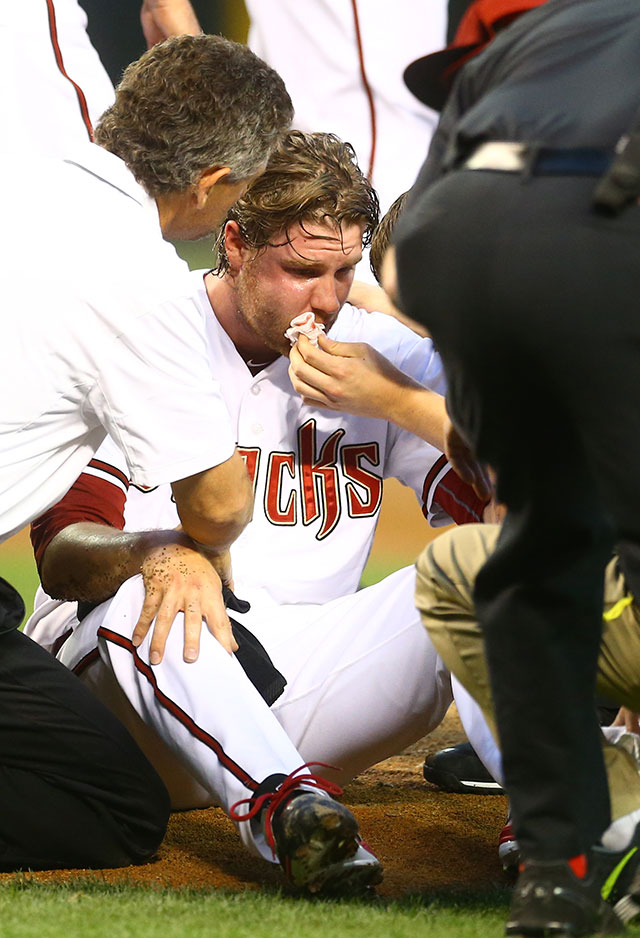 Play with screens, like in batting practice? Force fields, like in "Dune"? Use Nerf balls? There's nothing practical out there, or on the horizon yet. Pitchers will have to continue to take their chances.