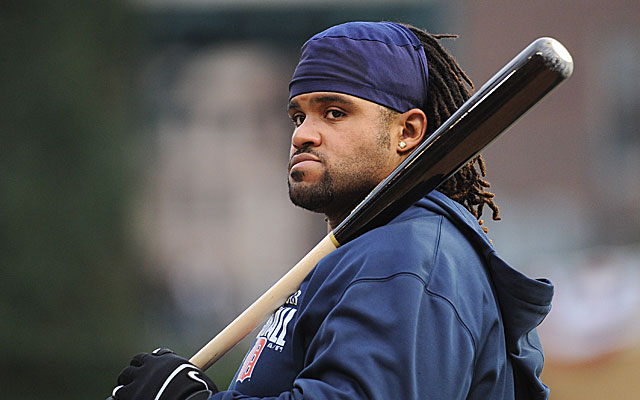 The Rangers and Tigers completed a blockbuster deal late Wednesday night to send Prince Fielder to Texas for Ian Kinsler in a rare one-for-one swap of stars.
Fielder is the much bigger star, of course, but finances played a decent-sized role here -- Texas will receive $30 million in the deal -- and Fielder becomes only the second player traded after signing a $200-million-plus contract, following Alex Rodriguez, who was dealt from Texas nine years ago.
The Tigers are sending $30 million to cover part of the difference in salaries. Fielder has seven years remaining on his $214 million, nine-year contract while Kinsler has four years on his $75 million, five-year contract.
Fielder needed to waive his no-trade clause, approving the deal, and he did so. He has a limited no-trade provision that includes the Rangers, but agreed to the deal provided he retains his limited protection going forward. He'll be going to a better hitter's park in a state with no income tax.
The trade needed to be approved by commissioner Bud Selig. His approval is required for trades where more than $1 million changes hands.
The teams started discussing the blockbuster only a day earlier on Tuesday, as Tigers general manager Dave Dombrowski phoned Rangers GM Jon Daniels with the idea. The trade has many ramifications for both teams.
For Texas, trading Kinsler opens up second base for top prospect Jurickson Profar. Both shortstop Elvis Andrus and Profar now come off the trading block, as they will team to form Texas' double-play combination. Several teams had been asking about both players, knowing Texas had an extra middle infielder.
Texas has been looking for added punch to its lineup with Nelson Cruz a free agent. But Rangers general manager Jon Daniels said the team will continue to look for another hitter. It is known Texas has been talking to free-agent catcher Brian McCann, free-agent outfielders Shin-Soo Choo and Jacoby Ellsbury, and others.
The Tigers, meantime, free up substantial cash by unloading Fielder, who only two winters ago signed a nine-year, $214 million free-agent deal to play for the team his father Cecil starred for. Importantly, Detroit will be able to move two-time defending American League MVP Miguel Cabrera back to first base after he had switched from first to third to accommodate Fielder the past two years.
Cabrera played through a lot of physical issues late last season, and first base could benefit him over the slightly more grueling third base. Detroit could plug in top hitting prospect Nick Castellanos at third base, though Castellanos had recently been tried in the outfield and the Tigers could also try to sign a third baseman and employ Castellanos in left field.
The loss of Fielder means a bit less lineup protection for Cabrera, as Fielder has served as the protection for three MVPs (including Ryan Braun with Milwaukee); Detroit has Victor Martinez to bat behind Cabrera now, so the Tigers still have a fine hitter to bat cleanup, though not one as powerful as Fielder. Rangers star Adrian Beltre could bat in front of Fielder in Texas, a boost to Beltre. Texas said it still has plans for first baseman Mitch Moreland, who hasn't quite lived up to his promise.
The Tigers had been floating Max Scherzer as a trade possibility in talks with teams. But the trade of Fielder frees up extra cash to try to sign Scherzer, the 2013 Cy Young winner, long-term. The Tigers also will aim to lock up Cabrera this winter, and that will take a lot of money, as well, of course.
The Rangers made a play for Fielder when he was a free agent a couple years ago before the Tigers signed him. It is believed Texas was prepared to offer at least six years, and maybe seven, with former team president Nolan Ryan thought to be the one who wanted to limit the deal to six years. So the current Rangers regime has always been big Fielder fans. They showed some regret about missing out on him in the year after Detroit signed him.
Fielder, who struggled in the playoffs this past October, earning some boos in Detroit, has $168 million over the seven years remaining on his contract, while Kinsler has $62 million for the four years. CBSSports.com first reported the trade agreement, and Jeff Passan of Yahoo Sports first reported that $30 million would be changing hands.