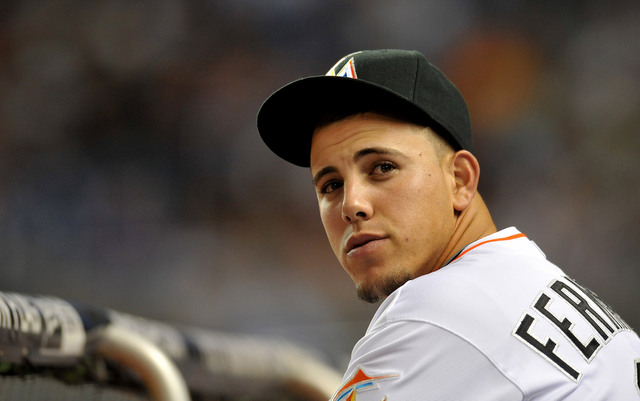 More All-Star: Delabar: From substitute teacher to All-Star | Perkins on sabermetrics
NEW YORK -- Marlins rookie right-hander Jose Fernandez is part of the wave of exciting young players who have taken over MLB in recent years. He made the team out of spring training after just one full season in the minor leagues, a decision that surprised even Fernandez.
"Not at all," he said with a laugh during All-Star media day on Monday when asked if he thought he had a chance to make the team. "They had a plan for me, and the plan changed. I don't know how, but it did. I got a chance, and I really wanted to go out there and do what I do -- show that I was ready for the big leagues. They gave me a chance."
Fernandez was slated to start 2013 with Double-A Jacksonville after dominating two levels of Single-A ball in 2012 (14-1, 1.75 ERA). He was the 14th overall draftee in 2011 before being named the fifth-best prospect in baseball -- second-best pitching prospect behind only Dylan Bundy -- by Baseball America a few weeks before being named Miami's fifth starter. Fernandez made sure to take a second to thank some teammates for his success.
"There's a lot of guys [who have helped me out this year]," he said. "J.P. -- Juan Pierre -- is an incredible teammate, an incredible person. Placido Polanco, other guys. Our relationship in the clubhouse -- when we started losing, it wasn't really good. But we're playing a lot better, and the relationship with everyone in the clubhouse is pretty good now."
With a 2.75 ERA, 1.08 WHIP and 103 strikeouts in 104 2/3 innings, Fernandez is much more than the Marlins' token All-Star. He has gone from high schooler to legitimate All-Star in two calendar years, a claim not even Mike Trout, Bryce Harper and Manny Machado can make. That quick rise is amazing in and of itself, but it is just a small part of his story.
Fernandez was born in Santa Clara, Cuba, and it wasn't until 2008 -- when he was 15 years old -- that he was able to successfully defect from the communist state. It was his fourth defection attempt, and the first three resulted in a prison term. "Being a traitor to Fidel Castro" was the charge each time.
During the final attempt, Fernandez courageously jumped into the Gulf of Mexico waters to save his mother after rough waves knocked her overboard. He would later say he didn't realize it was his mother who went overboard until he reached her in the water -- he reacted and jumped right in as soon as he saw someone get swept over.
After all of that, Fernandez and his family were reunited -- his father had successfully defected in 2005 -- in the Tampa area. He enrolled at Braulio Alonso High School and joined the baseball team. Four years later, the Marlins cut him a $2 million check to cover his signing bonus.
When you go through an ordeal like that -- being in prison three times before the age of 15 and risking your life to save someone in open water -- suddenly being on a mound in a big-league game as a 20-year-old isn't a life-or-death situation. Being on a bad team with little fan support isn't the end of the world, either.
"I'm very blessed to have a chance to be here around the best in the game," Fernandez said. "It's a great opportunity."