CLEVELAND -- Had things gone according to plan, Josh Tomlin would not have started Game 2 of the ALCS for the Indians on Saturday (CLE 2, TOR 1). It would have been Carlos Carrasco or Danny Salazar. Or maybe Trevor Bauer. Tomlin was far down the pitching depth chart most of the season.
Things have not gone according to plan, however. They rarely do. Carrasco is done for the season after a comebacker broke his hand in September. Salazar is still working his way back from a forearm issue. Bauer, who was originally scheduled to start Game 2, had to be pushed back to Game 3 after cutting his finger repairing his drone.
Losing two starters to serious injuries and a third to a fluke injury could have easily spelled doom for the Indians. Instead, Tomlin stepped into the rotation and has allowed three runs in 10 2/3 postseason innings. Saturday he held the Blue Jays to one run in 5 2/3 innings and left to a standing ovation, only a few weeks after being demoted to the bullpen.
"It was a tough ride in August," said Tomlin after Game 2. "I was making more mistakes -- wasn't executing pitches in August -- with my stuff. Average stuff. If you don't execute pitches to the edges you're probably going to get beat pretty good ... I'm able to locate pitches right now. And the variety of pitches is a lot better mix right now."
Tomlin thoroughly dominated the Blue Jays on Saturday and that's not overstating it. He faced 22 batters and two hit the ball in the air. Tomlin recorded 17 total outs: 10 ground balls, six strikeouts, one fly ball. He did that essentially by changing up the scouting report. After spending the season as a fastball-cutter-curveball pitcher, Tomlin is now a curveball-fastball-sinker pitcher.
| | | | |
| --- | --- | --- | --- |
| | Regular Season | ALDS Game 1 | ALDS Game 2 |
| Four-Seam Fastball | 30.3% | 27.9% | 23.6% |
| Sinker | 6.7% | 20.6% | 10.6% |
| Cutter | 40.9% | 8.8% | 20.0% |
| Curveball | 14.9% | 33.9% | 42.4% |
| Changeup | 7.3% | 8.8% | 3.5% |
"They hit fastballs. They have a good lineup over there. They're aggressive," said catcher Roberto Perez following Game 2. "We're just trying to mix up some curveballs in there ... He kept the ball down. That was the key. He's not overpowering, so we have to pitch. He had a great game. I'm proud of him."
Throwing more curveballs does not automatically equal more success. It has to be well-located, and Tomlin did that in Game 2. Outside of a few misses, which are inevitable for every pitcher, he buried his curveball at the knees and in the dirt Saturday. The pitch started up in the zone before dipping down where it's tough to square up.
Here are Tomlin's pitch locations for Game 2, via Brooks Baseball: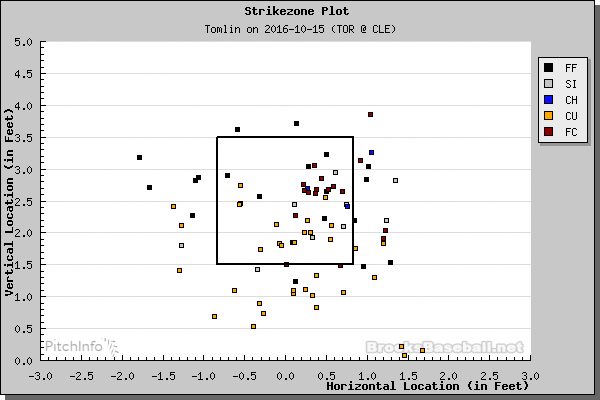 "I told him coming into this game, 'Hey, if we're going to throw a lot of breaking balls, you've got the bury it.' Keep it down. Don't flip it in there," added Perez. "The main key was getting the ball down. He was outstanding. In and out, move guys' feet, fastballs up. We're just pitching man. He's the kind of guy who's going to do that his whole career."
The Blue Jays took 12 swings against Tomlin's curveball in Game 2 and missed on half. Six others went for called strikes. And when the Blue Jays did put the curveball in play, it was on the ground. Tomlin threw a first pitch strike to 14 of 22 batters -- interestingly enough, only two of the 22 swung at the first pitch, and both resulted in ground outs -- then went to town with the curveball.
Tomlin curves by count

0-0: 5
0-1: 8
0-2: 4
1-0: 1
1-1: 6
1-2: 2
2-1: 2
2-2: 2
3-2: 2

— Jordan Bastian (@MLBastian) October 15, 2016
"I needed to establish I could throw a strike early on, and then it was a pretty good pitch," said Tomlin. "It was effective early on. So the endgame strategy at that point was use it whenever it's a good time for it and see if we couldn't get them out in front to try to get some early outs."
For a finesse pitcher like Tomlin -- his four-seam fastball averaged only 89.2 mph in Game 2 -- getting ahead in the count makes a world of difference. Check out his splits when throwing a first pitch strike:
After a first pitch strike: .236/.257/.400 with a 10.6 K/BB ratio
After a first pitch ball: .288/.342/.529 with a 1.6 K/BB ratio
Most pitchers have an extreme first pitch strike split. Tomlin's not not unusual in that sense. Unlike many others though, Tomlin doesn't have the power stuff to overcome falling behind in the count. He has to keep hitters on the defensive, which he did expertly in Game 2. For a guy who doesn't crack 90 mph often, there weren't many comfortable swings Saturday.
"Sometimes you find a slot and find that rhythm later in the season and maybe a pitch isn't as effective later on as it was early the season," said Tomlin about his curve. "To me, it was just find the grip, stay with it and just try to execute. And some days it's good, some days it's not, and you've got to adjust accordingly."
Not too long ago the Indians looked like they were in serious trouble. Their No. 2 and 3 starters got injured, and very few teams are able to survive that. The Indians have more than survived so far. They've thrived. They're a perfect 5-0 in the postseason and they just held the high-powered Blue Jays to one run in 18 innings in Games 1-2.
Every team needs some unexpected contributions to advance deep into the postseason. It could be a big hit from a role player, a key strikeout from a lefty specialist, whatever. In Cleveland's case, they've needed Tomlin to fill-in for Carrasco and Salazar after being demoted to the bullpen during the regular season. With the help of a newly emphasized curveball, Tomlin's turned into the team's unlikely hero this October.
"He was awesome ... I think carries a lot of confidence out there," said bullpen ace Andrew Miller. "I know he doesn't light up the radar gun, but we like our chances. He throws a lot of strikes, his ball moves all over the place. We like our chances/ I know he's not the prototypical power pitcher, but he's pretty darn good too."