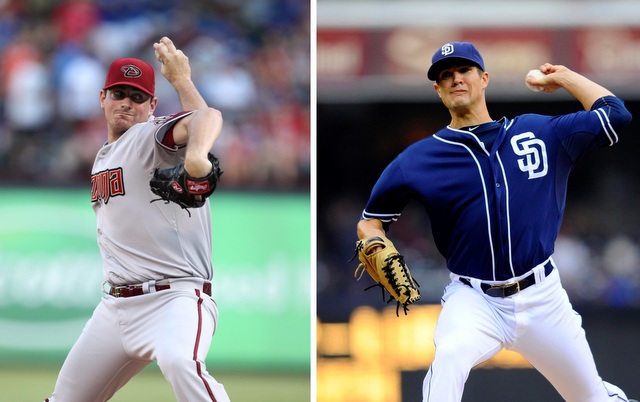 MORE: Spring Training | Scoreboard | FA tracker: hitters | FA tracker: pitchers
Although we are still awaiting official word of the final diagnosis, all signs point to Braves right-hander Kris Medlen undergoing his second career Tommy John surgery in the near future. He left Sunday's start holding his elbow and told reporters on Wednesday he is preparing to go under the knife.
Medlen, 28, had his first Tommy John procedure in August 2010 and did not return to a big league mound until very late in 2011. He has been brilliant since the first surgery, pitching to a 2.45 ERA (160 ERA+) with a 3.99 K/BB in 337 1/3 innings from 2011-13. With the new elbow ligament in place, Medlen had emerged as one of the best pitchers in the game.
"Tommy John now is almost like a root canal," said Braves manager Fredi Gonzalez to Jeff Passan of Yahoo! Sports last year, a pervasive view of the high success rate of elbow reconstruction. Depending on who you ask, 80 to 85 percent of pitchers who have Tommy John surgery come back just fine. Medlen's latest injury does not necessarily mean the first surgery failed, but it is reminder of how risky elbow surgery is.
Medlen is far from the only pitcher to have two Tommy John surgeries and, in fact, several others have had much more difficulty coming back from what Gonzalez called baseball's version of a root canal. Some examples:
• Daniel Hudson: Underwent his first Tommy John surgery in July 2012, then re-tore the ligament during a rehab outing in June 2013. He had his second elbow reconstruction shortly thereafter. Hudson had a 113 ERA+ in 222 innings for the Diamondbacks in 2011.
• Cory Luebke: Luebke had a 113 ERA+ in 170 2/3 innings for the Padres from 2011-12 before having Tommy John surgery in May 2012. After a slow rehab that included some setbacks, the ligament tore again a few weeks ago. He had his second Tommy John procedure last month.
• Ryan Madson: Once one of the top relievers in baseball, Madson had Tommy John surgery in April 2011 and has not pitched since due to numerous complications and setbacks.
• Arodys Vizcaino: Vizcaino is a former top prospect -- he appeared on four straight Baseball America top 100 prospects lists from 2010-13 -- who has bounced from the Yankees to the Braves to the Cubs in trades for Javier Vazquez and Paul Maholm, respectively. He had his elbow rebuilt in March 2012 and while he has avoided a second Tommy John surgery, he has not thrown a pitch in a regular season game since 2011 due to complications.
Add in Medlen and that's five very good pitchers whose careers have been derailed within the last two years because they are one of the rare Tommy John failure stories. The success rate of the second elbow reconstruction is much lower than the first -- I've seen it estimated as low as 40 percent -- because at some point the body just can't take it. Torn ligaments are the body's harsh way of saying "stop pitching, it's not natural."
The late Dr. Frank Jobe revolutionized the game with Tommy John surgery and it really is a baseball miracle. Without it, guys like Stephen Strasburg, Matt Harvey and Shin-Soo Choo would have been done as players already. Torn UCLs used to be career-enders. That is not the case anymore, but it's wrong to consider the surgery fool proof because of the high success rate. Medlen, Madson and others are reminders of just how risky the procedure really is, and why we shouldn't take it for granted when pitchers recover well.
Cutting into a world-class athlete is almost never a good thing, and that is especially true for pitchers and their arms.