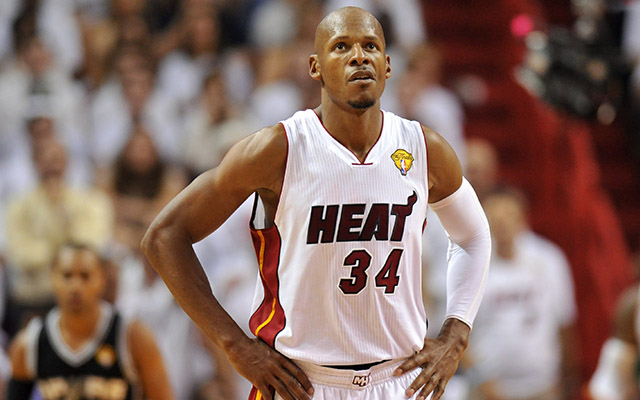 For his birthday next year, Ray Allen's birthday cake may have another team-based layer on top of it.
Allen recently turned 40 years old, and although he didn't play last season, he hasn't officially retired. A fact that he recently brought up with the Hartford Courant.
"I haven't said anything about that and I won't officially retire," Allen said Saturday during a break in his basketball camp for kids at East Granby High. "Because if something came to the table, contractually and situational-ly, I want to be able to take a strong look at it. I don't want to be that guy that says he's retiring and then is coming back."

"I didn't miss it," he said. "I realized how much time I missed not being home with my kids. I probably missed it in the Finals. Watching Cleveland and Golden State play, it just seemed like an epic battle that required a lot of precision on the floor and that's when I felt, that was probably the only time that I felt like, 'Man, I should have been out there.'"

If he does not play again, Allen is comfortable with the run he's had, which includes championships with the Celtics and Heat.

"It would be one thing if I played 10 or 11 years," he said "But playing 18, I got a lot out of it. I like the feeling of knowing I don't have to beat myself into the ground."

His lifestyle hasn't changed. Allen remains in playing shape. "I just stay in shape, period," he said.
It is interesting to hear a return to the game only popped into Allen's mind during the Finals since the Cavs and LeBron James tried to recruit him last season. If he actually signed with Cleveland last season, he could've actually been playing in the Finals instead of watching from home.
However, Allen seems content working out in Florida and spending time with his family. If he does return, Allen will have plenty of suitors to choose from after "a quarter to half" of all of the teams in the league got in touch with him last season. We should expect the same number of teams to be interested in Allen's 3-point shooting services next season as well, especially since he clearly still has some moves left in the tank.
H/T: SLAM