Mark Jackson in alleged extortion plot with ex-stripper over nude photos
Golden State Warriors coach Mark Jackson was allegedly extorted by a former stripper after he reportedly sent her nude photographs.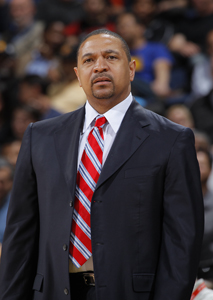 Mark Jackson found himself in an alleged extortion plot.
(Getty Images)
Mama, there goes that man's pants.
Golden State Warriors coach Mark Jackson has worked with the FBI to stop an alleged extortion plot involving a former stripper with whom he was romantically involved and to whom he reportedly sent nude photographs.
TheSmokingGun.com reports that Jackson, who spent 17 years in the NBA before becoming a television commentator, was involved with 28-year-old Alexis Adams six years ago and her associate, Marcus Shaw, allegedly attempted to finagle up to  $200,000 from Jackson so that private, explicit photographs and "phone recordings" he sent to Adams wouldn't be made public. 
Adams, 28, and Shaw, 40, have been named in felony criminal complaints filed under seal in U.S. District Court in Oakland, California. The duo, whose relationship is unclear, is accused of trying to extort a six-figure payment from Jackson in return for them not disseminating/selling the explicit photos to the "vultures of the media."

While the complaints refer only to the extortion victim as "V1"--a man the FBI describes as a "prominent member of the public who now works in Oakland, California"--a TSG source familiar with the federal investigation identified the 47-year-old Jackson as the shakedown subject.

A business associate of Jackson told TSG that he spoke this morning with the coach, who confirmed his involvement in the FBI investigation, and that his family and Warriors brass were aware of the federal probe.
Jackson, 47, is married and has four children. The report notes Jackson and his wife are co-pastors of a church.
On Thursday, the Warriors issued the following statement, confirming the details of the case.
In response to media inquiries, Golden State Warriors Head Coach Mark Jackson today confirmed that he and his family were the victims of an extortion scheme attempting to blackmail them in exchange for money. The suspects were arrested on June 25 by the FBI.                                          

Jackson informed the Warriors of the extortion scheme in late April -- three weeks after his first encounter with the extortionist -- and solicited help from the organization.  At that point, Jackson and the Warriors immediately contacted the Federal Bureau of Investigation.  

Although not condoning his previous actions that led to the extortion attempt, the Warriors fully support Coach Jackson during this time and thank law enforcement authorities and the FBI for their prompt assistance in helping Coach Jackson and his family.
Jackson also issued a statement.
My family and I were the victims of an extortion scheme.

The scheme began on April 3, 2012, when the Warriors were in Memphis to play the Grizzlies. A man approached me at the team hotel with personal information which he threatened to sell to a tabloid. At the time, he demanded a substantial sum of money. Regrettably, I paid him. In retrospect, I understand that this was a terrible lapse in judgment and a course of action I would not recommend to anyone.

Following the encounter in Memphis – a little over two weeks later – the extortionist sent an e-mail and phoned my wife, Desiree, making threats and demanding additional money. At that point, I informed the Warriors about the situation and asked for their guidance. We immediately notified the FBI, which promptly began an investigation.

The personal information in the extortion scheme related to a woman that I, mistakenly, had an extra-marital relationship with six years ago – prior to joining the Warriors – when I was a TV sports analyst. I made my wife aware of the relationship at that time, apologized to her and we reconciled. Obviously, my self-centered transgression at that time is not something I'm proud of, but I'm blessed to have an incredible wife, mother and partner and I thank the Lord for her each day.

I recognize the extremely poor judgment that I used both in having an affair six years ago – including the embarrassing communication I exhibited during that time - and in attempting to deal with the extortion scheme at first by myself. I made some egregious errors. I apologize for any embarrassment I may have caused my family, friends and, of course, the Warriors.

At that time in my life, I was not pastoring. Three years ago, my wife and I established a ministry. With deepest regret, I want to apologize to my Church Family.

I was wrong. We must live Holy.
Both the Warriors and Jackson said they would not comment further because of the ongoing nature of the case and the investigation.
Jackson was hired by the Warriors during the summer of 2011. He went 23-43 in his first season in Golden State and failed to deliver on his guarantee that the Warriors would make the playoffs.
Cuban weighed in on the ongoing feud between the basketball dad and the POTUS

Embiid has taken his trash-talk game to the next level this season, but he's not scared

Last year Durant said returning to his old home was 'never going to be a regular game'
The All-Star forward injured his wrist during Sunday's loss to the Lakers

Steven Adams believes he's the problem with the Thunder struggles in the clutch

LaVar claims that Luke Walton has been 'soft' on Lonzo so far