2013 NFL season preview: Miami Dolphins
A tough early stretch in the Dolphins' schedule could make life difficult in Miami, but there is still reason for optimism. Here's a preview of the Dolphins' season.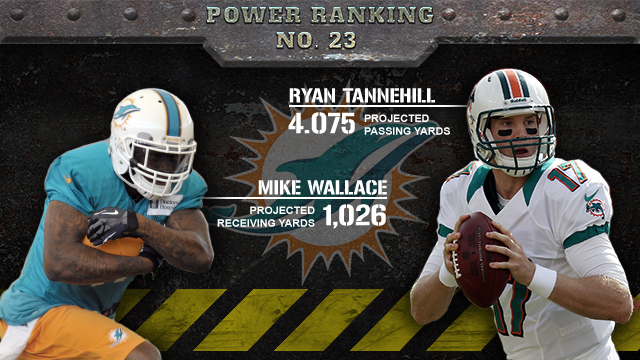 The offseason was full of hype and inflated expectations because of the personnel moves the club made and the flash of good play by Ryan Tannehill. Tannehill threw just three touchdown passes to four interceptions in his 158 passes in division last year and just isn't good enough. His three division TD passes were to Reggie Bush (2) and Davone Bess. Neither man is still on the team.
There's a lot of pressure and expectations on LT Jonathan Martin and RB Lamar Miller and they haven't measured up to the guys they replaced (Jake Long and Reggie Bush) so far this summer. Tannehill only connected on 13 touchdown passes last year in 484 attempts. The playoff teams last year averaged 27 passing touchdowns, and if Miami is serious about the postseason, hiring Mike Wallace is a start, but there's lots more to do. The defense is perceived as solid but they were 27th against the pass and 21st overall.
Offense:
The Dolphins expect second-year running back Lamar Miller to be a featured back and upgrade the Reggie Bush production which means close to 300 touches and 1500 yards. The club will tell you Miller will share duties with Daniel Thomas and after Miller's five carries for 10 yards in the second preseason game, maybe that's a good idea.
Dolphins' Rivals: AFC East


2013 Preview • Schedule
Bills @ Dolphins: 10/20 (1 p.m. ET)
Dolphins @ Bills: 12/22 (1 p.m. ET)


2013 Preview • Schedule
Patriots @ Dolphins: 12/15 (1 p.m. ET)
Dolphins @ Patriots: 10/27 (1 p.m. ET)


2013 Preview • Schedule
Jets @ Dolphins: 12/29 (1 p.m. ET)
Dolphins @ Jets: 12/1 (1 p.m. ET)
Putting Tyson Clabo at right tackle will help the running game, but Jonathan Martin is struggling on the left side and that will affect the run game and more importantly the passing game.
John Jerry is a serviceable guard but was supposed to be pushed by Lance Louis. Unfortunately, both are out with injuries. Tannehill is a good athlete, and his escape skills may come in handy. Mike Wallace is well schooled with quarterbacks who escape a collapsing pocket from his days with Ben Roethlisberger, and there should be some big plays if Tannehill looks down field after he escapes. The recent injury to tight end Dustin Keller means second-year tight end Michael Egnew has to step up from oblivion and be productive which is asking a lot from a guy who didn't catch a pass last year. The 2013 offense may not be better than the 2012 offense when all is said and done.
Defense:
Cameron Wake leads a defense that can get after quarterbacks especially if rookie Dion Jordan can be effective early. To get the most out of Jordan's skills, he probably is a situational rusher and not a full-time starter in his rookie season.
Last year, Karlos Dansby and Kevin Burnett led the team in tackles and were shown the door for younger linebackers Dannell Ellerbe and Philip Wheeler. The newcomers need to generate 244 tackles and 3½ sacks just to break even with the production of Dansby and Burnett.
In the secondary, the safeties are fine, but the corners will be tested. Gone is Sean Smith, and opposing quarterbacks will look for matchups involving Richard Marshall. Corner Brent Grimes comes over from Atlanta after playing in one game last year due to injury. I like Grimes a lot but he only has one 16-start season in his six seasons.
Final thoughts:
The early schedule is tough with a four-game stretch that includes Indy, Atlanta, New Orleans and Baltimore. If Miami doesn't win its opener in Cleveland, and then faces these four teams, the season could be over before it starts. If it can just hang in there until the bye, there's a chance for a nice rally, especially if Tannehill comes into his own.
More 2013 NFL season previews: Select a team
AFC North
AFC South
AFC East
AFC West
NFC North
NFC South
NFC East
NFC West
After a report emerged quoting Irving saying, 'I have made a call,' the Cowboy took to Twi...

Washington is banged-up heading into a divisional showdown with Philadelphia

Kenny Britt might be on the chopping block after his latest blunder
Sending money to help with hometown education isn't anything new for the NFL veteran

Here's every official injury designation for each NFL team for Week 7

Last year's Jets were a disaster, but this year's version has been extremely competitive