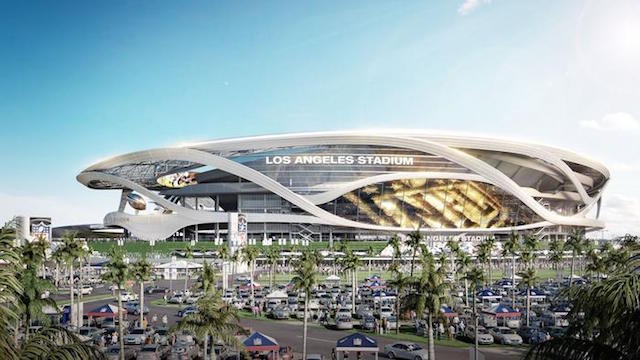 With the NFL pushing forward with plans to vote on a Los Angeles relocation soon, there will be preliminary meetings of key owners in New York next week. Sources said the powerful Los Angeles relocation commitee, which is spearheading this issue, along with the league's stadium committee and finance committee, are set to meet Wednesday and Thursday in New York.
That is ahead of the mandatory ownership meeting that remains scheduled for Jan. 12-13 in Houston, where a vote on a move to L.A. is still expected. Currently, sources said neither the Chargers/Raiders project in Carson (Calif.), nor the Rams project in Inglewood (Calif.) has the votes needed (24 are required). However, as long reported, the Carson project is much, much closer, with probably around 18-20 votes. Rams owner Stan Kroenke has had enough votes to block, but that could change between now and an actual vote, with pressure mounting to get this situation resolved and a majority favoring the other project.
Some owners would prefer just the Chargers go first, with perhaps another franchise later joining. And many would support getting the Rams and Chargers together (though it seems highly remote that could occur between now and mid-January).
No one knows exactly how this will go down, and it's always possible there is no vote and the matter is tabled until 2017, but for now sources said both of these ownership meetings are on schedule and it's quite possible a resolution is at hand.