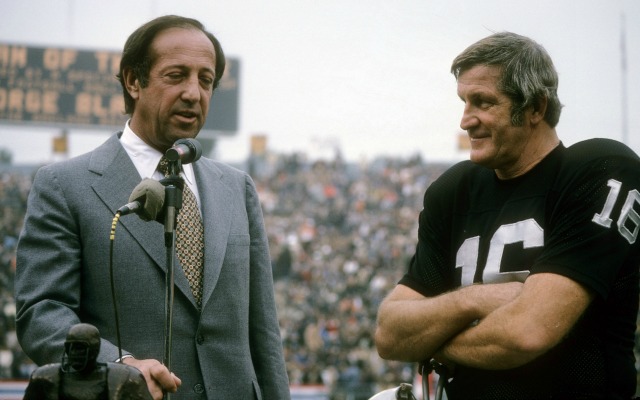 While Peyton Manning, at the age of 37, and Tom Brady, at the age of 36, and Drew Brees, at the age of 34, continue on as three of the best quarterbacks in the league, we sometimes wonder just how much longer this trio will play.
Brady has mentioned playing until he's at least 40, and considering Manning is having one of the best years of his career (and one of the best seasons ever by a quarterback), he shows no signs of slowing down.
Besides, unlike, say, a running back who carries the ball 300 times a season, a quarterback's career can last well past the age of 30. Brett Favre, after all, played until he was 41, while Vinny Testaverde was 44 when he started six games for the Panthers in 2007 and Doug Flutie was 43 when he backed up Brady in 2005.
But none of them have anything on George Blanda. That's because Blanda, who played from 1949-75 with four teams, strapped on his helmet until he was the tender age of 48. That makes Blanda the oldest player ever to compete in the NFL, and by this time 38 years ago, Blanda was making his preparations to retire from the game for good.
Blanda's history went something like this. The Bears drafted him in the 12th round of the 1949 draft and signed him as a backup quarterback and kicker for a $600 signing bonus. He didn't actually become a starting quarterback until his fifth year in the league, when he led the NFL in completions in 1953. But after suffering an injury the next season, he lost his job to Ed Brown, and rather than continue on as simply a place-kicker, he retired in 1959.
After a year off, Blanda returned with the new Oilers squad in the new AFL, and that's when he became a superstar, leading the league in yards in 1961 and 1963 and in completions from 1963-65. The Oilers won the first two AFL titles, but by 1967, the team felt he was too old at the age of 37 and cut him.
That's when the Raiders, led by Al Davis, picked him up to back up quarterback Daryle Lamonica and to kick (immediately that season, the Raiders won the AFL title). In 1970, Blanda had one of the most magical runs of his career.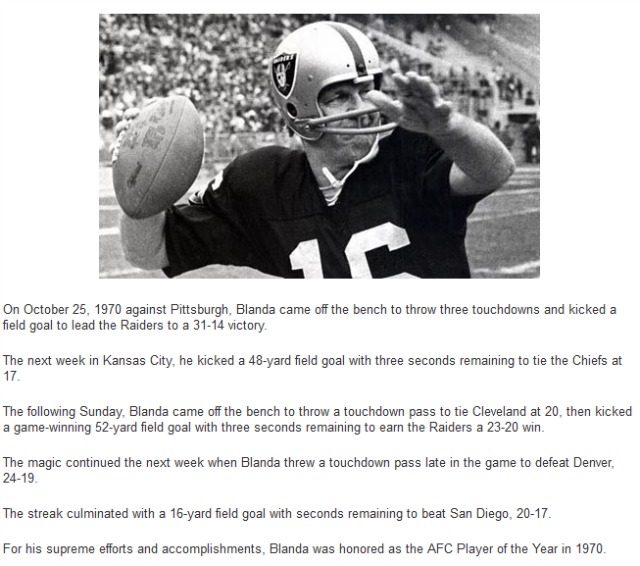 After that incredible run, Blanda wrote this for Sports Illustrated.
"Personally, I think it's a shame, all the star football players who retired in the prime of life. Lou Groza, washed up at 43. Ben Agajanian, prematurely retired at 45. Y. A. Tittle, gone when he was 38 and Bob Waterfield at 33. Norm Van Brocklin hung them up at 35 as did Otto Graham, the finest quarterback I've ever seen. Why, that's a tragedy. Does anybody really think Otto Graham couldn't have played six or eight more seasons? Of course he could. Even now, at 49, Otto handles himself better than most of the young bucks right out of college. But like all the others, he fell victim to one of pro football's many unreasoning prejudices: that you're no longer capable of playing when you reach 30 or 35. Baloney!"
And what delicious baloney it was, because Blanda had five more years to play.
Luckily, Blanda let us know exactly how he kept himself in such good shape despite his advancing football age. Basically, he smoke and drank and ate lots of red meat.
"After last year people came up to me and said, 'George, how do you do it? What's your secret?'" Blanda wrote for SI. "Word got out that I had a special diet, that I didn't drink or smoke. One 'insider' said that I was taking hormones, and that was why I was able to play so many games at my ripe old age. Well, there is no secret. My special diet consists of the same things I've been eating ever since I grew up: steak and potatoes and green vegetables. I smoke and I drink. The worst five years of my 21 as a pro were the five when I didn't smoke at all. Now I've gone back to cigarettes, a pack or two a day, although I don't inhale them. As for alcohol, I enjoy bourbon -- it's part of my University of Kentucky background -- but I don't guzzle it down like water. I sip it, and I limit myself to two or three drinks. You may see old George Blanda acting stupid, but you won't see him acting drunk!"
So, that's pretty awesome. And it gives Manning and Brady a real role model on how to continue playing well past their 40th birthdays. Just smoke and drink and eat the hell out of some red meat.
Because if it works for a Hall of Famer like Blanda, why can't it work for everybody?
Follow Josh Katzowitz on Google+