Woman wins $100K on 15-team parlay, learns about point spreads
She thought she lost because the Giants were beaten by the Panthers, but then she found out what the "spread" was.
Vikings -5, Falcons +3, Texans +1, Chiefs -8, Redskins +1, Patriots -14, Cardinals -4, Giants +5, Seahawks -14, Packers -3, Chargers -2, Steelers -6, PIT/DEN OV 45, Bengals -4, Lions +3.
That's how the 20,000-to-1 ticket of Las Vegas resident Tayla Polia, 26, read for Week 15. And if you're reading this post, you already know she won. (How much? Oh, just $100,000 on a $5 bet.) What you may not know is that she thought she lost.
"I remembered that I picked the Giants and they lost," Polia said, via ESPN.com. "So I thought it was strange when I looked at it [Tuesday] morning and saw that I won."
Polia had to call William Hill, the site on which she placed the bet, to inquire about how it is she won a bet that included a team that lost. They explained the concept of point spreads to her and that, since she bet on the Giants getting five points from the Panthers and they only lost by three, she still won that particular game.
"I somehow drove back home to tell my boyfriend in person," she said. "Of course, he didn't believe me."
This parlay, as all 15-team parlays must, took a whole lot of luck to hit. The Giants and Steelers came back from big deficits to cover late in the game. The Texans were outplayed by the Colts and still managed to come away with a win. The Chiefs scored two defensive touchdowns. And the underdog Lions, on Monday night, held off a furious Saints rally to prevent the game from going into overtime, where another New Orleans touchdown would have rendered the entire parlay moot.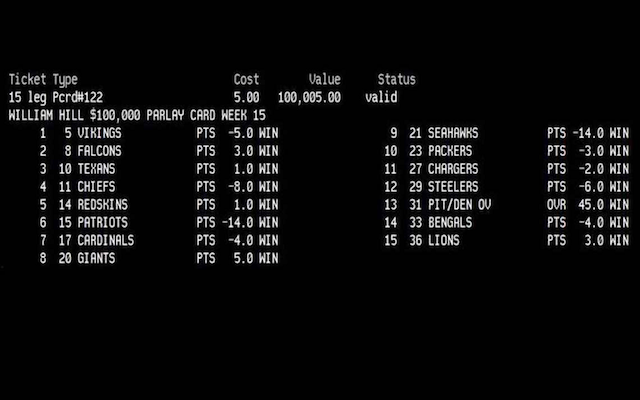 Nashville had 20,000 fans turn out for the Titans' new uniform unveiling last month

The Super Bowl cities have been announced through 2024

Data showed that last season concussions were five times more likely on kickoffs
As Dez is finding out, sometimes you're the hammer and sometimes you're the nail

Brady, who is entering his 19th season, will turn 41 in August

Seattle's defense could be better than people think, but the offense should have some major...