On Monday, a little soccer club from the East Midlands of England accomplished, what to most, seemed unthinkable. After drawing at Manchester United on Monday, Leicester City F.C. clinched its first Premier League title thanks to a late rally from Chelsea. Down 2-0 at the half, Chelsea stormed back with two second-half goals (including this Eden Hazard stunner) to draw Tottenham. The draw secured an improbable title for Leicester.
Let's break down this incredible rags-to-riches story with a few facts to know about Leicester (pronunciation: les-ter, like the baseball pitcher Jon Lester).
Leicester City were 5,000-to-1 longshots to pull this off:
Just how improbable was this feat? Before the start of the Premier League season, Leicester City were a 5,000-to-1 shot to win the league. Those odds are pretty ridiculous considering some of these other Cinderella stories listed below in this fantastic NBC Sports ad:
If 1000-1 was a 'Miracle', then 5000-1 is...? #Leicester https://t.co/d38JStGCmS

— NBC Sports Soccer (@NBCSportsSoccer) April 17, 2016
Some of the odds listed in the ad:
Buster Douglas knocking out Mike Tyson: 42-to-1
Miracle on Ice: 1,000-to-1
Red Sox breaking the curse of Bambino: 120-to-1
To put this into more perspective, the rebuilding Atlanta Braves are coming off a 95-loss season and were a 100-to-1 shot to win the World Series. Only now that we've realized that Atlanta is probably the worst team in all of baseball, the Braves are currently (only) a 1,000-to-1 shot. The Philadelphia 76ers, a team that finished the season 10-72, entered 2015-16 at 1,000-to-1. Before the start of the 2012 London Olympics, the odds of a flying saucer showing up during the opening ceremony were 1,000-to-1. 
The Browns are the biggest longshots in NFL at 200-to-1. Sticking to NFL, the year New England found a quarterback by the name of Tom Brady and shocked the world with a win over the "Greatest Show on Turf" Rams in the Super Bowl, the Patriots were 60-to-1 in the preseason. One last comparison: Republican front-runner Donald Trump was seen as a 200-to-1 longshot to become President of the United States way back in November 2012. The odds that Hugh Hefner, founder of Playboy, would reveal he was a virgin were set at 1,000-to-1.
The only real comparisons, as NBC noted in their ad, are:
Bigfoot being real: 5,000-to-1
Christmas being the hottest day of the year: 5,000-to-1
So according to the oddsmakers (and they tend to know more than we do), Leicester City winning the Premier League title is probably the greatest underdog story in the history of sports. It's moments like this that makes us love sports. It's why we root for the likes of George Mason back in 2006 when they reached the Final Four, or for Boise State to beat Oklahoma in the (BCS-era 2007) Fiesta Bowl. The only difference is that the clock struck midnight eventually for those teams, and they never got a championship out of it. Leicester City won arguably the most competitive and richest professional sports league in the planet.
Just to get an idea of how unlikely this is, Leicester City was in the third tier of the English Football system in 2008-09, basically the equivalent of Double-A baseball or a tier below the NBA Developmental League. They have never won a trophy in their 132-year existence ... until Monday.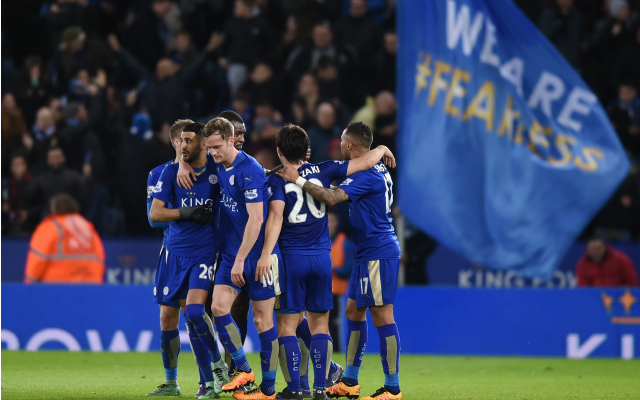 Leicester City's payroll is minuscule compared to English giants:
There's no salary cap to level the competition between small-market teams and the major markets in English soccer. It's not like the Foxes went out and broke the bank during the recent transfer windows to guarantee a chance to win a championship. No, quite the opposite. They took a smart (maybe Moneyball-like) approach at finding talent in smaller leagues like Jamie Vardy (£1m) and PFA Player of the Year Riyad Mahrez (£1.5m). The highest paid player in Leicester's starting lineup this season was central midfielder N'Golo Kante (£5.6m).
To put that into perspective, the Foxes spent a total of £22.9 million to assemble their starting lineup for the 2015-16. Moving away from the starting lineup and focusing more at the entire roster, here's where Leicester's wage bill puts them compared to other clubs in England for the 2015-16 season.
Chelsea: £215.6m
Manchester United: £203m
Manchester City: £193.8m
Arsenal: £192m
Liverpool: £152m
Tottenham: £110.5m
Newcastle United: £75.8m
Everton: £74.7
Stoke City: £72.3
Sunderland: £71m
West Ham United: £69.5
West Bromwich: £68.5
Aston Villa: £65.1
Southampton: £59.5
Crystal Palace: £54.3m
Swansea City: £51m
Leicester City: £48.2m
Norwich City: £37m
Watford: £29m
Bournemouth: £25m
In case you were doing the math at home, the difference between last season's champs Chelsea (£215.6m) and Leicester (£48.2m) is a jaw-dropping £167.4 million ... or 3 1/2 Leicester teams.

First "small" team in modern era to win:
The city of Leicester is a small town with a population of 383,000. They weren't supposed to accomplish this feat. During the British empire, Leicester's was a city that was known its shoe and leather manufacturers. Nowadays, and before the Premier League glory, the city is known as the home of some really delicious potato chips in England. No, really. Leicester is the home of Walkers, a snack manufacturer.
The rumours are true! We've worked with @LCFC to create these limited edition packs for Monday night's match. SCORE! pic.twitter.com/Z2Uj79CHCM

— Walkers Crisps (@walkers_crisps) December 11, 2015
Only four clubs lifted the Premier League trophy in the last 20 years (Manchester United 11, Chelsea 4, Arsenal 3, Manchester City 2).
1995-96: Manchester United
1996-97: Manchester United
1997-98: Arsenal
1998-99: Manchester United
1999-00: Manchester United
2000-01: Manchester United
2001-02: Arsenal
2002-03: Manchester United
2003-04: Arsenal
2004-05: Chelsea
2005-06: Chelsea
2006-07: Manchester United
2007-08: Manchester United
2008-09: Manchester United
2009-10: Chelsea
2010-11: Manchester United
2011-12: Manchester City
2012-13: Manchester United
2013-14: Manchester City
2014-15: Chelsea
Technically, Leicester's title is the first by a non-Big 4 club in the modern Premier League era (1992-present) since Blackburn Rovers were crowned champs back in 1995. And even then, Blackburn finished second the season before. Leicester finished 14th last season. It's why this improbable run blind-sighted the entire world of soccer.
Chelsea gives former boss Ranieri a helping hand:
It would've been really sweet to clinch the title at Old Trafford -- a site that's been around since 1910 -- which has been home to World Cup, Euro, Champions League and Olympic matches. If you're not going to clinch at home, securing Premier League glory at Old Trafford would've been a pretty sweet alternative.
Instead, they settled for a draw at Old Trafford and manager Claudio Ranieri's former team, Chelsea gave the Foxes a helping hand on Monday with a draw against Tottenham. The 2014-15 champs helped out the 2015-16 champs -- something we'd never thought we'd see. 
They clinched with two games to spare:
It's incredible that this small-town club beat 5,000-to-1 odds to win the title. It's even crazier to think they're able to pull it off with two games to spare. It will be a party for the Leicester faithful next week at King Power Stadium when the Foxes host Everton in their last home game of the season -- especially if the trophy is presented. 
Here's what the prize is for winning the league:
When Chelsea won the title in 2014-15, it was reported that they earned a record £99 million in prize money. Here's more from the Daily Mail:
The precise eye-watering sum was £98,999,554, made up of £24.9m 'merit' cash for finishing top of the table, £19.98m 'facility fees' for being in so many live TV games, plus equal shares of the domestic TV deal (nearly £22m), overseas TV deals (£27.8m) and commercial income from the leagues sponsors, such as Barclays (£4.4m).
So, if we were to go by that formula, the Cinderella club would be projected to earn £90.9 million (equal share: £54.1m, merit-based: £24.7m, facility fee for 14 matches: £12.1m), per totalsportek.com. Again this is only a projection to get a feel of how much they're lined up to make. Unfortunately for the Foxes, this means they would not be the highest-prize-earning team in the Premier League. Arsenal (£98.1m), Manchester United (£95.8m), Tottenham (£95m) and Manchester City (£94.3m) are all projected to earn more than this season's champs. Still, that's quite a prize compared to the £71.6 million they received the previous season for staving off relegation.
Champions League bound:
So we broke down how Leicester's salary compares to other English giants, and how winning the title still wasn't enough for this small club to be highest prize-winners of the Premier League. They spent the entire season overcoming all odds. A Premier League title also means they'll get to prove everyone wrong yet again when they face the cream of the European crop in the Champions League.
How fun will it be to see the Foxes square off with the likes of Barcelona, Real Madrid, PSG, Juventus, or Bayern Munich? If this little underdog story was inspiring, imagine how inspirational it'll be if they do it against Europe's best?
2016/17 #UCL https://t.co/88Zq1qV0Vx
Barcelona
Atlético
Real Madrid
Leicester
Bayern
Dortmund
Juventus
Benfica
Sporting
Paris
Dynamo Kyiv

— Champions League (@ChampionsLeague) April 29, 2016
What a difference a year makes:
This wasn't supposed to happen to a team like Leicester. They spent 23 consecutive weeks in the relegation zone in 2014-15 before winning seven of the final nine games of the season to escape relegation. Last season, they recorded 19 points after the first 29 matches played. This season, the Cinderella champions racked up 60 points to climb all the way to the top of the league. No team to finish outside of the top four has ever won the title. 
LCFC in third tier in 2009:

As you see in this chart above, the Foxes found themselves in a major hole at the end of the 2007-08 season as they were relegated from second division (Championship) to the third tier (League One) for the first time in the 100-plus-year existence of the club. Leicester won League One in 2008-09 to get back into the second division, and were then promoted to the Premier League in 2013-14 before winning it all on Monday. Nothing like an eight-year turnaround, eh?
We were all invited to Jamie Vardy's party: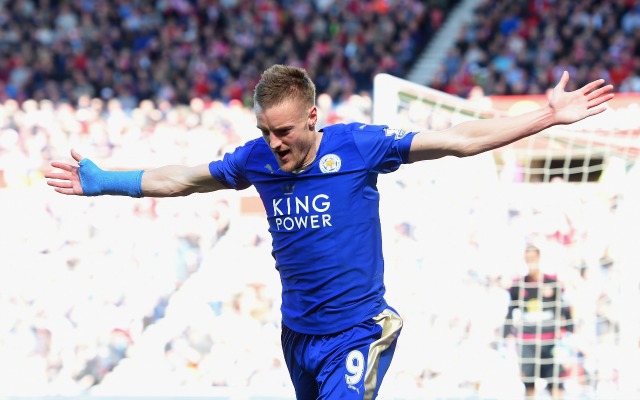 Jamie Vardy was suspended for Leicester's title-clinching match against Manchester United, but make no mistake, the 29-year-old played a crucial role in this improbable title run. During this Cinderella run, Vardy broke Ruud van Nistelrooy's Premier League record that stood since 2002 for consecutive games with a goal scored. Vardy's goal-scoring streak lasted 11 games, with a total of 13 goals.
Classy move from Manchester United legend Ruud van Nistelrooy sending props to Vardy after breaking the record pic.twitter.com/ubDZuXW0ox

— CBS Sports Soccer (@CBSSportsSoccer) November 28, 2015
Also, from ESPN:
Out of Jamie Vardy's 22 goals, half of those were go-ahead goals, which is more than any other player in the league.
What's even crazier is that Vardy, as early as 2010, played for Stocksbridge Park Steels, a club in Division One South of the Northern Premier League, which is the eighth level of the English Football system. He was earning a reported £30 a week as early as 2007 for the Steels. He made the jump to Fleetwood Town in 2011, scoring 31 goals in 36 matches and helping the club win the 2011-12 Football Conference and a promotion to the Football League before joining Leicester in 2012. Thanks to the spark of Vardy that season, Fleetwood has managed to climb all the way to the third tier in the English soccer pyramid.
Vardy's rise to fame is so incredible that Hollywood screenwriters have approached him for a possible movie. Surely he'll have another party for his success and the team winning the title. (UPDATE: He did, and it was glorious) And to celebrate, I'm sure he's going to have "some beers on the coach on the plane."
??10 in 10 @vardy7??
Happy for you! ????
@LCFC family - RETWEET TO SHOW APPRECIATION! #WellDeserved #NoFuchsGiven pic.twitter.com/LQjs6FSIht

— Christian Fuchs (@FuchsOfficial) November 21, 2015
Player of the Year Riyad Mahrez thought he was joining a rugby team:
Mahrez left French second division side Le Havre and signed with Leicester back in 2014 when the club was in the second division. He has been a pivotal part of this incredible rise, but when he first joined the team on a three-year contract, he had no idea what he was getting himself into. That's right, the talented 25-year-old Algerian, who went on to win PFA Players' Player of the Year award this season, never heard of Leicester City. In fact, he thought they were a rugby club. Rugby!
More from Four Four Two magazine:
"I didn't know Leicester. In France we didn't really [know them] because they were in the Championship. I thought they were a rugby club. I was like: 'I don't know ...' But then I came here to see the facilities and they were good. I do not regret signing for them, it's the best club I've ever been at."
Here's video of that interview:
People close to Mahrez's circle were also skeptical of his decision to sign with the Foxes. They wanted him to play in Spain.
More on that, courtesy of the Guardian:
"Everybody was saying to me: 'Riyad, England is not for you, it is too physical, too strong. Spanish football would suit you better.' So I never thought I would play in England. But I spoke to my agent and he said it would be very good for you. And I spoke with my family. I said: 'OK, I will give it a go,' and when I got here I really liked it. When I started training and playing games I thought to myself: 'I was stupid to hesitate.'"
Mahrez's 11 assists are tied for second-most in the league. Additionally, his 17 goals are the most by a non-forward this season. That PFA Players' Player of the Year award he won recently? That was the first time a player from the continent of Africa has won that award.
Mahrez's rise success, much like Leicester's run, was viewed as a longshot. Now, he'll likely see his name all over transfer rumors this summer.
Claudio Bellissimo:
After LCFC's great escape from relegation the previous season, Claudio Ranieri was appointed as the man in charge of the Foxes, replacing Nigel Pearson, which left many of the pundits shocked. The 64-year-old's calm and collective approach was a stark contrast to that of Pearson, and sure paid off. Leicester's 5,000-to-1 odds of winning the league is pretty hard to top, and the reason why everyone counted the Foxes out was because of the man in charge. Prior to the start of the season, the oddsmakers had Ranieri as one of the favorites to be the first manager to lose his job this season. He made sure to the players and the press before the start of the season that the goal was for Leicester to avoid relegation.
Ranieri just looks like that one adorable relative you may have that you have no ill words to speak of. How could you hate a guy that promised his players a pizza party (and delivered his promise) if the team secured its first clean sheet of the season.
Once mocked for the way he tinkered his rosters and failing under big-named clubs (Atletico Madrid, Chelsea, Juventus, Roma, and Inter Milan), Ranieri has reached legendary status, becoming only the eighth manager to win the Premier League in the modern era.
Here are the exclusive eight on that list:
Alex Ferguson: 93-94, 95-96, 96-97, 98-99, 99-00, 00-01, 02-03, 06-07, 07-08, 08-09, 10-11, 12-13
Kenny Dalglish: 94-95
Arsene Wenger: 97-98, 01-02, 03-04
Jose Mourinho: 04-05, 05-06, 15-16
Carlo Ancelotti: 09-10
Roberto Mancini: 11-12
Manuel Pellegrini: 13-14
Claudio Ranieri: 15-16
We broke down how minuscule the payroll is for this club, and what they're projected to earn in prize money for winning the league, but we never got to Ranieri's salary. According to the Sunday Times, he's expected to net £5 million for winning the league.
Well deserved if you ask the fans. The city of Leicester paid tribute to his incredible work, which nearly left him to tears.
Now, if you want to see him shed tears, this is how he left the pitch after beating Sunderland in early Arpil to clinch a Champions League spot.
Claudio Ranieri is having a little cry. Who can blame him. Incredible stuff. pic.twitter.com/qNWQZ3jCyZ

— Christian Machowski (@Christian_ESEM) April 10, 2016
Since he was fired by Chelsea back in 2004, Ranieri has never held a managerial job for more than two years. I think it's safe to say he can manage LCFC however long he wants to after bringing them Premier League glory.
Andy King is LCFC's longest serving player:
King played a small role this season, but on Monday his loyalty for the Foxes payed off with a title. King was part of the Leicester City team that fought its way out of the third tier in 2009 back into the Premier League. If anyone on that team deserves the glory of winning it all, it's King.
Somehow, he and the Foxes escaped all of it to reach Premier League glory eight years later. Take a bow.