Germany vs. Japan final score: Another massive World Cup upset as Samurai Blue stun Germans with late goals
Germany blew a first half lead to lose 2-1 to Japan on Wednesday
For the second World Cup in a row Germany began their campaign in disastrous fashion, frittering away a first half lead to lose 2-1 to Spain. Suddenly, the champions of 2014 face the very realistic prospect of a second straight exit at the group stage, a self-inflicted crisis that was as much about disastrous defensive work as it was the excellence of match winner Takuma Asano.
Every metric would point to Germany having been a vastly superior side for the 75 minutes before Ritsu Doan fired Japan back to parity, but the sense was of a profligate team who lacked a killer instinct at one end and composure at the other. Japan showed both in abundance and although there is plenty of work to be done in escaping a group that includes Spain and Costa Rica they are superbly placed to do so. Unlike Hansi Flick's side they do not look like a team liable to give anywhere near as many easy chances away as their opponents do.
Golazo Starting XI Newsletter
Get your Soccer Fix from Around the Globe
Your ultimate guide to the Beautiful Game as our experts take you beyond the pitch and around the globe with news that matters.
Please check the opt-in box to acknowledge that you would like to subscribe.
Thanks for signing up!
Keep an eye on your inbox.
Sorry!
There was an error processing your subscription.
At the outset, Japan might have seen precious little of the ball in the first half but they showed an impressive sense for hunting down possession. Daizen Maeda could have sent this game down a very different path in the seventh minute but, after fine work from the Japanese midfield to pick the pocket of a dawdling Ilkay Gundogan, the Celtic striker made his move too soon to slot in past Manuel Neuer.
Those half openings came Japan's way more than once in the early exchanges, as did ever-expanding spells of German possession. Thomas Muller and Joshua Kimmich would drift from flank to flank, pulling the Japanese backline with them. Indeed almost the entire team seemed to have been dragged out to the right in the 31st minute, with a swipe of his right boot Kimmich dropped the ball onto the feet of David Raum. Shuici Gonda clipped them soon after, the one major error in a resolute defensive display from this team, and Gundogan made him pay from the penalty spot, though as the second arrived the Japan goalkeeper would do all that could be asked of him to repay the debt with a wonderful double save off Serge Gnabry.
Kai Havertz could have wrapped the game up before the interval, but allowed himself to drift offside as he met Jamal Musiala's cross/shot. That profligacy gave Japan head coach Hajime Moriyasu a chance to change the game. He seized it. Moving to a back three allowed the Blue Samurai to apply far greater pressure down the flanks whilst maintaining the energy they had shown in the first half. Moments after Manuel Neuer's stunning save denied the dangerous Yunya Ito and Hiroki Sakai guided over the rebound, Germany's captain could only deflect Takumi Minamino's cross away from the certainty of an Asano goal to Doan, who provided it instead. 
Japan's winner began in prosaic fashion, something of a nothing ball into the channel turning into a supremely effective pass thanks to Niklas Sule standing two yards behind his German team mates, playing Asano onside. There was still plenty for the former Arsenal striker to do, killing a 60-plus yard pass with one touch and easing the ball above Neuer from a tight angle.
Leon Goretzka fired inches wide in seven minutes of added time but Germany looked just as likely to hand Japan a third, repurposed right back Sule clumsy in the extreme with the ball at his feet. In a desperate last heave, the captain and goalkeeper came up for a barrage of set pieces in the closing seconds but Gonda held firm, amends more than made.
Moriyasu turns the tide
This was a game won in the Japan dressing room in the half time interval. Switching out winger Takefusa Kubo for Takehiro Tomiyasu, who plays as a center back for his national team, might have seen a cautious approach on paper but Moriyasu's switch gave his players the maximum opportunity to exploit Germany's weakness. Now operating in a 3-4-3, Japan had the width to test Sule and Raum, neither natural full backs, with the wing backs eating up the yards to ensure that Flick's response of leaving Musiala and Gnabry high was not as effective as it might have been.
For the half hour that followed Moriyasu kept adding fresh legs, not only using the maximum number of substitutes, but also the most moments available to him to add something to the team. Match winner Asano was a pressing dynamo more than willing to chase lost causes… and turn them into something in the case of Japan's second goal. Kaoru Mitoma might have worn the No.9 but he covered the hard yards as a left wing back, slipping through Minamino, whose cross came to Doan. Three substitutes had turned the tide, another scored the winner. However, the real matchwinner was on the bench the whole time.
Musiala makes his mark on World Cup
If those around him had not been so profligate, it might have been Musiala taking home the man of the match trophy on his World Cup debut. Playing off the left he was a devastating presence for Germany, his innate understanding of space opening up driving lanes for his full back whilst he slipped infield for give and goes with his fellow midfielders. He was always looking to commit defenders and seemed pretty capable of beating them; had he found the net after beating five Japanese defenders, he would have been celebrating one of the great goals in the history of this tournament. 
Changes may well be needed for this Germany frontline, even though it created plenty of chances today. Havertz offered little as a center forward and though those behind him performed effectively there did no seem to be sufficient variety in Flick's attack. Eventually Japan concluded that they could allow their opposition to flick the ball around in front of them and trust that those intricate passing displays would not quite come off if there was not a top striker to finish them. Whatever happens against Spain – when Leroy Sane could be available – Musiala has to stay. At the tender age of 19 he was the player his teammates turned to.
See New Posts
Pinned
Pinned
Neuer's up for the free kick
He couldn't, could he?
Pinned
Not long to go
Youssoufa Moukoko becomes the youngest player ever to play at the World Cup for Germany. But that won't be enough for Hansi Flick right now. He needs the teenager to find the net and save his country's bacon.
Pinned
GOAL - What a stunner
We could crow about Niklas Sule's positioning -- he was two yards behind the rest of his defense -- but what a goal that is by Takuma Asano. He kills a long ball over the top with one touch and with the angle closing on him he rifles the ball into the roof of the net.
Pinned
Eight minutes to go
There's everything to be played for here and you could see either team winning it.
Pinned
GOAL - Japan's substitutes pay off
Germany could have put this game to bed and now they've paid the price. Neuer gets a hand on Minamino's drive towards the far post (which would have been converted by Asano otherwise). All he can do is guide the ball to Doan, who squares this game up.
Pinned
How haven't Japan scored?
What a game we're getting here. Endo clips one over the top and Ito chests it down before driving a shot that deflects off Rudiger's left leg. The goal is at Sakai's mercy on the rebound but he spoons the ball over.
Pinned
Gonda makes amends
A really open game here as Gonda makes a string of saves, first denying Hofmann at close range after Kimmich's clipped ball. Seconds later he is called on again as Gnabry heads into the deck and he parries before blocking the rebound too.
Pinned
Changes for Germany
Muller and Gundogan make way, Jonas Hofmann and Leon Goretzka take their place. I would assume that we'll now see Musiala take up a more interior role as the number 10.
Pinned
Off the post
That was so close to what might have been it for Germany, another really nice bit of interplay. Musiala takes it off Havertz, rolls the ball to Gundogan, who dashes forward and strokes a shot towards goal. It is just wide.
Pinned
Musiala!
Wow, that's something else from the young German. One, two, three, four and then five Japan defenders are left trailing in his wake as he drifts in from the left towards goal. Perhaps unsurprisingly after all that he can't quite get his balance to fire a shot on goal. If it had gone in we'd have been talking about one of the greatest ever scored at this tournament.
Pinned
More Japanese pressure
Ito is giving the German defense all sorts of issues, driving away from Schlotterbeck and into Kimmich's body in the box. I don't think that was a foul but I'm surprised there wasn't a more vociferous appeal fro the players in blue.
Pinned
Away we go again
One change from Japan, who have brought Tomiyasu into the fray. It would appear that they have switched to something like a back three with the Arsenal man on the left of the center backs.
Pinned
The goal that fired Germany ahead
A very smart finish from the spot by Gundogan.
Pinned
Half time
A curious game where Japan have seen precious little of the ball but might feel there's plenty in this for them, especially after Havertz's goal was ruled out. If one or two counters click they're right in this game, though it has to be said that Germany have improved as the game wore on.
Pinned
Havertz has the ball in the net
Brilliant work from Musiala in the build up but the Chelsea forward is just offside.
Pinned
Germany looking good
They're starting to move through the gears now, the leaders. The passing is crisp and there are options aplenty for whoever has the ball. Japan, meanwhile, are having to go long more frequently than they might like but when they do get at the German flanks they look eminently dangerous.
Pinned
GOAL - Gundogan fires it in
Low to the bottom left, third time is the charm for Gundogan. Germany take a perhaps flattering lead.
Pinned
Penalty to Germany
Once more Germany overload down the right and look for the quick switch, Kimmich picking out Raum in all sorts of space with Sakai nowhere to be seen. Gonda comes out and takes a touch as the left back goes down. Initially referee Ivan Arcides Barton Cisneros seems unmoved but eventually he points to the spot for a clip as both scramble towards the ball. VAR checks but it will be a penalty.
Pinned
A first spell of pressure for Gonda
Flowing stuff down the right from Germany as Muller draws defenders with his wide run and Gnabry cuts inside. His first time pass finds Gundogan with space to consider his options; he probably picks the poorest one in sidefooting a shot straight at the Japan goalkeeper.
Germany come again down the left however and it's Gundogan again, picking up the ball as Gonda punches Raum's cross nowhere near safety. The Manchester City midfielder hits it straight into a Japanese defender.
Pinned
More dawdling in the German defense
Any time the German defense take a touch or two too many, Japan burst into life. Rudiger draws the press and puts pressure on Schlotterbeck with his pass. Ito steals it and tries to repeat his earlier pass to Haeda but it is cut out for a corner that Japan cannot convert at the back post.
Pinned
The DFB issue a statement on pre-match gesture
As the action continues on the pitch, where Japan are putting real pressure on the German midfield, the DFB have issued a statement over the protest you can see below.
"With our captain's armband, we wanted to set an example for values that we live in the national team: diversity and mutual respect. Be loud together with other nations. This is not about a political message: human rights are non-negotiable. That should go without saying. Unfortunately it still isn't. That is why this message is so important to us. Banning us from the bandage is like banning our mouths. Our stance stands."
Pinned
Germany make their protest
After FIFA's refusal to allow Neuer to wear the One Love armband here's how Germany lined up for their pre-match photos, hands covering their faces to suggest they are being gagged.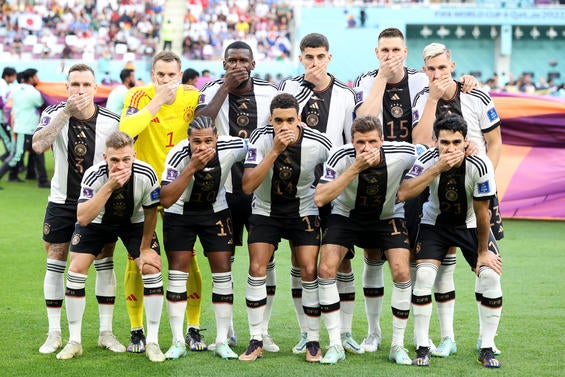 It has also been suggested that the captain is wearing the armband anyway. That can't be absolutely confirmed yet but what is clear is that Neuer has something that looks like an armband on, the logo just invisible below his sleeve.
Pinned
It's in the net for Japan but no goal
Gundogan dawdles in possession and he's punished by a swarm of blue shirts. In a flash Ito is away down the right, easily beating Raum and crossing low. Haeda goes too soon however and though he slots the ball into the bottom corner he is clearly offside.
Pinned
Early pressure from Japan
This has the look of an intriguing game. Germany start by putting some pressure on the Japanese area but Thomas Muller can't quite sneak through. The team in blue start applying pressure of their own and win the game's first corner as they scheme down the right. Nothing comes of it but it doesn't look like Japan will sit back and let their opponents come at them.
Pinned
Kick off
And off we go! Swiftly the ball comes to Neuer as Germany knock it cooly around the back with Japan committing a fair few bodies forward to bung up the passing angles. When the ball eventually goes long Yoshida clears.
Pinned
The teams are in the tunnel
Kick off is just moments away!
Pinned
Defensive questions for both teams
There are significant issues to be spotted in both these defenses, which could make for quite the barn burner given the attacking talents both sides have. Takehiro Tomiyasu has been battling injury issues for Arsenal of late and has had to settle for a place on the bench today when he would usually be anchoring the backline from the left center back role.
Meanwhile Hansi Flick is battling what has been a perennial issue for Germany even when they were winning the World Cup in 2014: their best right back has developed into one of the planet's outstanding midfielders. Joshua Kimmich is Phillip Lahm's heir in that regard and so Flick has pushed center back Niklas Sule out to the right flank with Borussia Dortmund's Nico Schlotterbeck partnering Antonio Rudiger at the back.
Pinned
Japan outlook
If you saw Japan dominate the United States in September, you'll know that they can really play, writes Roger Gonzalez. They have superb technical quality with Takefusa Kubo and Takumi Minamino. Young Shuto Machino is one to watch with three goals in four appearances. 
Pinned
The armband row rolls on
FIFA might have thought the turmoil over European nations wearing the One Love captain's armband was ended when the threat of sporting sanctions led to the seven participating nations backing down. Not in the slightest. Manuel Neuer is not expected to wear the band today but the German FA (DFB) have announced that they will take FIFA to the Court of Arbitration for Sport (CAS) over their decision.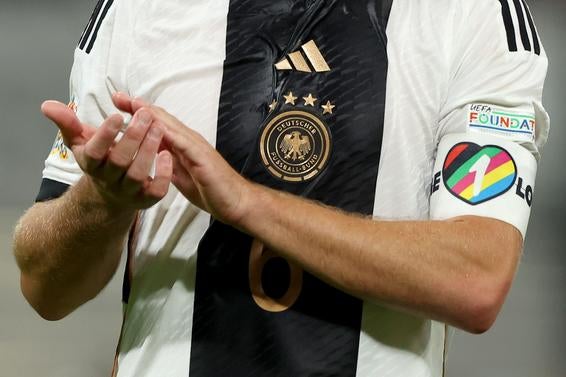 "Fifa has forbidden us from using a symbol of diversity and human rights," said Stefan Simon, the DFB's spokesperson. "It said the ban would be linked to massive penalties (in the nature of) sporting sanctions without concretising exactly what it meant. The DFB is keen to clarify whether Fifa's procedure is in fact legitimate."
The DFB has already lost the backing of one major sponsor in supermarket chain REWE, who said they would drop advertising campaigns involving Die Mannschaft. The scandalous behaviour of Fifa is for me as the CEO of a diverse company as well as a football fan absolutely unacceptable," said their chief executive.
CAS has a special division for cases related to the World Cup and could make its decision within 48 hours. If they rule in the DFB's favor Neuer could don the band against Spain on Sunday.
See More