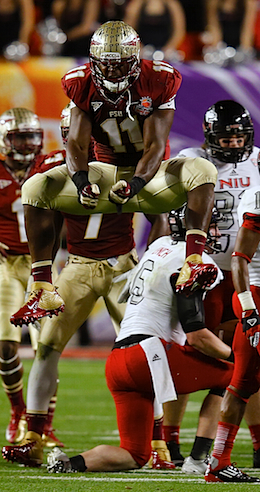 Northern Illinois quarterback Jordan Lynch entered Tuesday night's Orange Bowl as an emerging star, an All-American who finished seventh in Heisman Trophy voting and accounted for more yards of total offense in the regular season than any other player in the nation. He left looking like just another overmatched victim of Florida State's top-ranked defense in a 31-10 loss. And after Lynch's pregame promise to have the Seminoles "on their knees" in the fourth quarter, at least one Seminoles defender was determined to drive home the difference.
"He's terrible," linebacker Vince Williams told reporters after the game, pointing specifically to Lynch's much-publicized confidence for lighting FSU's fire:
"It motivated us a lot," Williams said. "That was straight-up bulletin board material. First of all because of how much success our defense had. We've been really, really good and nobody's ever said anything like that to us. So we were like, 'this man must have lost his mind.' "
[…]
"What did he do that was good?" Williams continued to rail, his voice rising in pace, pitch and volume. "He didn't do nothing that was good, we were killing him."
In case anyone missed the point, Williams spelled it out one more time: "He's not good at all."
The game was far from the massacre many people seemed to expect when the matchup was announced, but at no point was there any doubt the Florida State defense was in control. As a passer, Lynch had arguably his worst game of the season, resulting in a season-low for completion percentage (36.6) and his lowest pass efficiency rating (75.8) since opening day, an 18-17 loss to Iowa in Lynch's first game as a starter. As a rusher, he ended with a season-low 44 yards rushing on 1.9 per carry, the end of his 11-game streak over the century mark. The 259 team rushing yards was the Huskies' worst total since the Iowa game, and by a wide margin.
Northern Illinois did manage one sustained drive on offense, marching 87 yards in six plays in the third quarter for its only touchdown of the night, an 11-yard pass from Lynch to Martel Moore that cut the Seminoles' lead to 17-10. That score was immediately followed by a surprise onside kick, recovered by NIU at its 47-yard line, giving the Huskies good field position for a chance to tie. After picking up a pair of first downs on the subsequent drive, though, the wind went out of their sails for good when Lynch was intercepted by Terrence Brooks inside the FSU 15-yard line. The Huskies never seriously threatened again.
For his part, Williams tied for a team high with 10 tackles (five solo) and recorded one of Florida State's three sacks in his final college game. Northern Illinois is the ninth opponent the Seminoles have held below 300 yards of total offense in 14 games this year, which -- depending on how Alabama fares against Notre Dame in next week's BCS Championship Game -- could leave them with the No. 1 total defense in the nation.
The "controversy" over Lynch's comments, such as it was, began when he reportedly said in an interview with the Sporting News that the Noles "haven't seen anything like our offense," which generated nearly 41 points on 485.8 yards per game in the regular season thanks to a heavy dose of pre-snap shifts and motions that seemed to befuddle every MAC defense the Huskies faced.
"We plan on wearing them down. In the fourth quarter, we plan to have them on their knees, and then just keep pounding away." Lynch said. "They're just like us. They're human, too. If you cut them, they bleed."
Lynch later stood by the statement, as did his newly promoted head coach, Rod Carey: "What's he supposed to say? 'Hey, we're just hoping we get a first down, get a yard or two?' " Carey said. "That's the confidence, and these guys expect that."
After the defeat, though, Carey went on the offensive against the media, interrupting a question directed to Lynch in the postgame press conference to say his quarterback had been "taken out of context" prior to the game and never disrespected Florida State's defense.
"[Lynch] didn't say that, and I've been waiting until after the game to say that," Carey said. "That was taken out [of context] and everybody made a big deal out of it. I was there. I was at the interview. He did not make those comments."
Lynch was not given the opportunity to make any such denial. Whatever his feelings before the game, though, he didn't mince words about the Seminoles afterwards: "They were fast, physical and well-coached. Definitely the best defense we've played all year."